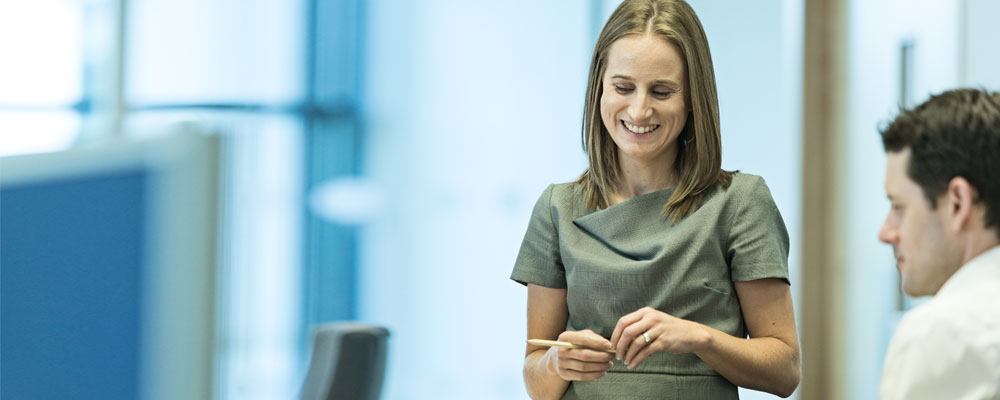 HL Multi-Manager UK Growth
Stock market exposure through the most talented fund managers in the UK
"An investment in the UK stock market is a logical starting point for most UK investors, but the choice of funds is overwhelming. This is why we have consolidated our favourites into a single, balanced investment."
Lee Gardhouse & Ellen Powley, Fund Managers
Why invest?
The UK stock market is home to many world-class companies, providing a rich hunting ground for fund managers. Consequently there are a huge variety of funds from which to choose.
Exceptional fund managers are few and far between. Separating the extraordinary from the ordinary is no easy task but this is where we think our approach excels. We are able to use our unique quantitative model and regular meetings with managers to identify the best funds from across the entire UK market.
The portfolio has a core of investments in larger companies, but also an overweight position in higher risk smaller and medium sized companies where we see great long-term potential. Over time, different investment styles and different areas of the market will come in and out of favour, but with this diversified approach we aim to ensure the fund is positioned to perform well in a variety of market conditions.
Important - The value of this fund and the income from it, can still fall so you could get back less than you invested, especially over the short term. If you are unsure of the suitability of any investment for your circumstances please contact us for advice. Once held in a SIPP money is not usually accessible until age 55 (rising to 57 in 2028). Relative risk ratings should not be used to compare these funds with other investments. Tax reliefs depend on individual circumstances.
At a glance
---
Investment goal
Growth
Relative risk
Adventurous
Invests in
92.9% Shares
2.9% Other
4.2% Cash
---
Yield
1.66%
Not a reliable indicator of future income.
Correct as at 31/03/2019
---
Charge
OCF/TER 1.37%
(plus up to 0.45% p.a. platform charge)
---
Price
Sell: 132.67 | Buy: 132.67
Correct as at 18/04/2019
Fund details
Performance since launch
Past performance is not a guide to future returns. Source: Lipper IM, 23/01/15 - 31/01/19
Annual performance
| Fund name | Jan 14 - Jan 15 | Jan 15 - Jan 16 | Jan 16 - Jan 17 | Jan 17 - Jan 18 | Jan 18 - Jan 19 |
| --- | --- | --- | --- | --- | --- |
| HL Multi-Manager UK Growth | N/A | N/A | 18.47% | 14.14% | -7.77% |
| IA UK All Companies index | 5.85% | -3.46% | 17.86% | 12.44% | -5.55% |
Source: Lipper IM, 31/01/19. N/A - performance data isn't available because the fund launched after this date.
The HL Multi-Manager Funds are managed by our sister company Hargreaves Lansdown Fund Managers.
Fund breakdown
Correct as at 31/01/19
View the HL Multi-Manager UK Growth fund prospectus.