Managing your family's investments with linked accounts
Important information - Please remember that the value of investments, and any income from them, can fall as well as rise so you could get back less than you invest. If you are unsure of the suitability of your investment please seek financial advice. Tax rules can change and benefits depend on individual circumstances.
What are linked accounts?
With our linked accounts feature, you can view and manage your family's HL accounts from your own login. This works on the website and on the HL app.
There are two access options:
'View only access' - you'll be able to see the same information and use some of the same functions as you can with your own account.
'Trade access' - you can also place deals on their behalf.
The account holder will still need to log in themselves for some functions. For example, you will not be able to add cash, request withdrawals or amend their personal details.
When you link accounts with someone, it does not mean that they are automatically linked to your account.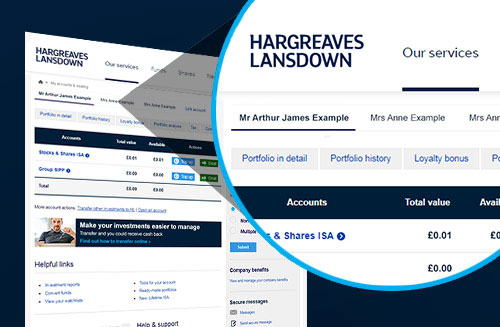 Letting people link to your account
If you let another HL client link to your account, they have access to the same information, and many of the same functions, as you do.
If you have given them trading access, they will be able to make deals on your behalf.
Before you let someone else link to your account, please read the following:
Only link your account with trusted people, such as members of your family.
You should not link accounts with financial professionals, even if they are giving you advice. If you'd like to discuss the other ways that we can give third party access to your account, contact our Investment Helpdesk.
Never share your login details when you are linking accounts.
You remain responsible for any trades placed by people who have access to your account.
Please monitor your account activity and regularly review your linked accounts.
If someone has access to your account, you will see their name at the bottom of all the pages in the 'My accounts & dealing' section. They are also listed in the 'Linked accounts and third parties' section of your account settings.
You can immediately remove someone's access in your account settings online. Contact us by phone if you need help logging into your account.
Benefits of using linked accounts
Switch between your other family members' accounts
View statements, valuations and tax certificates
Easily stay up to date with the performance of holdings
Check the amount contributed in the tax year
How do I manage someone else's account?
To link to and manage someone else's account, you need to be together. This is because you will both need to log in during the process. Never share your login details when you link accounts.
Both you and the person you want to link to should read our Linked Accounts User Guide and Key Features.
Log in to your HL account and go to 'Account settings'.
Select 'Linked accounts and third parties' then 'Add linked account'.
The person you want to link to will be asked to enter their HL login details.
They choose whether to give you view-only or trading access to their account.
You are now linked to their account. Their name and account number will appear next to yours in the My Account section. You can access it straight away.