Managing your family's investments with linked accounts
Important information - Please remember that the value of investments, and any income from them, can fall as well as rise so you could get back less than you invest. If you are unsure of the suitability of your investment please seek financial advice. Tax rules can change and benefits depend on individual circumstances.
Linked accounts
Linked accounts is a time-saving feature that allows you to view and manage your family's Hargreaves Lansdown accounts using a single set of login details.
Once set up, each time you log in to your account you will be able to easily switch between family members' accounts. With linked accounts, managing your family's ISAs, pensions, funds and shares has never been easier.
Each time you log in to your account, the registered linked accounts will be shown across the top of the page. You can then simply click a tab to view and manage that account. Below you can see how you can access your family's accounts quickly and easily.
You can cancel access to your account at any time by calling us on
0117 980 9953.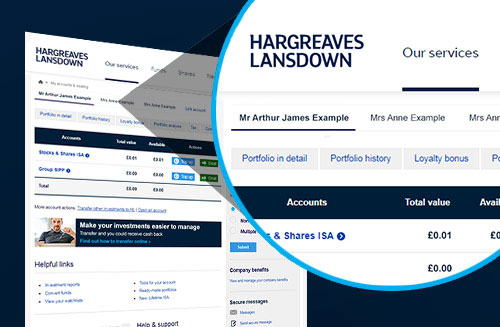 Linking to other accounts
When you link an account to your own, the account holder will decide whether you have view-only access or can trade on their behalf. You will have access to that account but it will not automatically have access to your account.
Once you have linked accounts you will have access to many of the same tools and information as you would with your own account. Please note that is not possible to carry out all account functions through the linked accounts facility. The account holder would need to be logged in to their own account directly for certain actions, for example contributing to an ISA, amending personal details, and requesting withdrawals.
You can also use the HL app to manage your linked accounts at any time, and wherever you are.
Benefits of using linked accounts
Switch between your other family members' accounts in an instant
View statements, valuations and tax certificates
Easily stay up to date with the performance of holdings
Check the amount contributed in the tax year
How do I link accounts?
Simply log in to your account and select the 'Link account' option above your account summary.
Ask the holder of the account you wish to link to enter their Username and date of birth, followed by their Online Password and three digits from their Secure Number.
Ask the holder to choose whether you have view-only or trading access.
And that's it, you're done! The name and account number of your new linked account will be displayed and you can access the account straight away.
Simply click 'Add Account' to repeat the process.