Empower your employees to choose benefits they value

Flexible Benefits give employees the power to choose benefits they really value - which in turn delivers a return on investment for employers.
They can take many forms. It could be five or twenty benefits, from childcare vouchers to a concierge service, with or without a total reward statement.
Each employer is different. This is why we work closely with you and your team to create a bespoke solution that meets your objectives cost-effectively.
Whether you want to harmonise terms and conditions, become an employer of choice, incentivise staff or simply enhance an existing benefit strategy, we can help you every step of the way.
How we can help you
Benefit strategy consultancy

We'll design an effective, tailored strategy that meets your wider business objectives. Our dedicated Flexible Benefits consultants have on average 10 years' strategic experience in reviewing, recommending, communicating and launching a vast array of benefits strategies.

Flexible package design
We'll help you benchmark data to understand the likely take-up, and decide the most appropriate benefits for your employee segments. Having worked on most of the UK's high-profile schemes we know what works well in different business cultures.
Benefit broking
We have a comprehensive network including the key benefit providers and we know how to achieve the best price, value and service for your selected benefits package.
Benefit communication and promotion

We'll design and deliver a clear, simple, jargon-free communication strategy to ensure employees understand exactly what you're trying to achieve.

Digital employee benefit platform
Easy to use, yet highly configurable to allow for a wide range of benefit set ups, rules, calculations and requirements. It gives employees one central place to view and manage all of their benefits, including a dynamically updated total reward statement, and potentially their compensation package.
Administration service Our full end-to-end administration service is available Monday to Friday to answer employees' phone and email queries. We'll take away the hassle of running a Flexible Benefits scheme and allow your internal benefits/HR teams to get on with their daily tasks.
Using salary sacrifice to fund your flex project We'll help you model your benefits arrangements and project the savings your company will make in National Insurance contributions to help you formulate your business case for implementing flex.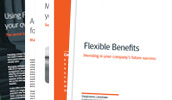 Discover flexible benefits, the potential tax savings and how they can be integrated with your workplace pension on one dynamic digital platform.
Have a question?
Call us on:
0117 314 1783