Who should I assess for auto-enrolment?
The natural starting point is the traditional employee who holds a contract of employment with your business - the contract doesn't need to be in writing, it can be verbal or even implied.
You should also include those for whom you have a contractual responsibility - this may extend to those seconded from other businesses and some agency workers.
Directors and office holders
Executive directors and office holders such as company secretaries can be treated as employees if they hold a contract of employment with your company.
Non-executive directors or office holders without day-to-day responsibilities are unlikely to be eligible.
Self-employed workers
Self-employed workers may also need to be assessed for auto-enrolment if they agree to perform a particular task or service for your company under a 'contract of services'.
To establish if you're responsible for a self-employed worker, please consider the list below (no one single factor is conclusive). If most of the statements are true, it's likely you will need to assess them for auto-enrolment purposes.
A self-employed worker should be assessed if:
The business relies on the expertise of the worker and expects them to carry out the work themselves.
The worker reports to a line manager.
The worker doesn't incur any financial risk to carry out their work.
The company provides all necessary tools and equipment.
The worker receives employee benefits such as holiday or sick pay.
The company is required to provide the work carried out.
The contract explicitly states it isn't a contract for services with the worker's own business.
Is your pension competitive?
Discover how cost-effective your existing scheme is and what the options are to get the edge on your competitors.
Have a question?
Call us on:
0117 314 1783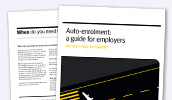 Get a head start on what you need to know about workplace pension reforms and auto-enrolment in one clear, easy-to-read guide.