How to select a workplace pension
Whether you've yet to reach your staging date, or have already passed it - you'll need to review the workplace pension you're using to enrol your employees to ensure it is 'qualifying'.
Conditions of a qualifying scheme
A qualifying scheme should meet the following conditions:
It's a registered pension scheme.
Contributions comply with the minimum amounts required under auto-enrolment.
There are formal agreements between the parties that the minimum contribution requirements will be met in the correct way.
From April 2015
A charge cap of 0.75% applies to members in the default fund.
Consultancy charging is banned.
Your provider must have an independent governance committee in place, with a duty to act in members' interests.
From April 2016
'Active member discount' is banned.
Advisor commission is banned.
Eligible jobholders who aren't already members of an existing qualifying scheme must be auto-enrolled into an auto-enrolment pension scheme.
Conditions of an auto-enrolment scheme
An auto-enrolment scheme should meet the following conditions:
Meet the requirements of a qualifying scheme; outlined above.
There should be no scheme provision, such as a minimum age or length of service, that prevents workers from being automatically enrolled into the scheme.
Alternatively, request a free pension review by phone on 0117 314 1783 or email us.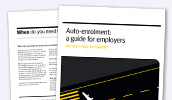 Get a head start on what you need to know about workplace pension reforms and auto-enrolment in one clear, easy-to-read guide.
Have a question?
Call us on:
0117 314 1783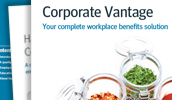 Corporate Vantage: our workplace savings solution.