What is your company's staging date?
Your staging date is the date by which you must have a workplace pension in place to meet your auto-enrolment obligations and your auto-enrolment obligations become binding.
How is my staging date set?
Number of employees
The date is set by the Pensions Regulator and will vary according to the number of employees who appeared on your company's largest PAYE scheme as at 1 April 2012 and your PAYE reference number. This includes both current employees and others such as retirees who still receive regular pension payments through your company's payroll.
Company structure
If you have multiple subsidiaries, your staging date may vary according to whether employee contracts are held at a group or individual subsidiary level.
At a group level, your company is likely to have a single staging date. However, if employee contracts are held with each individual subsidiary, each subsidiary will have its own staging date which reflects the size of its own payroll arrangements.
Company acquisition
If your company has been acquired since 1 April 2012 and employee contracts have now been transferred to the acquiring business, your staging date will be amended to that of the acquiring company. If it has been part of a merger, the staging date will be that of the company with the largest PAYE scheme.
How do I confirm my company's staging date?
The Pensions Regulator will give you twelve months' notice of your staging date but you should prepare for auto-enrolment well ahead of this. You should receive a further reminder three months before your staging date.
Contact the Pensions Regulator to confirm your company's staging date:
The Pensions Regulator
Address: The Pensions Regulator, PO Box 16314, Birmingham B23 3JP
Telephone: 0845 600 1011
E-mail: customersupport@autoenrol.tpr.gov.uk
Can I bring my staging date forward?
It is possible to bring your staging date forward - you might wish to align it with your annual pay review, a new flexible benefits arrangement or your own financial year. You may simply wish to introduce auto-enrolment at a less busy time of year.
Before you do this however, you should be certain both you and your pension provider can accommodate a shorter timescale. You should also account for any time required to consult with your employees. Remember: if you decide to bring your staging date forward, you cannot subsequently change it.
Is your pension competitive?
Discover how cost-effective your existing scheme is and what the options are to get the edge on your competitors.
Have a question?
Call us on:
0117 314 1783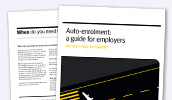 Get a head start on what you need to know about workplace pension reforms and auto-enrolment in one clear, easy-to-read guide.