Empower your employees to choose benefits they value

Flexible Benefits appear in many forms, but with only one objective – to meet the needs of your business and your employees.
Whether it's on a website or a printed enrolment form, 5 benefits or 20, with or without a total reward statement, Flexible Benefits empowers employees to choose the benefits that matter to them.
As an employer, this enables you to truly maximise the value of the benefits you provide.
Proposition overview
Hargreaves Lansdown will work closely with you to understand your company's objectives, your concerns, and your strategy for the future. We will build all our recommendations to achieve this.
Whether you are looking to harmonise terms and conditions, become an employer of choice, incentivise staff, expand on an existing benefit strategy, or simply streamline administration with all your benefits in one place, Hargreaves Lansdown can help you every step of the way.
No matter which benefit, your employees can access and manage all from one place, including their pension, investments and annuity. If necessary, we can also link to other third party pension schemes.
The system can be configured to deal with eligibility rules regarding benefits access, including funded benefits and probation periods. The system can also trigger emails to tell employees when they are eligible for certain benefits based on these events.
We understand that a Flexible Benefits scheme can never really succeed unless we truly engage with employees, which is why we offer a wide range of communication tools:
Pre and post launch survey
Interactive calculators
Modelling tools
Online/printed guides and posters
E-mails and letter
Face-to-face presentations and meetings
Benefit fairs
Standard scope of service
Design consultancy for the flexible benefit scheme and total reward statements
Benefit broking of voluntary and core benefits, including non-insurance based and group risk benefits (we can even work with your existing brokers)
Communication services, including copy, design, print production (scheme booklet, email campaign, online content, face-to-face presentations, fairs and meetings)

Corporate Vantage Online Benefit Solution, includes:

- An employee portal providing the ability to view and select benefits, manage pension and investments, access more information, update dependents, and utilise a range of educational material

- An employer portal offering access to employee details, an import facility for updating information, pre-defined and user defined management information reports alongside real-time statistics

Pre-defined Payroll, HR and provider interfaces
Helpdesk and administration services
Salary Sacrifice compliance, including obtaining HMRC agreement for the revised arrangement
Automatic enrolment compliance
Holiday and absence tools
Online payslips
Project Management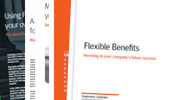 Discover flexible benefits, the potential tax savings and how they can be integrated with your workplace pension on one dynamic digital platform.
Have a question?
Call us on:
0117 314 1783