How we help you
We have a specialised team of consultants, each with over 10 years of strategic experience in reviewing, recommending, communicating and launching a vast array of benefit strategies. Our consultants work directly with clients to ensure their benefits package is maintained and managed efficiently, reviewed regularly, and remains appropriate to the changing needs of your company.
Our approach is to listen to your needs and help you identify your key objectives. We endeavour to understand your requirements, both in the short term and for the future. Once established, we aim to design a tailored benefit strategy that reflects your objectives whilst being workable and practical. This may include sitting in and facilitating employee forums, stakeholder groups, and developing business cases.
Our team will ensure that consistent advice and support is provided not only at the start, but throughout our partnership. Your Hargreaves Lansdown relationship will be managed by a lead consultant, who will also be your day-to-day point of contact.
We will meet with you on an agreed basis to provide legislative updates, news on benefit design, claims and policy data, industry news, and to implement agreed schedules for each policy renewal. Our priority is to ensure your strategy is future-proofed.
The diagram below demonstrates a typical process, which ensures your benefits start and remain appropriate for your needs.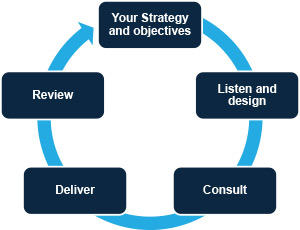 On a day-to-day basis, we have found that the processes run very efficiently, and employees are able to make full use of both the pension and flexible benefits helplines, which takes the pressure off the HR team, and minimises our workload. We would have no hesitation in recommending the team at HL to any other organisation, and having worked with a number of other providers, and researched the market, we genuinely believe they are best in class.

Kellie Corston, HR Business Partner, Coloplast
Design
Once we fully understand your objectives and the needs of your staff, we can begin to plan how your scheme might look and how it could change. This includes:
Ensuring the current benefits structure meets the needs of your workforce
Assisting with peer group benchmarking to ensure the benefits offered are suitable and competitive
Understanding how existing benefits could be restructured to generate better value and improved employee engagement
Additional benefits can increase relevance for the target audience without increasing the cost to the employer. Examples include: Tablets, Travel Insurance, and Dining Cards amongst many others.

Using a quality platform to administer and communicate benefits presents more options and flexibility for an employer and their employees. Whilst the initial cost of implementing such a portal may seem an extra expense to the business, being able to ensure benefits are relevant to your employees means engagement is greater and ultimately less wasted benefits spend in the long run.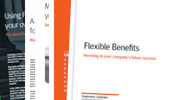 Discover flexible benefits, the potential tax savings and how they can be integrated with your workplace pension on one dynamic digital platform.
Have a question?
Call us on:
0117 314 1783