Why choose a Flexible Benefits scheme?

There are many reasons a company may choose to launch a Flexible Benefits Scheme, including:
1. Employee Recruitment and Retention
Employees are being offered the ability to choose from a range of benefits (funded or not) and to tailor them to their own particular lifestyle.
Alongside financial savings and access to benefits that might normally be unavailable to them, employees feel their own needs are being considered and consequently feel more valued. An organisation that offers an enhanced suite of benefits is likely to be more attractive to potential candidates over one that doesn't.
Flexible Benefit arrangements have rapidly increased in popularity, and it is therefore likely that competitors have either implemented, or are looking to implement, this type of arrangement.
2. Cost savings
Core Benefits
A market review can help identify more cost-effective providers without sacrificing quality, ultimately reducing your company's benefit spend
A product review with better third party support can find efficiencies within the existing scheme. For example, by re-structuring products to reduce premiums without losing benefit value
New Benefits
Introducing new benefits with a Salary Sacrifice arrangement could help generate additional savings. Benefits such as holiday buy, pension salary sacrifice and childcare vouchers (amongst others) can help towards the cost of implementing a scheme.
3. Employee Engagement
Building and maintaining relationships is key to organisational success and no less so than with respect to your staff. However, engaging with staff is often a challenging and complex problem. Flexible Benefits provides a positive message for staff, a new exciting scheme with opportunities to obtain benefits, save money or try new things. A means to communicate existing benefits, their importance and likewise generate more value from your benefit spend. An engaged workforce is generally more productive, likely to stay and promote your organisation, leading to you becoming an employer of choice.
We believe in a multi-channel communication programme based on your objectives and employee research.
Bespoke online information
Automated e-mails
Bespoke literature
Group presentations and one-to-one meetings
Benefit fairs
Webinars and teleconferences
Benefit modellers
Videos
Helpdesk support
Ad hoc communications
Communications after launch and on-going:
All too often, new schemes are launched with great enthusiasm but quickly fizzle out. We continually engage employees. We contact all new joiners to invite them to log on and review their benefits and make selections. In addition we would work with you to understand what engages staff throughout the year and use internal methods to keep reminding employees of the scheme and benefits available and then review what can be done for the next years' renewal.
4. Administration: Reduced effort and improved functionality
The platform a Flexible Benefit scheme is hosted on can manage all the benefits in one place, thus providing a central point of access for management information, as well as a suite of tools such as online payslips, absence management and extensive automation.
Automation and additional functionality can be built into the Flexible Benefits system which effectively removes manual intervention and greatly improves engagement. Examples of this include (but are not limited to):
a) Automatically identified events, such as new joiners, salary changes, leavers etc
b) Automated e-mails to employees and administrators following an event
c) Automated triggers to amend / set up benefits following an event
d) Bespoke reports, tailored to payroll, HR or provider systems
e) Eligibility, cost and funding rules specific to each employee
f) Single Sign On links to third parties, avoiding the need for multiple passwords and reducing the need for paper forms
g) Online joining for various products, further reducing paperwork
h) Extensive reports tools
A Flexible Benefit solution would also reduce the demand placed on HR and payroll teams, as it encompasses an employee helpline which deals with employee queries and a fully outsourced solution for dealing with benefit providers.
5. Benefit Spend: Better Awareness and Value for Money
Employees are often not aware of all the benefits they receive and, furthermore, how they are able to utilise these benefits. The business spends a significant amount on employee benefits each year and there is therefore a risk that it is not achieving value for money on its benefit spend.
A centralised platform, through which employees can access, view and amend all of their benefits, enables them not only to be more engaged, but also to access the necessary information easily. Whether this is a claim form, confirmation of cover, or simply a question, information can be found at the click of a button, without the need to contact HR or payroll.
6. Harmonisation
There are a number of areas where Flexible Benefits can assist in harmonisation across organisations:
a) Terms & Conditions - A Flexible Benefits arrangement can be used to align benefits across all groups and bring employees together under one scheme.
b) Look & Feel - One platform means that the interaction and experience can be harmonised for employees so the look and feel is the same and familiar for all.
c) Benefits Brand - A Flexible Benefits platform enables the business to create a scheme that is instantly recognisable to all employees and which aligns with its core business objectives.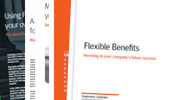 Discover flexible benefits, the potential tax savings and how they can be integrated with your workplace pension on one dynamic digital platform.
Have a question?
Call us on:
0117 314 1783