Epwin Group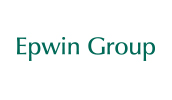 Scheme: Corporate wrap
The Epwin Group is a leading supplier of low maintenance, sustainable and energy efficient products to the new build, social housing, DIY, retail and trade sectors. Epwin Group introduced Hargreaves Lansdown's Corporate Vantage, at the same time they began the wind-up process of heir Defined Contribution trust-based plan.

We have received a substantial amount of positive feedback from members. Previously they were at best indifferent to the DC scheme but many are now becoming engaged in running their SIPP and becoming far more financially aware. This is an unexpected but very welcome outcome.
Sean Rice, Epwin Group Ltd Group Company Secretary and Trustee
---
The background
With their Staging Date looming, the Epwin Group and the Scheme Trustees considered the administration of their trustbased plan was becoming too onerous and expensive and began looking for an alternative - namely a contract based scheme.
Automatic enrolment was also likely to lead to a considerable increase in the scheme's deferred membership. Neither the Company, nor the Trustees, wanted to devote significant time and energy to those no longer employed by the business.
The Company had a number of concerns about undertaking such a project, including the difficulty in communicating the changes to employees, the governance surrounding a new contract based scheme and the level of support employees would receive.
Head Office
3 group presentations
35 individual meetings
---
The Results
100% of existing members joined the new plan.
Over 75% have transferred their previous personal pensions so far.
38% of employees increased their pension contributions.
Hargreaves Lansdown's solution
Epwin Group consulted with its employees in early 2013 and, after considering feedback, decided to introduce a new plan in July 2013, provided by Hargreaves Lansdown (HL).
'Corporate Vantage' offers a Group Self Invested Personal Pension (SIPP) - a low cost, award-winning pension that lets members save tax-efficiently for their retirement.
In addition, members can invest for goals other than retirement, as the plan offers the choice of a Cash ISA, Stocks & Shares ISA and a general investment account - all under one roof. This means Corporate Vantage provides a solution which is appropriate to everyone, at every stage in life.
One number, one Helpdesk
HL set up a Helpdesk for Epwin Group employees which meant they could speak to an expert 6 days a week. There are no automated messages or menu options. Members always speak to a real person who knows what they're talking about.
Web and mobile access - a pension for the modern age
Corporate Vantage offers Epwin Group's workforce a top-quality technology platform. They can manage their pension how and when they prefer online. HL created and hosted an Epwin Groupbranded website. Members simply log in and can view their pension's value, switch investments, make additional contributions or even change their address. The plan can also be managed through an iPhone, AndroidTM and iPad app. Of course, those who prefer can choose to manage their plan by phone or post.
A wealth of investment choice
Employees can either invest in a default fund recommended by HL or self-invest. There are many tools to make it easier for them to navigate the world of investments, depending on the employee's confidence. Inexperienced members can choose from just three extra funds – the 'ABC Funds' - based on their risk appetite. Those more confident can choose from a number of Master Portfolios, an interactive portfolio-building tool. Seasoned investors can select from the full range of options (2,500 funds, shares, investment trusts, ETFs, gilts, bonds and cash).
HL's Investment Research Team continually monitors the default fund and clients' most popular funds – sending email alerts to investors when appropriate. They also compile the 'Wealth 150' - a list of their favourite funds across the main sectors.
Request a free pension review