McCarthy & Stone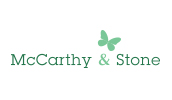 Scheme: Corporate wrap
McCarthy & Stone is Britain's largest builder of retirement homes. Following a major review of its pension arrangements, the company chose to switch to Hargreaves Lansdown's corporate wrap.

Hargreaves Lansdown delivered exactly what it promised: simple administration, seamless implementation and fantastic financial education. An excellent result.
Paula Jordan, HR Director - McCarthy & Stone
Request a free pension review
---
The scenario
The previous schemes were time-consuming to administer and offered very limited web access. They had complicated charges with little transparency. The sheer complexity prevented many employees from taking up a pension.
McCarthy & Stone wanted something better. They wanted one simple scheme with easy set-up and administration, a wider choice of funds, easy web access and better education. The plan as a whole needed to be good value and transparent.
6 different sites
19 group presentations
314 individual meetings
---
The results
Pension membership increased by 20% following McCarthy & Stone's decision to appoint Hargreaves Lansdown.
The McCarthy & Stone employee website received more than 2,000 visits in its first year.
42% of scheme members chose to increase the amount that they contribute to their pension.
More than 25% of new joiners had the confidence to select their own investments, rather than opting for the scheme's default investment fund.
Hargreaves Lansdown's solution
After months of research, McCarthy & Stone still couldn't find an insurance provider able to meet all its requirements. However, Hargreaves Lansdown's corporate wrap ticked all the boxes.
One simpler scheme
At its simplest, the Hargreaves Lansdown corporate wrap - Corporate Vantage - works like a Group Personal Pension (with arguably better service and simpler administration). Unlike a GPP, it offers more under a single roof: an award-winning Self Invested Personal Pension (SIPP), a Stocks & Shares Individual Savings Account (ISA), Cash ISA and a Fund & Share Account. The latter accounts allow employees to maximise their investments without locking their money away.
Reduced administration
Employer contributions easily upload into a ready-built secure system. Members now pay into all accounts through payroll, cutting processing time.
More choice
Employees can either invest in a default fund recommended by HL or self-invest. Those interested in self-investing can choose from thousands of funds from the finest fund managers, shares and ETFs. To assist members, the HL team has also created the "Wealth 150" - their preferred funds across the major sectors. HL experts monitor and analyse all these funds. If there are changes they believe could affect performance they will send alerts.
Better education
Employees receive branded information about the new scheme, investment guidance and fund alerts. They can attend group presentations and individual meetings to help them make informed decisions - both at launch and at regular intervals.
"The presentations and one-to-ones really helped our employees understand the value and importance of a good pension and realise it is never too soon to plan for retirement."
Paula Jordan, HR Director
Better web access and service
The McCarthy & Stone website, created and hosted by HL, gives employees easy access to financial planning tools and 'how to' videos to help them make better informed decisions. They can see a statement, top up and invest 24/7 or phone and speak to a person, not a machine.
Good value and greater transparency
There is no additional cost to McCarthy & Stone. Employees have access to a low-cost default fund and pay no set-up fees. There is also no dealing fee on funds. The management charge employees pay is completely transparent, so everyone knows exactly how much of their money is invested in their pension.
The launch
The new scheme was announced to all employees, who were able to join online, through the branded website, over the phone, or by post. The HL financial education team held 19 group presentations and 314 individual meetings across six company sites, managing the whole process with minimal disruption for employees.
Request a free pension review