Free Employer's guide to auto-enrolment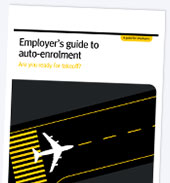 Prepare your organisation for auto-enrolment
Find out how auto-enrolment works, how new rules affect employers and what your pension scheme options are.
Enter your details below to download your free guide today.
Hargreaves Lansdown PLC group companies will usually send you further information by post and/or email about our products and services. If you would prefer not to receive this, please do let us know. Your personal data will remain confidential, and will never be passed to any other company, unless required by law.
For private sector companies with 50+ employees.
Your essential guide to auto-enrolment
Between October 2012 and February 2018 all employers, from multinational companies to businesses with just one employee, will need to provide a pension with a minimum company contribution for all their employees.
Discover how auto-enrolment will affect you and your company and the steps you can take now to minimise the impact.
This guide explains:
What auto-enrolment is and how it could affect you.
Auto-enrolment rules: who do you need to auto-enrol?
Staging dates: when do you need to auto-enrol?
How much will it cost you to comply?
Which pension schemes can you use?
Action points for employers.
This guide is not personal advice.
---