Free Employer's guide to Corporate Vantage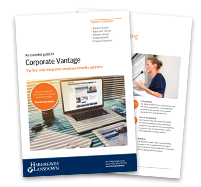 A pension, other investment accounts and Flexible Benefits - via one dynamic platform
Enter your details below to discover how Corporate Vantage could revolutionise your employee benefits.
Hargreaves Lansdown PLC group companies will usually send you further information by post and/or email about our products and services. If you would prefer not to receive this, please do let us know. Your personal data will remain confidential, and will never be passed to any other company, unless required by law.
For private sector companies with 50+ employees.
A revolutionary alternative for the digital age
Corporate Vantage will give you the best opportunity to engage your employees in all their workplace benefits via one simple digital platform.
Corporate Vantage provides your members with:
More choice
More control
More flexibility
More guidance
An award-winning service
In this free guide we'll explain:
How Corporate Vantage can provide a complete auto-enrolment solution.
How employees will benefit from the choice and flexibility offered by Corporate Vantage.
The advantages of providing a Flexible Benefits arrangement for both you and your employees.
How we'll engage your employees with their full benefits package.
This guide is not personal advice.
---