Free Employer's Guide to Benefits Communication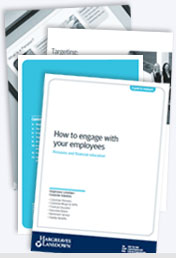 Discover how you could transform a huge cost into a priceless investment
Discover how clear communication of the benefits you offer could help.
Hargreaves Lansdown PLC group companies will usually send you further information by post and/or email about our products and services. If you would prefer not to receive this, please do let us know. Your personal data will remain confidential, and will never be passed to any other company, unless required by law.
For private sector companies with 50+ employees.
Find out how to engage effectively with your employees
Pensions are expensive for employers and auto-enrolment is expected to add £3.27 billion to the bill. The evidence, however, suggests employees don't understand the importance of their pension, how much they need to save or what income they can expect to receive when they retire.
Your free guide explains:
The essential features of a Financial Education Programme.
Targeting: the basis for a dialogue.
Accountability: measuring success.
A regular approach: the key to lasting behavioural changes.
Financial education at work - a real-life case study.
This guide is not personal advice.
---