Free Employer's guide to Flexible Benefits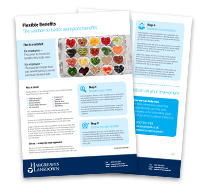 Investing in your company's future success
Get maximum impact from your benefit spend, and give employees the power to choose the benefits they value.
Hargreaves Lansdown PLC group companies will usually send you further information by post and/or email about our products and services. If you would prefer not to receive this, please do let us know. Your personal data will remain confidential, and will never be passed to any other company, unless required by law.
For private sector companies with 50+ employees.
More ways to attract and retain the skills your business needs
Your employees are more likely to appreciate the benefits you give them if they have the power to choose what they really value.
Flexible benefits can make a huge difference to the success of your workplace benefits strategy.
This free guide explains:
The main benefits likely to feature in a flexible benefits package.
The National Insurance savings available when providing benefits in conjunction with a Salary Sacrifice arrangement.
Using a flexible benefits package to harmonise benefits across companies.
Our approach to developing your own bespoke flexible benefits package.
How a single systems solution can be used to manage flexible benefits and workplace pensions and savings all under one roof.
This guide is not personal advice.
---