Free governance factsheet for employers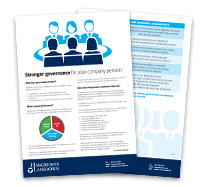 What does stronger governance look like? And how could it benefit your business and your employees?
Enter your details below to find out.
Hargreaves Lansdown PLC group companies will usually send you further information by post and/or email about our products and services. If you would prefer not to receive this, please do let us know. Your personal data will remain confidential, and will never be passed to any other company, unless required by law.
For private sector companies with 50+ employees.
Governance is not only encouraged by The Pensions Regulator, it also benefits your business.
Our approach has been proven to not only improve engagement, but also empower employees to make confident decisions of their own.
This free factsheet will explain:
Why governance matters
What good governance looks like
How Hargreaves Lansdown helps you achieve 'The Six Good Outcomes'
This guide is not personal advice.
---