Free: Salary Sacrifice factsheet for Employers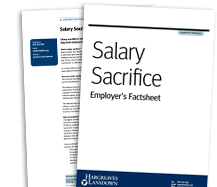 Salary sacrifice is one of the most tax-efficient ways to provide benefits. It can help both employers and employees save money
Enter your details below and find out how salary sacrifice can help your business provide benefits more cost-effectively.
Hargreaves Lansdown PLC group companies will usually send you further information by post and/or email about our products and services. If you would prefer not to receive this, please do let us know. Your personal data will remain confidential, and will never be passed to any other company, unless required by law.
For private sector companies with 50+ employees.
A tax efficient approach to pensions and benefits
Salary sacrifice allows both employers and employees to reduce the costs of providing and receiving benefits - most notably through significant National Insurance savings.
This simple factsheet explains:
How salary sacrifice works.
How employers and employees can save money.
The benefits of 'bonus sacrifice' for employers and employees.
The steps employers must take to set up a salary sacrifice scheme.
Help your business and employees save money on workplace benefits - request our FREE Salary Sacrifice Factsheet now.
This guide is not personal advice
---