Retirement options for employees
Looking for more retirement flexibility for employees?
From shopping around for the best annuity to an integrated drawdown service, we've got it covered.
Book a free meeting now
Most investors aged at least 55 now have total freedom over how they take an income from their pension. It's more important than ever that employees get the information they need to understand the options available. Our Retirement Service provides all the options as standard.
Your employees' retirement options
Traditional annuities
Our online annuity engine searches the open market for the best rates available. Employees have instant access to these personalised quotes at no cost.
Enhanced annuities


An enhanced annuity (also known as an impaired life annuity, ill health annuity or smoker annuity) pays a higher retirement income than a standard annuity because of health and lifestyle.

It's estimated 70%* of the UK population could qualify for an enhanced annuity at retirement. Last month our clients were quoted on average £1,075.72** more income each year, for life.

Drawdown
A more flexible but riskier alternative to annuities. Our drawdown service is low cost and award winning.
'Mix & Match'
Employees can benefit from a secure annuity to cover living costs whilst leaving the rest in drawdown to benefit from the flexibility it provides. Employers can use our Retirement Planner to adjust the blend of secure and flexible income they wish to take.
UFPLS (Uncrystallised Funds Pension Lump Sum)
Those who don't need their full tax-free cash yet, nor a regular income from their pension, can now take periodic lump sums from their pension as they wish. 25% of each lump sum will be tax free and the rest taxed as income.
Our award-winning Financial Advisers can provide advice for a fee to those members who are unsure of their options.
*(Source: Retirement Advantage.) **Average increase quoted in June 2016, based on the top and bottom rate for 417 clients. Actual increases will depend on your pension value and personal circumstances.
Free Employer's Guide to our Retirement Service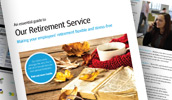 Discover how to make your employees' retirement flexible and stress-free.
Get your free essential guide
Have a question?
Call us on:
0117 314 1783