Online traditional and enhanced annuities for employees
UK's first: live traditional and enhanced annuity rates online
Over half of our clients increase their annuity income
using health and lifestyle.
Your employees could do the same.
Request a free consultation
Hargreaves Lansdown annuity providers
Our service makes it easy for employees to shop around and secure a competitive retirement income. It also enables employers to deliver The Pensions Regulator's relevant 'good outcome', by facilitating an appropriate decumulation decision.
Benefits of getting an annuity quote
Annuity rates are live and fully underwritten.
Multiple annuity quotes and options can be calculated at once.
Automatic search for enhanced annuities - simply by adding health and lifestyle details.
Retrieve previous quotes.
A dedicated Bristol-based Helpdesk to answer any questions.
Free to use with no obligation to go ahead.
If employees do want to proceed, we'll set up the annuity for them.

How much income could an enhanced annuity add?

It's estimated 70% of the UK population could qualify for an enhanced annuity at retirement. Retirees don't have to be seriously ill to qualify – if they smoke, are overweight, drink regularly or take any prescribed medication they could increase their annuity income.

If members prefer, we can provide figures over the phone and by post.

Our online enhanced annuity service
Traditional enhanced annuity services

Simple online questions - as many or as few as necessary depending on your answers.

Daunting enhanced annuity questionnaires and forms.

Instant live quotes online, which can be refreshed at the click of a button. Annuity rates are only guaranteed for a limited time.

Time-consuming quotes by post. Annuity rates are only guaranteed for a limited time - so this can be detrimental if you're comparing a range of options.

Guaranteed live enhanced rates.

Fully underwritten. Over 2,500 medical and lifestyle conditions are covered. Even height, weight, and alcohol consumption can qualify.

Limited underwriting offers speedy results but focuses on a handful of medical conditions only.

'At a glance' comparison of a range of enhanced incomes (e.g. comparing joint life and inflation proofing options) on screen. Takes spouse/partner's health into account.

Manual, paper-based quotes make it hard to compare a range of annuity options.

Members can put their results in our Retirement Planner, the first of its kind in the UK. They can create a bespoke plan which suits their needs by adjusting their blend of secure and flexible income.
Have a question?
Call us on:
0117 314 1783
Free Employer's Guide to our Retirement Service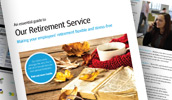 Discover how to make your employees' retirement flexible and stress-free.
Get your free essential guide