Financial advice costs explained
Ever booked a cheap flight then found out your luggage costs more than your seat? It's frustrating when costs aren't clear and upfront. And when it comes to financial advice, it's important to know how much you'll pay and what the benefits will be.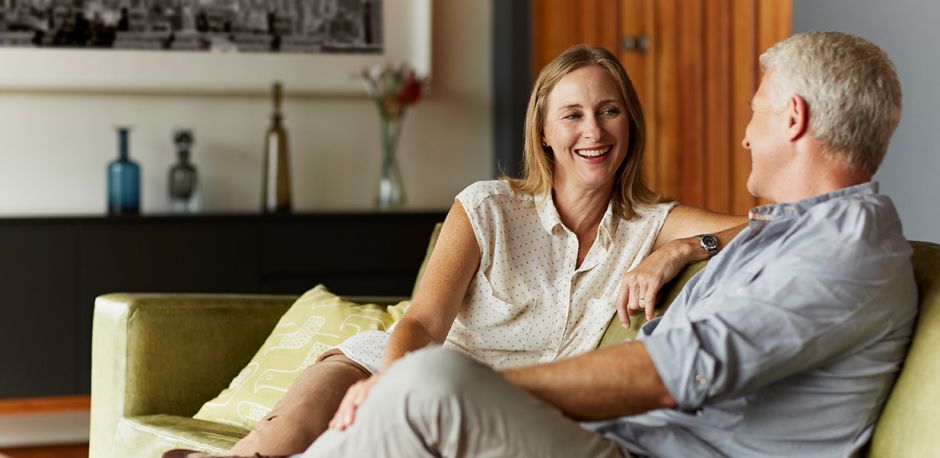 Explaining our charges
We make sure you're comfortable with our charges throughout your advice journey.
The first step towards getting advice with HL is speaking to our advisory helpdesk. It's their job to outline how advice works and the charges involved.
You won't get personal advice on the call and there's no pressure to take advice. The aim of the conversation is to find out whether advice could be worthwhile for you. We don't want you to pay for financial advice unless you're confident it could help you.
If you think advice might benefit you, you'll be put in touch with an adviser. During your first meeting, your adviser will get to know you and your financial goals.
At this point, there's still no obligation to take advice. If you don't think you'll see value from our service, it's your call if you want to leave things there.
Your charges will always be clarified by an adviser before you go ahead. It depends on what type of advice you need and the assets involved. We've broken this down below.
Financial planning advice charges
Our financial planning service charges are worked out as a percentage of the assets we're advising on.
The first £200,000 will be charged at 2%. Then the balance from £200,000 to £1 million is charged at 1%. Anything over £1 million will not be charged
We offer advice over the phone or face to face. Which ever you choose, the percentage charges stay the same. But there is a minimum charge which differs. It's £495 for telephone advice and £1,495 for face-to-face advice. VAT is charged in addition where applicable.
Financial planning can be complex and it's where advice can be crucial to helping you meet your financial goals.
For more on how we can help, read our dedicated financial planning page.
Investment advice charges
It's likely that your investments will play a big part in achieving your financial goals.
Investment advice will look at investments contained in investment wrappers such as ISAs and pensions and help you align them to your goals.
The minimum charge is the same for investment advice but it's 1% of the portfolio value advised on all the way up to £1 million. After that, there's no charge.
Cost of financial advice on your pension
Pension and retirement planning is one of the most important times to take advice in our view.
Depending on what you want to get out of your advice, this could be charged as planning or investment advice.
For example, if you wanted to plan how you'll get your income in retirement, this would fall under our financial planning service. Whereas, if you wanted to rebalance or diversify the investments in your pension, this would be charged at our investment advice rates.
If you need advice on a secured benefit such as a defined benefit pension, this is charged separately. More information is available in our key facts.
Ongoing financial advice charges
Financial advice revolves around your long-terms plans. And long-term plans might not change every year. But ongoing advice can be helpful if you'd like a little more support on a more regular basis.
A lot can happen to markets over the course of a year which may mean that your portfolio needs rebalancing. Your goals may not have changed but the goal posts might have. For example, tax rules may have changed.
We don't believe in tying our clients into ongoing advice automatically. If you think you'd like ongoing advice please ask your adviser and they'll talk you through what you'll get out of it. Ongoing advice costs 0.365% of your portfolio every year plus VAT where applicable. You could take one-off advice several years apart and save money on advice charges.
Example break down of advice costs
Here's an example of what an adviser would charge. Not all cases will be quite so straightforward but you'll get a personalised breakdown of charges to make sure you're comfortable with everything before going ahead.
Client A would like financial planning advice
Let's say client A has £100,000 in an ISA and £300,000 in a pension. They are nearing retirement and want to plan out their income and spending for when they finish work.
Following a conversation with their adviser, client A decides they would like to go ahead with financial planning advice. An adviser will need to set out a plan for how they'll get the money they need when they need it, how much cash they'll need and how to prepare for later life.
The amount of money and investment the adviser is looking at is £400,000. So the cost of the advice would be as follows:
2% on the first £200,000 (£4,000).
1% on the remaining £200,000 at 1% (£2,000).
So the total cost of their financial planning advice would be £6,000 (plus VAT where applicable).
Client B would like investment advice
Client B also has £100,000 in an ISA and £300,000 in a pension. Client B would like to check their investments are still well balanced and well diversified. Like client A, client B has discussed their requirements with their adviser and they've decided that investment advice is the more appropriate service for them.
Although client B has the same portfolio size as client A, client B would only like advice on the investments held in their ISA. Their adviser would still need to discuss what client B has planned for their ISA but the recommendations given would only relate to the investments they hold in the ISA.
That means they pay 1% on £100,000 (£1,000). Client B has decided to take advice over the phone which means they're not subject to the minimum charge they would otherwise have to pay if they took advice face to face.
Is there such a thing as free financial advice?
Beware of anyone offering free financial advice – it could be a scam.
There are lots of free resources, including those on our website, which can give you guidance but what you read online should only be considered guidance and not advice specifically tailored to you.
The difference between guidance and advice is very important to understand. The Money and Pensions Service (MPS) have defined what each of these terms mean in a financial context. And all financial services businesses must be clear about which information is advice and what is guidance.
Read the MPS' helpful information for more detail.
Free guidance
Our Learn section has information about the building blocks of investing. Here, you'll find out about some key principles for long term investing. This is the most general guidance we offer but it's also probably the most important.
Our News section includes articles on the effects of world affairs on the world of investing. You'll also find tips and guides on how to adapt or how to get the most out of HL services. But remember, these articles are guidance and not personalised advice.
If you're looking for updates on company shares, the Share Research section of our site provides updates, trading statements and our view on shares that we cover. This information is meant to help you make your own decisions but we will never be able to give our view on if a share is right for your circumstances. So if you're unsure, ask a financial adviser.
Pension Wise
Pension Wise is a free and impartial government service designed for everyone aged 50 or over, who has a UK based personal or workplace pension. It aims to help you understand what type of pension you have, how you can access your savings and the potential tax implications of each option.
The service also provides guidance on how to shop around and find the best product for your needs. It also covers how to spot a pension scam, and what to do to avoid them.
Money helper
Get government-backed, impartial guidance from Money Helper. This resource can help with matters such as managing your debt, budgeting and home finances such as mortgages. They do also touch on investing and saving.
Citizens Advice
This charity offers advice on a wide range of topics such as your employment rights, consumer rights and family matters. It also has guidance on debt, mortgages, pensions and banking.