HL US Fund
Investment strategy
Important information - This is designed for investors who want to make their own investment decisions without personal advice. If you're not sure if an investment's right for your circumstances, please ask us for advice. Investments will fall as well as rise in value so you could get back less than you invest. The HL US Fund is managed by our sister company Hargreaves Lansdown Fund Managers Ltd.
The HL US fund brings together exceptional, contrasting and complementary investment styles into one investment. A best-of-all-styles fund with the potential to outperform in any market conditions. All driven by superior stock selection.
HL's expert team hand-picked managers from over 2,000 strategies around the world. Only four made the cut at launch.
Each external investment team looks after around a quarter of the fund. They'll focus on their strengths and their specific roles. Capitalising on tried and tested techniques to invest in what they believe to be the best companies.
HL Fund Manager Ziad Gergi.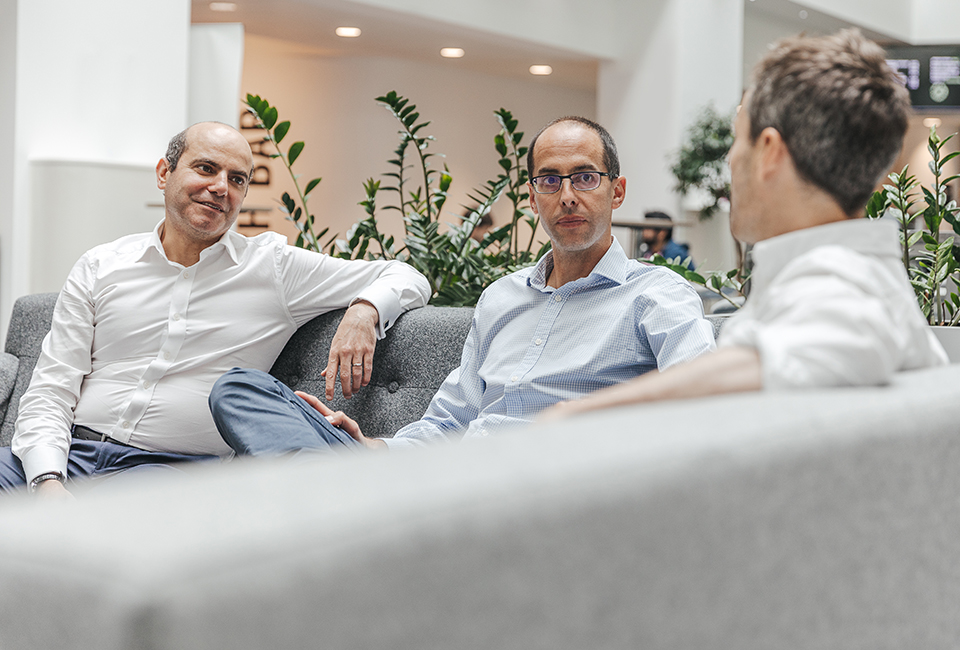 HL Fund Managers Ziad Gergi, Roger Clark and Thomas Wells.
The Fund aims to grow investment more than the performance of the MSCI USA Net (15% withholding tax) Index over the long term (at least 5 years) after charges. The HL fund managers will track underlying performances of each fund manager selected against expectations and agreed strategies.
They will rebalance when needed. Or change and add managers to secure better potential results for investors. For example, to add investments in higher-risk smaller companies.
Investments will fall as well as rise in value, so you could get back less than you invest.
Here's how the fund is constructed:
HL US underlying portfolios
Alliance Bernstein
What they're looking for
Frank Caruso and his team of 2 other managers and 9 analysts look for large, highly profitable businesses that people will buy products from even in an economic downturn. And that reinvest their profits as well as making returns on their investments. They started their strategy in 2012.
Portfolio
40-60 large-cap growth stocks. On average, over 30% of the portfolio is invested in the 10 largest positions in the portfolio.
The role they play in the fund
Finding stocks that could grow in all market conditions.
William Blair
What they're looking for
James Golan and David Ricci launched the strategy in 2011. They and their analyst team have a research-intensive approach. They target large, under-valued companies with profit growth potential greater than or equal to the overall economy and their own industries.
Portfolio
30-40 growth stocks.
The role they play in the fund
Looking for shares with high-growth potential.
JPMorgan
What they're looking for
Claire Hart started her strategy in 2004. She and her team of analysts are looking for quality companies with durable franchises, consistent earnings and strong management.
Valuation is critical. The team won't overpay for companies that they don't think have strong potential.
Portfolio
85-110 high-quality stocks with reasonable valuations.
The role they play in the fund
Finding undervalued stocks that could perform well in good or bad market conditions.
Neuberger Berman
What they're looking for
Eli Salzmann and David Levine launched the strategy in 2011. They research stocks to determine a value they think they could reach and the steps that company could take in the future or economic changes to reach it in the next year and a half.
Portfolio
50 to 65 value stocks, but with high turnover.
The role they play in the fund
Looking to find stocks that are trading at an attractive value.
Yearly charge based on an example £1,000 investment:
0.83%
Ongoing charge
(OCF/TER)
The ongoing charge is taken directly from the fund. This covers the management of the fund and all expenses other than transactional fees which are charged on top of this, these costs are incurred by all funds when shares are bought or sold and are reflected in the fund's price.
The HL platform fee is our charge for looking after your investments which won't be over 0.45% per year. Both of these charges will be payable if you want to hold the fund with HL. The above example assumes no change in the value of your investment.
See how the costs will affect your investment in detail
Ready to invest?
Invest with a lump sum from £100, or start a monthly direct debit from just £25 per month.