Enhanced annuities
You don't have to be seriously ill to qualify
Thousands of people miss out on an enhanced annuity because they're not aware their lifestyle or medical conditions could significantly increase their annuity income.
If you smoke, suffer from ill health or currently take any prescribed medication and your pension fund is over £5,000 you could increase your income.
To find out how much more income you could receive, simply enter your medical details as part of your online annuity quote. You'll receive instant, live enhanced annuity rates from top providers. All information is completely secure and confidential.
Request your free enhanced annuity quote online now
1,500 conditions could enhance your annuity
There are over 1,500 conditions that could make you eligible for an increased annuity income. A handful are listed below, but there are many more.
Diabetes
Cancer
High cholesterol
Parkinson's disease
High blood pressure
Stroke
Heart attack
Angina
What might the enhancements be?
Below we have illustrated by how much certain medical and lifestyle conditions can increase an annuity. The information relates to a male aged 65 with a fund of £25,000 and an average rated postcode. The annuity is single life and level, with a five year guarantee, paid monthly in arrears.
Source: HL Annuity Supermarket and Just Retirement, 1 February 2013.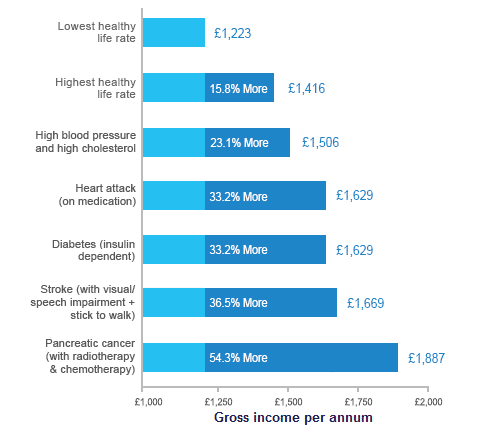 If you're unsure about whether you qualify for an enhanced annuity, please don't hesitate to contact one of our annuity specialists on 0117 980 9940 and they'll be happy to answer your questions.
Alternatively, find out how much more income you could receive - calculate an instant enhanced annuity quote online now.

Free instant enhanced annuity quote
Important information
Annuity rates can change regularly and may go up or down in the future. Quotes are guaranteed for a limited time only. Once set up, an annuity cannot normally be changed or cancelled, so it is important to consider all your options carefully.
Have a question about your annuity?
If you would like more information please don't hesitate to contact one of our annuity specialists on:
0117 980 9940
Client review

You handled my request very professionally and found me a provider who came up with 60% more annuity than my own provider due to my type 2 diabetes. This has made a big difference to my lifestyle and all I did was sign the form.
Mr Lloyd, Suffolk
Client case study:
43% annuity increase

Mr Eccles from Derby benefited from a 43% increase to his retirement income due to medically enhanced annuity rates.
Client case study:
Mr Eccles, Derby

I had a final salary scheme until age 60 but this was then shut down and replaced by a money purchase scheme. Due to ill health I wasn't able to accumulate as much as I would have liked in this second scheme. My pension provider didn't offer enhanced annuities so I had to look elsewhere to get an increased rate.
At retirement I searched on the internet and Hargreaves Lansdown's service came up top. Hargreaves Lansdown searched a range of enhanced providers and helped me find the one offering the highest income. I then went ahead with the most competitive provider who offered an increase of 43% on the income quoted by my own provider. Hargreaves Lansdown kept in contact and helped me throughout the process. Since the annuity has been set up I've had no problems at all, the payments simply go into my account each month.