Could you enhance your annuity?
Last month our clients were quoted on average £1,091* more income each year, for life. Simply enter your health and lifestyle details as part of your annuity quote and compare live enhanced annuity rates on screen.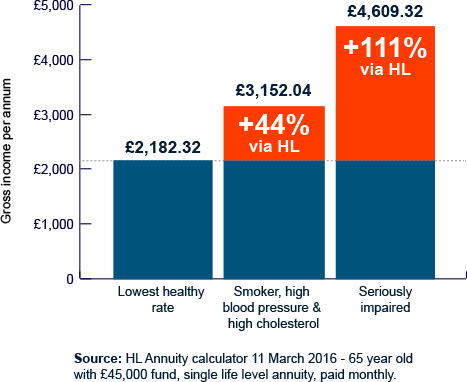 Compare enhanced annuity rates now
What is an enhanced annuity?
An enhanced annuity (also known as an impaired life annuity, ill health annuity or smoker annuity) pays you a higher retirement income than a standard annuity because of your health and lifestyle. It's estimated 70%† of the UK population could qualify for an enhanced annuity at retirement. This higher income is paid for life.
Enhanced annuity rates available live online
Thousands miss out on an enhanced annuity because they're not aware they qualify - even minor conditions count. Our new online enhanced annuity service makes it easy to check your eligibility in only five minutes - you could increase your income simply by adding your health & lifestyle details.
| | |
| --- | --- |
| Our NEW online enhanced annuity service | Traditional enhanced annuity services |
| Simple dynamic questioning takes you seamlessly through the enhanced annuity process with as few or as many questions as necessary. | Daunting enhanced annuity questionnaires and forms, sometimes 20 pages long. |
| Instant quotes online which can be refreshed at the click of a button. No hanging around for a call-back or email. You simply complete the details in your own time. | Time consuming quotes - an enhanced annuity quote can take a couple of days to arrive. Don't forget annuity rates are time sensitive and only guaranteed for a limited time - so this can be detrimental if you're comparing a range of options. |
| Guaranteed enhances rates, on screen. We transparently display annuity rates in real time. Incomes are collated and sorted on one page. | Indicative rates. Extensively used to generate approximate annuity figures. These fail to match the exact annuity rate for which you eventually apply and aren't transparent. |
| Fully underwritten. 2,673 conditions (from Addisons disease to Zollinger Ellison Syndrome). 3,296 medications covered. Even height and weight, and alcohol consumption can qualify. | Limited underwriting offers speedy results but focuses on a handful of medical conditions only. |
| 'At a glance' comparison of a range of enhanced incomes (e.g. comparing joint life and inflation proofing options) on screen. Takes spouse/partner's health into account. | Manual, paper-based quotes make it hard to compare a range of annuity options. |
Over 1,500 medical and lifestyle conditions qualify
You don't have to be seriously ill to qualify, if you smoke, are overweight, drink alcohol regularly or take any prescribed medication you could increase your annuity income.
Our clients increased their annual annuity income by £1,091* on average last month due to medical or lifestyle conditions. A handful of qualifying medical conditions are listed below, but there are many more.
High blood pressure
Heart disease, heart attack or angina
High cholesterol
Stroke
Cancer
Diabetes
To find out how much more income you could receive, simply enter your health and lifestyle details as part of your online annuity quote. You'll receive instant, guaranteed enhanced annuity rates from seven top providers. All information is secure and confidential
Some smoker annuity providers may ask you to take a cotinine test to confirm you are a smoker. Some enhanced annuity providers may ask your GP for a medical report, with your consent, to confirm your health status.
Hargreaves Lansdown enhanced annuity providers
Request your free online enhanced annuity quote now
If you're unsure if you qualify for an enhanced annuity income, please don't hesitate to contact one of our specialists on 0117 980 9940 and they'll be happy to answer your questions. Alternatively, request your free enhanced annuity quote below now.
Compare enhanced annuity rates now
* Average income quoted in May 2016, based on the top and bottom rate for 443 clients. Actual increases will depend on your pension value and personal circumstances.
† Source: Retirement Advantage.