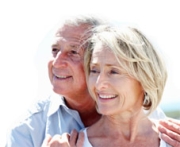 Meet Brian and Susan
Brian is an IT manager and has been married to Susan for 35 years. They have 3 children and 6 grandchildren.
Brian and Susan have both done their sums and have worked out how much they need to live on. This is based on what they currently spend on living expenses, running the house etc. and taking into consideration how much they plan to spend on travel and other hobbies now they are retired.
Brian wants to make sure that if he dies first Susan will have enough to live on. Brian's other pensions pay a widow's pension and are linked to inflation so he is keen to consider an annuity that continues to support Susan. They have worked out Susan would need about half of Brian's pension.
Hargreaves Lansdown's Head of Advice, Danny Cox, might suggest:
"Brian and Susan have done their homework and worked out their retirement budget; this is a really good idea. A joint life annuity comes to mind for them. A 50% spouse's pension will mean Susan will receive a pension of half the amount Brian has been receiving when he dies.
A level pension suits Brian and Susan since they have other income which is index-linked to help protect against inflation. A level pension provides them with a higher income now than they would receive if they had a pension which increases. This will help them enjoy the early years of their retirement, but the buying power of this level pension will reduce over time.
If Brian and Susan decide the pension should stay the same after Brian's death they should take 100% spouse's pension. Providing a 100% spouse's pension means a lower pension income than if you provide a 50% spouse's pension."
Choosing your annuity is an important decision which should be considered carefully. This is a fictitious but realistic scenario to help you make your own decisions; it does not constitute a personal recommendation. If you are unsure about the suitability of any aspect you should seek financial advice.