Your annuity options
When you set up your annuity it's fixed for life, so it's vital you choose your options carefully. You should consider both your immediate and long-term needs when making your decisions as well as those of any dependants.
Below we have listed the four main decisions you need to make when setting up your annuity. You can mix and match to suit your needs and requirements. If you can't find the option you're looking for please call our Helpdesk on 0117 980 9940.
Who do you want to receive your income?
Single Life: Just myself
Your annuity income will be paid only to you throughout your life and will cease when you die.
Joint Life: Myself and my spouse/partner
You can continue to support your spouse or partner with up to 100% of your annuity income after you die.
Do you want your income to remain level?
I would like a level income
Your income will remain level and won't increase. Although the income may be higher initially, you should bear in mind the effects of inflation over time.
I would like my income to track inflation
Your income will move in line with the Retail Price Index (RPI), and therefore track inflation and retain its buying power.
I would like my income to increase by a fixed percentage
Your income will rise by a fixed percentage each year (such as 3% or 5%). This means your income could counter the effects of inflation.
Do you want your income guaranteed for a fixed period?
I would like a guarantee period
A single life annuity can normally be guaranteed for a period of 5 or 10 years. If you die within this time the income will continue to be paid to your estate, or to the beneficiaries you nominated, for the remainder of the guarantee period.
If you wish to have a joint life annuity guaranteed, your income will usually be paid for the remainder of the guaranteed period in the first instance, normally in accordance with your will. At the end of the period your spouse's income will be paid at the level specified.
I wouldn't like a guarantee period
Unless you have opted for a joint life annuity, your income will stop upon your death, even if you die shortly after taking it.
How do you want your income to be paid?
Payment in advance
You will receive your first payment immediately.
Payment in arrears
Your income will be paid at the end of your chosen payment period, which can be paid monthly, quarterly, bi-annually or annually.
Important information
This annuity service is not personal advice. Annuity rates can change regularly and may go up or down in the future. Rates will depend on your personal circumstances, including how much you have saved in your pension. Quotes are guaranteed for a limited time only. Once set up, an annuity cannot normally be changed or cancelled, so it is important to consider all your options carefully. Tax treatment of annuities and tax-free cash will depend on your individual circumstances and may change in future.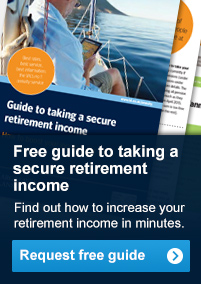 Client case study: £2,500 more income per annum

Mr Coe enhanced his annuity by £2,500 a year thanks to our online enhanced annuity service.
Client case study: Mr Coe, Stockton-on-Tees

I just wanted to say thank you for the enhanced RPI protected annuity quote received today. Thanks to you for making it so easy I am going to receive an annual sum £2,500 greater than the lowest standard quote, and this is entirely down to your team. I remain hugely impressed with the service you provide.
Have a question about your annuity?
If you would like more information please don't hesitate to contact one of our annuity specialists on:
0117 980 9940