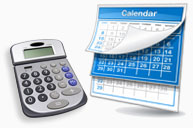 What could happen if I delay my annuity?
Should you delay taking your annuity in case fund values or annual income rise, or might you miss out on more income by delaying?
This calculator can help you decide - it calculates these factors to show you the possible cost or benefit of delaying your annuity.
Please note annuity rates can rise and fall in the future. The figures provided are not guaranteed. They are an illustration of the possible effect of delaying your annuity and a guide to help you make a decision. They don't take inflation into account and the actual cost of delay could be more or less than the results shown.
You and your current pension: