Salary Sacrifice
Salary Sacrifice (also known as Salary Exchange) can help reduce the cost of providing a workplace pension and some other flexible benefits by decreasing the National Insurance (NI) you and your employees pay.
How does Salary Sacrifice work?
Step 1: Your employee gives up the part of their salary (the amount they wish to contribute)
Step 2: You make an employer contribution for the equivalent amount
Step 3: By reducing the salary your employee receives, both you and your employees pay less National Insurance
With which benefits can I use Salary Sacrifice?
Salary Sacrifice is long-established as a means of paying pension contributions. HM Revenue & Customs have also agreed it can be used to fund a range of flexible benefits, including:
Workplace parking
Cycles and cyclist's safety equipment
Childcare vouchers
Workplace nursery places
On-site sports facilities
Mobile phones
Work-related training
How can Hargreaves Lansdown help?
If you're considering salary sacrifice, it's important to get advice which is specific to the needs of your business. Hargreaves Lansdown can guide you through this process by:
Reviewing your payroll information to see how much National Insurance you and your employees might save.
Helping you identify any employees who might not benefit from salary sacrifice.
Looking at your existing workplace policies and procedures to highlight any specific implications a switch to salary sacrifice might have.
Explain how salary sacrifice can work with auto-enrolment.
Drafting the communications to inform your employees.
Working with your payroll team to review your company's payslip, and suggest any changes that might be needed.
Helping you obtain HM Revenue & Customs approval for your salary sacrifice arrangement.
Talk to us on 0117 314 1783 or email us.
Have a question?
Call us on:
0117 314 1783

Avoid wasting money on your workplace pension: The 5 key steps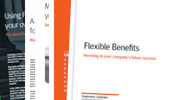 Discover flexible benefits, the potential tax savings and how they can be integrated with your workplace pension on one dynamic digital platform.