How to secure the best retirement income for employees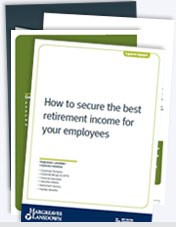 A better retirement income for your employees
Learn how you can help your employees achieve the best possible income in retirement with our simple guide.
Hargreaves Lansdown PLC group companies will usually send you further information by post and/or email about our products and services. If you would prefer not to receive this, please do let us know. Your personal data will remain confidential, and will never be passed to any other company, unless required by law.
For private sector companies with 50+ employees.
Secure the best retirement income for your employees
It is estimated that defined contribution members are collectively missing out on between £500 million to £1 billion a year in additional retirement income. Why not see how you can help your employees receive the best possible income when they retire.
This guide explains:
How trustees can meet their responsibilities.
How the abolition of compulsory annuities and default retirement age could have an effect on the retirement service you offer.
Why poor choices at retirement could give members up to 40% less income when they retire
How employers can clearly communicate retirement options to their employees.
This guide is not advice.
---