Investments can go down as well as up so there is always a danger that you could get back less than you invest. Nothing here is personalised advice, if unsure you should seek advice.
Specialist funds can usually be found at the top or the bottom of performance tables with results largely dependent on the outlook for the niche area in which they invest. Many commodities, including energy, have struggled for the past few years, exacerbated by the recent slide in the oil price. It is therefore unsurprising that the Artemis Global Energy Fund, which primarily invests in the oil and gas sector, has had a difficult time.
Oil Price per barrel over the past year
Why has the oil price fallen?
The world consumes, on average, 92 million barrels of oil a day and there are currently around 500,000 barrels being produced in excess of this requirement. John Dodd and Richard Hulf, the managers of the Artemis Global Energy Fund, believe the recent oil price fall can be traced to this oversupply/under-demand.
The over-supply of oil can be attributed, in the main, to the US fracking boom and a recovery in Iraqi and Libyan production. Reduced demand due to lower growth in China, Europe and Japan has also had an impact.
Historically, Saudi Arabia has aided the control of the oil price by under or over-producing to balance supply and demand. More recently, Saudi Arabia, a key member of OPEC (The Organisation of Petroleum Exporting Countries), has not been fulfilling this role which has led to a reduced oil price due to oversupply. OPEC last week announced they will continue to hold production targets at current levels.
Why has performance been poor?
The Artemis Global Energy Fund has performed poorly in this environment due to the sensitivity of the fund's holdings to movements in the oil price. In addition, the fund's bias to smaller companies and those with exposure to emerging markets has negatively affected performance. Such companies are often hit harder when the outlook is negative as they are higher risk. The managers feel investors have overreacted to the fall in the oil price and as such expect these holdings to recover strongly when the oil price rises and investors' fears are abated.
Why do the managers think the oil price will recover?
The managers don't feel the oil price can remain low for long and are confident of a recovery to $100 a barrel by summer 2015. They estimate the average cost of producing a barrel of oil is $100, so a price in excess of this is required over the long term. Some countries are able to produce oil at a much lower cost, but need a high oil price to meet other liabilities. Saudi Arabia for example can produce oil cheaply, but as oil accounts for the majority of national income they need a high oil price to support the cost of their growing infrastructure.
The diagram below highlights the concept of supply and demand. It shows there is a point of equilibrium at which supply and demand are in balance. The current situation cannot last indefinitely and markets don't often stay imbalanced for long. Eventually, either demand will increase to meet or exceed the level of oil supplied, or, more likely, supply will reduce as producers can no longer afford to sell their oil at a loss. In either situation, the oil price rises.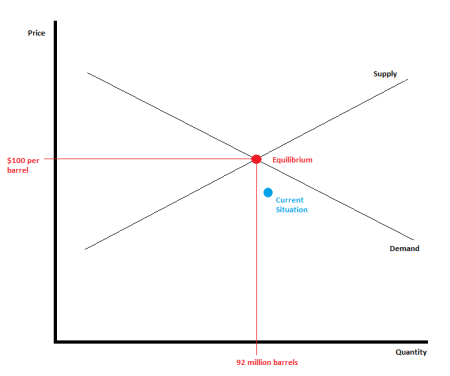 How will the fund be positioned moving forwards?
The managers aim to reposition the portfolio over the next six months to reduce the number of small exploration and production companies (E&P) in favour of larger E&P firms, midstream, downstream and renewable companies.
Different areas of energy production
The oil and gas industry is divided into three main sectors:
Upstream - This is where exploration and production companies (E&P) sit. Their main business is searching for new sources of oil and gas, drilling and operating wells.
Midstream - This area involves the transportation and storage of oil and gas.
Downstream - Companies which refine crude oil into useable products and market them to consumers.
Smaller E&P companies have not performed as well as the managers had hoped. A lack of attractive projects, absence of qualified staff and a shortage of finance has led to deterioration in the performance of smaller E&Ps - manifested in delayed projects, cost overruns and poor returns.
Larger companies have been scoring better on all these counts and they feel large global firms will rebound more strongly following a rise in the oil price. The prospects of these larger firms are less dictated by successful exploration and production as they are more diversified across the different areas of energy production.
The managers have begun to add some exposure to the renewable energy sector, although this still accounts for a relatively small part of the fund. The price of renewable energy technology has dropped significantly, and green energy companies no longer heavily rely on government subsidies. While the managers don't believe renewable energy will replace the requirement for oil, they feel it is becoming a viable alternative. The fund holds Xinjiang Goldwind, a Chinese wind turbine manufacturer and Sunedison, a US solar panel maker to gain exposure to this theme.

Our view on this fund
The fund has had a torrid time. Since launch, it has lost 38.6% compared with a negative return of 5.9%* for the MSCI ACWI/Energy benchmark. When compared with the performance of oil the fund fares a little better - oil has fallen 40.1% over the same period.
Energy stocks are currently widely disliked and priced accordingly, which could present an opportunity - any small improvement in sentiment could see the sector rebound strongly. That said, although the oil price has dropped significantly, there is no guarantee it has hit the bottom and could fall further. This specialist, higher risk fund's future is, and will always be, closely linked to the oil price. John Dodd and Richard Hulf are experienced managers in the field and we remain confident this adventurous fund could perform well if the oil price recovers. It therefore retains its place on the Wealth 150.
Annual percentage growth
Dec 11 -
Dec 12
Dec 12 -
Dec 13
Dec 13 -
Dec 14
Artemis Global Energy
0.05%
-5.13%
-28.96%
Brent Blend Oil
0.4%
-1.68%
-34.01%
MSCI ACWI/Energy TR
-2.41%
11.49%
-5.26%
Past performance is not a guide to future returns. Full year performance figures before this date are unavailable. Source: Lipper IM* to 01/12/2014
Find out more about this fund including how to invest
Please read the key features/key investor information document in addition to the information above.
The value of investments can go down as well as up, this means you could get back less than you invested. Therefore all investments should be regarded with a long term view. No news or research item is a personal recommendation to deal. If you are unsure about the suitability of an investment please
contact us for advice
.
Important information
-
Please remember the value of investments, and any income from them, can fall as well as rise so you could get back less than you invest. This article is provided to help you make your own investment decisions, it is not advice. If you are unsure of the suitability of an investment for your circumstances please seek advice.
No news or research item is a personal recommendation to deal.
Want our latest research sent direct to your inbox?
Our expert research team provide regular updates on a wide range of funds.
---