Property sector
Property is a deceptively diverse asset class but can broadly be split into two: residential and commercial.

Investing in property is much more than just buy-to-let. While there aren't many funds that invest in residential property, commercial property offers plenty of investment opportunities. It's broadly divided into three areas: retail, industrial and office. Most investors access this part of the market by investing in property funds or REITs (Real Estate Investment Trusts).
There are two IA (Investment Association) fund sectors devoted to property. The IA UK Direct Property sector contains funds that invest in bricks & mortar. The IA Property Other sector includes funds that invest elsewhere, such as overseas or in property company shares.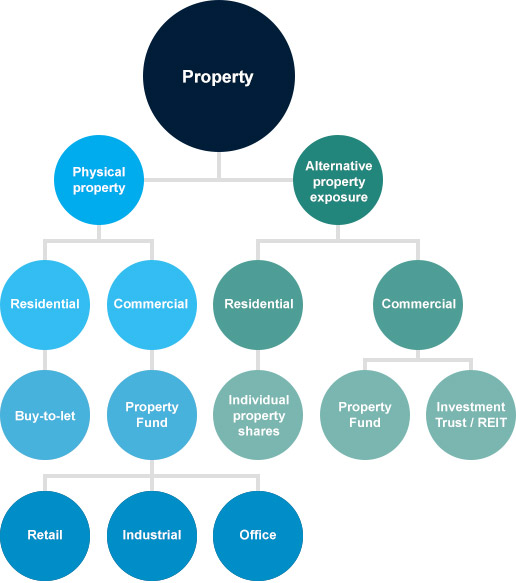 Physical property
Alternative property exposure

Residental

Individual property shares

Commercial

Property Fund
Investment Trust/REIT
Our view on the Property sector
The performance of property funds usually depends on how the economy's doing. In good times demand for property increases. This pushes up rents and property prices and encourages more construction. During slowdowns or recessions the opposite happens.
Commercial property is normally preferred by investors in need of an income. That's because most of the returns come from rental income. As with any investment the value of property investments and the income they provide can fall as well as rise.
Funds investing in physical property
Property funds that invest directly in bricks and mortar are popular with investors, but we don't think they're the best way to invest.
This is because commercial property is not easily bought and sold. It's time-consuming, labour-intensive, and expensive.
This creates problems for fund managers. Investors usually want to put a lot of money into their funds when performance is good and the outlook is rosy. But because it can take months to find and buy suitable properties, the manager often ends up holding a lot of cash and missing out on rising property prices.
Similarly, when the outlook isn't so good, or when performance has been poor, investors tend to sell property funds. This often forces the manager to sell properties in order to give investors their money back. The best properties are often quickest and easiest to sell, so remaining investors can be left with less attractive investments.
To help with this issue fund managers adjust the pricing of their funds and can stop investors trading them. These decisions are not taken lightly and only in extreme circumstances. It does mean you could receive less than you expect when selling a property fund, or not be able to sell at all for a period of time.
This can hurt the fund's performance and means returns aren't solely down to the skill of the fund manager. The high costs associated with buying and selling property also eat into the income received by investors, more so than when buying and selling shares.
Funds investing in property company shares
These funds work in a similar way to funds that invest in company shares. The value of the fund is directly linked to the value of the shares the manager invests in.
They mostly invest in Real Estate Investment Trusts (REITs). REITs own and operate a variety of properties and are looked after by an expert management team. This helps to spread risk and means they don't rely on a small number of properties.
You can also invest in REITs, and other property-related investment trusts, directly. These don't have the same problems as unit trusts when large investors try to buy and sell at the same time. But it's possible for the shares in the REIT or investment trust to trade below (or above) the value of the properties they invest in. This is known as trading at a discount (or premium).
Investment trusts can also borrow money to invest. This can improve returns when markets are rising, but increases losses in falling markets, so it's higher risk.
Investment notes
Please remember past performance is not a guide to future returns. Where no data is shown, figures are not available. This information is provided to help you choose your own investments, remember they can fall as well as rise in value so you may not get back the original amount invested.
The recent performance of UK commercial property was a mixed bag. In the 12 months to 31 July the IA Property Other sector achieved a pleasing 10.9% return with income reinvested. The IA UK Direct Property sector on the other hand, grew just 0.9%. By comparison, the broader UK stock market, grew 1.3%. Past performance isn't a guide to future returns.
For most of the year demand from overseas investors fell for all property types. UK investors are cautious too. A lot of that is of course down to Brexit worries. It's also made many occupiers wary, as they wait to see what the UK's future relationship with the EU will look like.
Retail woes continued, with steeply falling demand sending both rents and capital values down. And they're expected to fall further. Many retail landlords have offered incentives to lure tenants back. Strikingly almost half of BHS stores are still empty three years after the company went bust.
Demand for offices changed little over 12 months, although prime location offices are expected to see capital gains and rent increases. Technology and media companies continue to take space in both London and regional cities like Edinburgh and Manchester. The serviced office sector has also seen sustained growth.
The picture is by far the rosiest for industrial properties, which are still enjoying considerable growth. That's largely down to the surge of online shopping fuelling strong demand for warehouses and delivery depos. Rents are predicted to rise as competition to secure the best spots heats up.
Alternative property sectors are also experiencing growth, For example, an ageing population has led to soaring demand for private retirement communities. Hotels and build-to-rent residential properties have also seen strong investor interest.
Investment notes
Please remember past performance is not a guide to future returns. Where no data is shown, figures are not available. This information is provided to help you choose your own investments, remember they can fall as well as rise in value so you may not get back the original amount invested.
Property fund reviews
We regularly review the major investment sectors. Here we provide comments on a selection of funds in the Property sector. They're provided for your interest but not a guide to how you should invest. If you're unsure if an investment is right for your circumstances please seek personal advice. Comments are correct as at 31 July 2019. Remember all investments can fall as well as rise in value so you could get back less than you invest. Past performance is not a guide to the future.
There is a tiered charge to hold funds with HL. It's a maximum of 0.45% p.a. - view our charges.
Source for performance figures: Financial Express
This fund, previously known as the Aberdeen Property Share Fund, invests mainly in Real Estate Investment Trusts. It also invests in companies that don't invest in property but make most of their money from the property industry.
The fund is mostly invested in companies that own, manage or develop UK properties. Some of these specialise in niche areas such as hotels, student accommodation or healthcare buildings. The portfolio also includes companies that don't invest in property directly but that have a big link to the sector. Examples include property search website Rightmove and storage company Big Yellow Group. Part of the portfolio is invested in other countries like Germany, Sweden and Ireland. This gives the fund some international diversification.
The managers don't invest in many companies. That means each one can make a big difference to how the fund performs, but it adds risk. In the past 12 months to 31 July the fund's lagged its peer group, having grown 2.1% against the IA Property Other sector's 10.9% growth. Past performance isn't a guide to future returns.
This fund aims to track the performance of the FTSE EPRA / NAREIT Developed Index as closely as possible. It invests in hundreds of property companies worldwide.
More than half the fund is invested in North America, with the rest spread out over Europe and developed Asia Pacific countries. Less than 5% is invested in UK property companies. This could make it a good option to diversify a portfolio with a lot invested in UK property or you're worried about the prospects for the UK property market.
The fund invests in some smaller companies. These could offer higher growth potential but they're riskier than larger companies.
iShares is one of the largest providers of tracker funds on the market. They use their size and expertise to keep costs low and try to mirror the index closely. So far we think they've done a good job.
The fund's enjoyed a strong 12 months to 31 July, growing 17.5%. Compared with the IA Property Other sector's 10.9% gain, this highlights the current difference in fortunes between UK property companies and those in the rest of the world. That doesn't indicate future performance though.
This fund buys commercial properties up and down the UK. Investments are well-spread between retail, office and industrial properties.
The managers buy a mix of properties around the country. When they buy a new property they often refurbish or modernise it. They hope this makes it more desirable to potential tenants, and more likely they'll sign longer leases. If this happens the value of the property could increase.
Sustainability is important to the managers. That's not only from an ethical point of view, but also because it could reduce costs in the long run and help prevent buildings becoming outdated. Examples including installing solar panels and electric vehicle charging points.
The fund's done better than the IA UK Direct Property index recently. That's despite around 20% of the portfolio currently being held as cash. Property fund managers normally do this when lots of investors sell the fund or if they anticipate lots of them will sell. The managers can use derivatives to help them invest, which if used adds risk.
The manager invests directly in properties all around the UK. It isn't focused on the South East of England as much as other funds.
The fund invests in bricks and mortar from around the UK. Roughly a third is invested in both industrial and office properties. While out-of-town retail makes up the next biggest part of the portfolio, the managers have invested little in high street retail.
High quality properties are preferred and the managers aim to improve their value by working closely with their tenants and building managers. They think this helps keep buildings fully occupied and improves long-term performance. The manager can use derivatives to invest, which adds risk.
The fund's recent performance has been good, achieving a higher return than the IA UK Direct Property sector in the 12 months to 31 July. There's no guarantee the fund will keep performing like this in the future. The mangers currently hold around a quarter of the fund as cash. That's normally a sign they expect lots of investors to sell the fund, as it can be difficult to sell properties quickly enough.
Latest research updates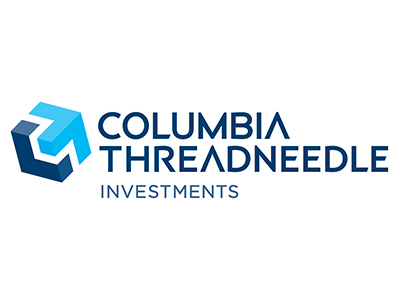 Sat 10 February 2018
Don Jordison will step down as co-manager of the Threadneedle UK Property Trust on 1 May 2018. Find out more about this change in our latest update.
Investment notes
Please note the research updates are not personal recommendations to trade. If you are unsure of the suitability of an investment for your circumstances please seek advice. Remember all investments can fall as well as rise in value so investors could get back less than they invest.
Fund research
Our expert research team provide regular updates on a wide range of funds.