Investments can go down as well as up so there is always a danger that you could get back less than you invest. Nothing here is personalised advice, if unsure you should seek advice.
The Schroder UK Alpha Income Fund celebrated its ten-year anniversary earlier this year. The fund, managed by Matt Hudson since launch, employs a business cycle investment approach. This means stock selection is driven by an understanding that specific companies perform differently at a given stage of the business cycle.
Business Cycle approach
In managing the portfolio, Matt Hudson assesses in which of the four phases of the business cycle we are - recovery, expansion, slowdown or recession - and what that means for the earnings prospects of individual companies. In his view, a key advantage of this approach is that the fund remains flexible and avoids permanent bias towards a particular style of investing. This approach has not altered since the fund's inception.
Given the fund's income objective, Matt Hudson also considers the dividend-paying characteristics of individual companies. Overall he aims to deliver an above-average level of income alongside long-term capital growth, while tilting the portfolio towards different types of dividend-paying stock during different stages of the cycle. The fund operates a concentrated portfolio with around 47 holdings which enables each holding to make a significant impact on returns however this is a higher risk strategy.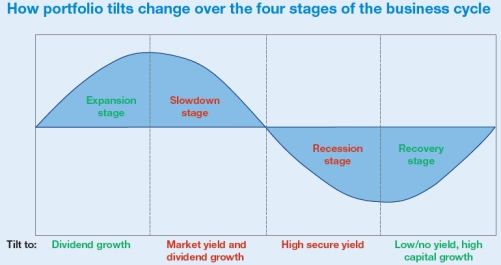 Source: Schroders, correct at 30/06/2015
Performance
The fund has delivered a total return, with dividends reinvested, of 145.9% since launch in May 2005, compared with 110.5% for the FTSE All Share index and 112.4% for the IA UK All Companies sector. While the fund's long-term performance has been strong, the majority of its outperformance has been achieved over the past five years. During the fund's first five years, returns were more modest, underperforming the benchmark index. Please remember past performance should not be seen as a guide to future returns.
Annual percentage growth
July 10 -
July 11
July 11 -
July 12
July 12 -
July13
July 13 -
July 14
July 14 -
July 15
IA UK Equity Income
24.1%
-2.0%
20.3%
13.7%
6.7%
FTSE All-Share
29.5%
-2.7%
18.2%
12.4%
3.0%
Schroder UK Alpha Income Fund
29.8%
3.8%
27.9%
12.4%
7.3%
Past performance is not a guide to future returns. Source Lipper IM* to 01/07/2015.
The fund's annual dividend has grown over time, aside from a setback in 2010 and 2011 following the onslaught of the global financial crisis when many companies cut their dividends. The chart below shows the fund's dividend record (pence per unit) since it made its first full year of income payments in 2006. Dividends are variable and not guaranteed.
Source: Lipper IM, correct at 31/12/2014
Presently the fund yields 3.85%, compared with 3.48% for the FTSE All Share index. Please note the fund's yield is variable and not guaranteed.
Where are we now?
Since the trough in the economic cycle in 2008/09, Matt Hudson believes we have moved from recovery into the expansionary stage of the cycle. That said, this expansionary phase is missing some of the features he would normally expect. For example, wage growth has been weak, while interest rates remain at historically-low levels.
In his view the majority of investors have since focused on large, higher-quality companies, with more defensive characteristics. Instead, Matt Hudson has biased the portfolio towards more economically-sensitive areas of the market that he believes represents greater value, such as financials businesses and companies that benefit from consumer discretionary spending.
Our view on this fund
We view Matt Hudson as a sensible fund manager with a pragmatic approach to investing, who has delivered good long-term returns for investors. However, we feel the manager is competing in a sector in which there are a large number of highly-successful fund managers. We currently have greater conviction in a number of other UK equity income managers and for this reason the fund does not currently feature on the Wealth 150 list of our favourite funds across the major sectors.
Since joining Schroders in 2013 (following Schroders acquisition of Cazenove), Matt Hudson's responsibilities and demands on his time have also increased. He currently leads the group's Business Cycle Team and also took over management of the Schroder UK Opportunities Fund, a growth-orientated portfolio, in September 2014.
Please note the fund's charges can be taken from capital, which can increase the yield but reduce the potential for capital growth.
Find out more about this fund including how to invest
Please read the key features/key investor information document in addition to the information above.
The value of investments can go down as well as up, this means you could get back less than you invested. Therefore all investments should be regarded with a long term view. No news or research item is a personal recommendation to deal. If you are unsure about the suitability of an investment please
contact us for advice
.
Important information
-
Please remember the value of investments, and any income from them, can fall as well as rise so you could get back less than you invest. This article is provided to help you make your own investment decisions, it is not advice. If you are unsure of the suitability of an investment for your circumstances please seek advice.
No news or research item is a personal recommendation to deal.
Want our latest research sent direct to your inbox?
Our expert research team provide regular updates on a wide range of funds.
---