Index tracker funds
Search Index tracker funds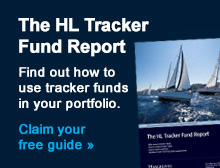 Frequently asked questions
An index tracker fund (also known as a passive fund) aims to track the performance of a particular index; such as the FTSE 100 or the FTSE All Share. They offer a convenient way to gain exposure to a broad range of shares or bonds at a low cost.
An index is a basket of shares that represents the performance of a stock market. So, for example, the FTSE 100 contains the largest 100 companies listed on the UK stock market. Most major markets have indices that can be used to track their performance, for example the S&P500 in the US. Normally these indices are run by an independent company who sets the rules on what is included and what proportion of the index each company represents. Often the biggest, most widely traded companies are the biggest holdings in the index.
Yes - most tracker funds come as either income or accumulation units. With income units, income is paid out to fund holders as cash. This could provide the investor with an income stream or the cash could be reinvested to buy additional units. With accumulation units income is retained within the fund and reinvested, increasing the price of the units. Generally, for investors who wish to reinvest income, accumulation units offer a more convenient and cost-effective way of doing so.
Yes - tracker funds can be used in an ISA, as part of a SIPP or they can be held as standalone investments.
More tracker fund frequently asked questions
Most popular index tracker funds
All index tracker funds
Adam Laird | 20 March 2015
With the S&P 500 and Dow Jones at record levels, is now the ...

Passive Investment Manager Adam Laird lo...
13 March 2015
---

To help potential investors get started,...
3 March 2015
Most held Index tracker funds
Have a question on tracker funds?
---
Email us or call us on:
0117 900 9000
Mon - Thu: 8am - 7pm
Fri: 8am - 6pm
Sat: 9:30am - 12:30pm