Vantage Cash ISA
Why a Cash ISA?
A Cash ISA is just like any other savings account except the interest you earn is tax-free. You can withdraw your savings whenever you need, and you don't need to declare Cash ISAs on your tax return, so they can make life simpler as well as save you tax.
Why the Vantage Cash ISA?
Over time our Cash ISA should offer good returns without the need to constantly move your account between providers.
Save up to £15,000 into your Cash ISA this tax year.
Variable rate of 0.6% gross.
Higher fixed rates periodically available for 1 and 2 year terms.
Available for new money and transfers.
Minimum subscription £100 lump sum, or £25 per month for regular savings. Please note fixed rates are not available for regular savings.
Variable interest rate paid monthly, fixed rates paid at the end of the term.
We have negotiated these terms with Lloyds Bank, and the interest rate is pegged to the Bank of England Base Rate. Our arrangement with them means the variable interest rate will only change when the Bank of England Base Rate changes. If this link is amended we will provide three months' notice, giving you ample time to consider your options. In addition, we shall publish the rate you receive in your six monthly valuations and, if we have your email address, notify you by email whenever it changes. Within the Vantage Cash ISA you will always know the interest rate you receive.
As well as the variable rate Cash ISA we sometimes offer higher fixed rates, typically for one or two year terms. When each fixed term ends, your money will roll automatically into the next offer for the equivalent term (where available) so you continue to benefit from higher fixed rates. Prior to each rollover we shall contact you with the new rate, and if you would prefer your money switched to our variable rate Cash ISA or paid out simply let us know.
Vantage Cash ISA rates
| | | | |
| --- | --- | --- | --- |
| | No. of days interest | Gross % | AER % |
| Variable rate | N/A | 0.60 | 0.60 |
| Fixed rate - 1 year | N/A | N/A | N/A |
| Fixed rate - 2 year | N/A | N/A | N/A |
AER stands for Annual Equivalent Rate and shows the interest rate you receive over the year taking into account the effect of compounding interest payments.
All monies held in the HL Vantage Cash ISA and the fixed rates offered within this product are held solely with Lloyds Bank. Interest will be calculated on the daily cleared balance held within your income and capital accounts and paid monthly.
The benefits don't end there
Convenience

You will be able to follow your Cash ISAs on your six monthly valuations and online alongside your other investments. We will administer the Cash ISA, and the money will be held solely with Lloyds Bank.

Service

Save or withdraw (from the variable rate only) by telephone, post or online, and if you have any queries call us. We don't use automated telephone lines.

Income or growth

Take the interest as income, have it paid directly into your bank account, or roll it up, tax-free, within your ISA.
How to open a Vantage Cash ISA?
Any UK resident, aged 16 or older, can save into a Cash ISA (min £100 lump sum or just £25 per month). You can save up to £15,000 this tax year. You can also transfer ISAs from previous tax years into our Cash ISA retaining their tax-free status, without affecting the amount you can save this tax year. Please read the Terms & Conditions and Key Features of the Vantage ISA for full details before you apply.
Important information
Please remember, the value of tax savings will depend on your circumstances and tax rules can change over time. Inflation can reduce the spending power of cash over the long term.
Have a question?
If you're confused about NISAs, or have a question not covered in this section, call our friendly Helpdesk.

0117 900 9000
Mon - Thu:
8am - 7pm
Fri:
8am - 6pm
Sat:
9:30am - 12:30pm
Deal funds and shares with free access to prices, indices, news & research on your mobile.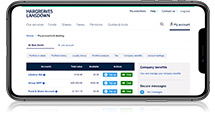 How safe is your investment?

Discover the importance we place on the security of your assets & the key protections in place.

How safe is your investment?