2015 Pension Rules Changes - free factsheet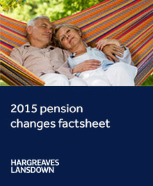 Download your free factsheet - simply enter your details below
They're possibly the most radical pension reforms in almost a century. Up to 18 million people are affected. This factsheet explains concisely and in plain English the changes and how they could affect you.
Download a free factsheet - simply confirm the last three characters of your postcode below.
Hargreaves Lansdown PLC group companies will usually send you further information by post and/or email about our products and services. If you would prefer not to receive this, please do let us know. Your personal data will remain confidential, and will never be passed to any other company, unless required by law.
Take your whole pension as a lump sum and other changes explained
This factsheet reveals:
How to take a whole pension as a lump sum
How to take the tax-free cash
How to pass on a pension tax-free
The changes still to come and when they will happen
What the drawbacks are
Plus, changes announced in summer 2015:
New opportunity to invest more this year and get extra tax relief
Why some high earners can invest just £10,000 from next year

The most radical changes to pensions in almost a century
George Osborne
Verified by VeriSign
VeriSign has verified the rightful owner and operator of this web page. The seal verification also shows that this page has passed a daily malware scan.
Our factsheet is based on our current understanding of the rules. It is a broad summary and cannot cover every nuance. You should not take, or refrain from taking, any action based on this information. Tax treatment can change and depends on your individual circumstances.
Please remember, taking money out of a pension will impact standards of living in retirement. This information, like our service is not personal advice. If you are unsure an investment is right for you, contact us and we can put you in touch with an adviser. The value of investments can fall as well as rise so you may get back less than you invest.

What you do with your pension is an important decision. Therefore, we strongly recommend you understand your options and check they are suitable for your circumstances: take appropriate advice or guidance if you are unsure. Our service is not personal advice. We offer a range of information to help and independent financial advice if requested. Alternatively, Pension Wise, the Government's new pension guidance service, provides a free impartial service to help you understand your options at retirement. It's available at www.pensionwise.gov.uk, by calling 030 0330 1001, or face to face.