Investments can go down as well as up so there is always a danger that you could get back less than you invest. Nothing here is personalised advice, if unsure you should seek advice.
Richard Woolnough has gradually become more cautious in his outlook for bond markets
Opportunities have been found among bonds issued by large US companies and French banks
Long-term performance is impressive and we continue to rate Richard Woolnough highly – the fund remains on the Wealth 150
Our view
This is a genuinely flexible and strategic bond fund. Richard Woolnough invests globally with the aim to deliver the 'optimal' income stream, plus some capital growth, from a blend of government bonds, corporate bonds, higher-risk-high yield bonds and shares. The fund currently yields 3.1%, although this is not an indication of future income.
Richard Woolnough has a good track record of getting the bigger picture economic calls correct, and moving the fund between sectors and different parts of the bond market. This has added a lot of value for investors over the long-term. We think this fund is a good option for investors in pursuit of capital growth and income from their fixed-interest investments to consider, and who are comfortable taking a little more risk to achieve this. The fund continues to deserve its place on the Wealth 150.
Performance review
We often remind investors that even the best fund managers don't get it right every time and in some respects Richard Woolnough has been too cautious. This has led to weaker performance over the past three years, although recent performance has improved and the long-term track record remains impressive. Please remember that past performance is not a guide to the future.
The weaker spell of performance was mainly caused by the fund's 'duration' being kept relatively short. This affords some protection against rising interest rates because the prices of short-duration bonds do not fall to the same extent as long-duration bonds when interest rates rise, or are expected to rise. In recent years interest rates have stayed lower for longer than expected. Long-dated bonds have therefore delivered strong returns and it has been the wrong call to be short duration.
With the UK economy in reasonable health, Richard Woolnough believes there could be scope to increase interest rates sooner than many expect, so he is happy to maintain the short duration stance.
M&G Optimal Income - performance since launch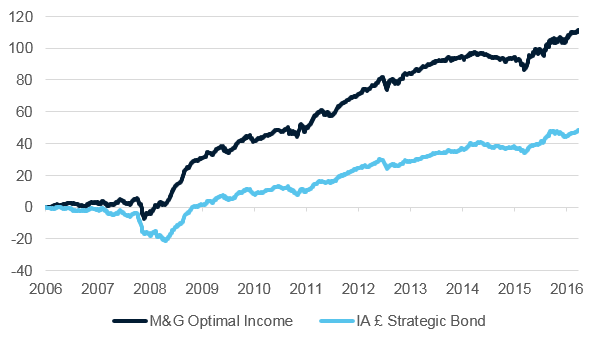 Past performance is not a guide to the future. Source: Lipper IM to 28/02/2017
| | 3-years | 5-years | 10-years |
| --- | --- | --- | --- |
| M&G Optimal Income | 12.3 | 32.2 | 108.3 |
| IA £ Strategic Bond | 13.0 | 28.0 | 48.0 |
Past performance is not a guide to the future. Source: Lipper IM to 28/02/2017
Annual Percentage Growth
Feb 12 -
Feb 13
Feb 13 -
Feb 14
Feb 14 -
Feb 15
Feb 15 -
Feb 16
Feb 16 -
Feb 17
M&G Optimal Income
9.4
7.6
4.9
-4.4
12.0
IA £ Strategic Bond
8.9
4.0
6.5
-3.3
9.8
Portfolio update
Unlike the UK and Europe, where central banks continue to intervene in the bond markets, the US has returned to a more normal environment, according to Richard Woolnough. He has therefore been happy to invest in bonds issued by large, financially robust US companies such as Verizon Communications, AT&T and Microsoft, where he sees the additional yield offered over government bonds as attractive for the level of risk he is taking.
Investments in bonds issued by banks have also been increased. Bank of America, Morgan Stanley, JP Morgan and HSBC all feature in the portfolio. Richard Woolnough also invested in French banks and insurers recently, including Société Générale, BNP Paribas and AXA, after volatility caused by fears over the French election provided an attractive buying opportunity.
In contrast, exposure to high-yield bonds has been reduced after a run of strong performance. The proceeds have so far been held in cash and government bonds – a reflection of the manager's more cautious outlook. He also has the flexibility to invest in emerging markets and use derivatives, both of which could add risk.
Richard Woolnough currently has 4% of the fund invested in shares. He has recently found attractive yields on offer in the healthcare sector, with AstraZeneca, Roche and Sanofi all added to the fund. Investors should be aware an investment in shares can be more volatile than bonds.
Find out more about this fund including how to invest
Please read the key features/key investor information document in addition to the information above.
Important information
-
Please remember the value of investments, and any income from them, can fall as well as rise so you could get back less than you invest. This article is provided to help you make your own investment decisions, it is not advice. If you are unsure of the suitability of an investment for your circumstances please seek advice.
No news or research item is a personal recommendation to deal.
Want our latest research sent direct to your inbox?
Our expert research team provide regular updates on a wide range of funds.
---