How to buy shares
Buy your first shares today in three simple steps.
Buy shares

online in 3 simple steps

You can start share dealing as soon as you've opened a trading account with a stockbroker - and buying shares is quick and easy through Hargreaves Lansdown. You can open an account in under 5 minutes and start dealing shares at £11.95 per deal online, which can reduce to just £5.95 per deal dependent on the number of deals placed.
Step 1
Decide which account is right for you
You can then open an account online with a debit card in less than 5 minutes. Please read the Key Features and T&Cs before you apply.
Step 2
Choose the shares you would like to invest in
Search for your chosen investment online and provide the details of the number or value of shares you are looking to deal.
Step 3
Receive a live share price and deal online in seconds
You will then be provided with a live share price directly from the market and you can complete the trade.
---
Unsure which shares to buy?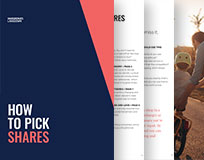 Discover six common sense methods to selecting shares. Plus, learn the basics of how to value a share and spot price trends.
---
Online share dealing costs
| | |
| --- | --- |
| Deals in the previous month | Dealing charge |
| 0-9 deals | £11.95 |
| 10-19 deals | £8.95 |
| 20+ deals | £5.95 |
| Regular savings | £1.50 |
The online share dealing charge is determined by the number of deals you placed in the previous calendar month. We count deals placed across all the HL accounts held under the same client number. The above covers shares, exchange traded funds and investment trusts, there is no dealing fee on fund dealing.
Hargreaves Lansdown accounts benefit from a number of features designed to help our clients re-invest and save money.
Free to hold shares in the Fund and Share Account, 0.45% p.a charge (capped at £45 p.a) to hold in an ISA
No inactivity fees
Monthly regular savings for just £1.50 per deal
Flexible dividend reinvestment from £1 per deal
---
Why invest with Hargreaves Lansdown
Financially secure FTSE 100 company
Deal thousands of UK, American, Canadian and European shares.
Award-winning website
Bristol-based helpdesk with no automated telephone menus
Free research from our experts to help you choose your own investments
Powerful tools to make more of your shares
FREE live streaming share prices
Get the best price for your trades with our price improvement service
Help manage your risk with stop-loss and limit orders
Keep on top of your shares and potential investments with Watchlists
Spot trends and opportunities with our fully interactive share charts
Ways to buy shares:
Online
iPhone,
Android™
iPad
Post
Phone
---
iPad & iPhone are trademarks of Apple Inc. and Android™ is a trademark of Google Inc.