Everything
in one place
Free Cross Pen Set Available when you transfer a
pension. Terms apply
Transfer your investments to HL today
Important information
Our service is designed for investors who want to make their own investment decisions. Investments can go down in value as well as up so you could get back less than you invest. Before transferring, please ensure you won't incur excessive exit fees. If you are transferring a pension please also check you will not lose any valuable guarantees or benefits. If you are unsure if an investment is suitable for you, please contact us for personal advice.
Why transfer to Hargreaves Lansdown?
Easier to manage

See all your ISAs together on one online account, or using our smartphone and tablet apps

Improve returns

Choose from a huge range of funds and shares. Clients could also consider our Wealth 50, HL Portfolio+ Service and latest investment ideas

Save money

No dealing charges when you buy and sell funds, plus a low-cost dividend reinvestment service and an annual fee of just 0.45% or less. Deal shares for £11.95 per deal online, or as little as £5.95 for frequent traders. View our Stocks and Shares ISA charges

Free to transfer ISAs and funds from over 40 providers
Complete control

Manage your pension yourself online, by phone and post or with our smartphone and tablet apps

Wide investment choice

Choose from thousands of funds, shares, investment trusts, bonds, gilts, ETFs and cash

Pension freedoms

Take advantage of the rules and make unlimited withdrawals from age 55 (57 from 2028)

Low cost

No set-up or transfer-in fees. Annual HL charge 0.45% max. Plus exclusive super-low annual charges on selected funds. View our SIPP charges
Easier to manage

See all of your funds and shares together on one online account, or using our smartphone and tablet apps

FREE to hold shares in the HL Fund and Share Account

Plus low fund charges. View our Fund and Share Account charges

One consolidated tax certificate

Make your tax return easier to complete

Low dealing charges

No dealing charges when you buy and sell funds, plus a low-cost dividend reinvestment service. Deal shares for £11.95 per deal online, or as little as £5.95 for frequent traders.
Get a government bonus of up to £1,000

Adults under 40 can open a Lifetime ISA and transfer from an existing ISA or Help to Buy ISA and get a 25% bonus (up to £1,000 each year) to help fund a first home or later life. Other withdrawals usually subject to 25% charge

Easy to manage

Keep up-to-date with your investments online or using our new app for mobile and tablet

Expert guidance

See the latest research and investment ideas from our experts to help you choose from a range of investments. Please remember investments can fall in value as well as rise, so you could get back less than you invest

Great value

No set-up or transfer-in charges, no charges for buying or selling funds and an annual fee of just 0.45% or less. Plus low cost income reinvestment service. See our charges.
What can you transfer?
Stocks and Shares ISAs
Junior Stocks and Shares ISAs
Cash ISAs
Funds
Shares
Pensions and drawdown
Help to Buy ISAs can be transferred to the HL Lifetime ISA>
How to transfer
If you wish to transfer, simply read the Key Features, Terms & Conditions and Important Investment Notes. If transferring a pension also read the Common Transfer Declaration and Transfer Checklist (in the Key Features) and check you will not incur excessive exit fees or lose valuable guarantees or benefits.
Pensions are transferred as cash, unless otherwise arranged. ISAs, funds and shares can usually be transferred as stock (where you remain invested) or cash. When transferring as cash you are out of the market for a period. This may work in your favour if the market falls, but if it rises you will not benefit from any growth while you hold cash.
Transferring your existing investments to Hargreaves Lansdown is easy.
Select the investments you wish to transfer.
If your investment can be transferred electronically online, there will be no further paperwork for you to complete and we will proceed with the transfer.
If your investment cannot be transferred online, you will be provided with a pre-completed form that you simply need to sign and return to us.
We'll write to you to confirm receipt of your application and contact your existing investment provider to arrange the transfer. There's nothing more you need to do - we'll be in touch as soon as your investments have been moved to your HL Account.
Prefer to transfer by post? You can find our transfer forms here.
If you have any questions about the application you can call our Helpdesk on 0117 900 9000 and we'll be happy to help.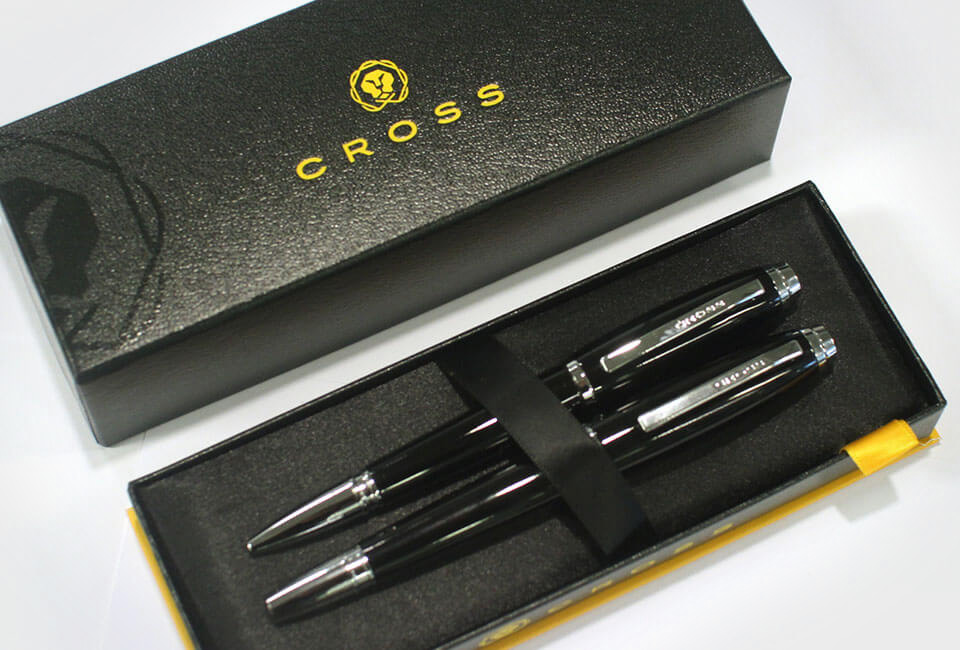 Transfer pensions to HL and get a free Cross pen set worth £125
Transfer pensions worth over £10,000 or more to receive the pen set as a thank you. Terms apply
To automatically qualify, you must apply before 10th February 2019. Need more time to decide? Let us know and we might be able to give you more time to qualify for the offer.
You'll receive your pens after the offer closes and all your transfers complete.
What our clients say
Put simply I wanted to see at a glance where my money was, and what it was doing. Your transfer system was literally like falling off a log. It can't be made any easier to do, plus it was fast and efficient.

MR THOMPSON, Leeds

Very helpful and knowledgeable staff; real people take calls - brilliant in this day and age. The best organisation I have ever dealt with in all my business life spanning 46 years.

MR SMITH, East Sussex

Excellent. I cannot believe how quick HL are. Nothing like the lumpy, clumsy, grudging communications I had with the insurance company from whom I have just transferred my SIPP

MR HAMER, Oxfordshire

Telephone contact is excellent and invariably reveals a reassuring competence of the HL voices at the other end. The website is a wonder of information, deal execution facilities and easy navigation.

MR CRAWFORD, County Down

Pen Set Terms and Conditions
1. The offer is that we will send to you a Cross pen set worth £125 when you transfer to us at least £10,000 worth of an existing pension into our HL SIPP from another provider, subject to these terms and conditions. Please be aware of the following exclusions which apply to this offer: (1) new money cash subscriptions won't qualify for the offer; (2) if the HL SIPP is your current workplace pension and you transfer previous pensions provided by your current employer, then the offer isn't available for such transfers (3) defined benefit/final salary pensions don't qualify for the offer.
2. The offer doesn't apply to investments already held in the HL service, or to switches or transfers between or within existing HL accounts or to income and interest received on any assets held in those accounts.
3. The offer applies to those with the following transfer application codes AWS7I, APSND, SCJ18 and OTK. To be eligible, we must receive the transfer application following the 20th December and by no later than 10th February . The application code can be found on the top right of a SIPP transfer form. As long as we receive your transfer form within the offer period, even if the transfer itself isn't completed until after it closes, you'll still qualify. If you need more time to decide whether you want to transfer to us, please let us know and we may be able to extend the deadline for you. To request more time, please email transferoffer@hl.co.uk with your full name and address or call our Helpdesk on 0117 980 9926.
4. The pen set will be sent to you at the address you provide on your application form after the transfer is completed, within 1 month of the date of completion of your transfer as determined by us and once the offer has closed.
5. We reserve the right to cancel or suspend the offer for any reason where it becomes necessary to do so, including where the number of the pen sets available is fewer than the number of qualifying transfers. We also reserve the right to replace the pen set with an alternative of equal value if circumstances make it necessary for us to do so. Other than as set out here, no cash alternative is offered.
6. Only one pen set is available per person. If you transfer to us more than one pension, you will only receive one pen set.
7. The offer cannot be used in conjunction with any other transfer offer.
8. By submitting a qualifying application you agree to be bound by the terms of this offer. The terms are governed by the laws of England and subject to the exclusive jurisdiction of the English courts.