3 fund ideas to help beat inflation
With talk of rising prices heating up, we take a closer look at 3 funds that could help beat inflation.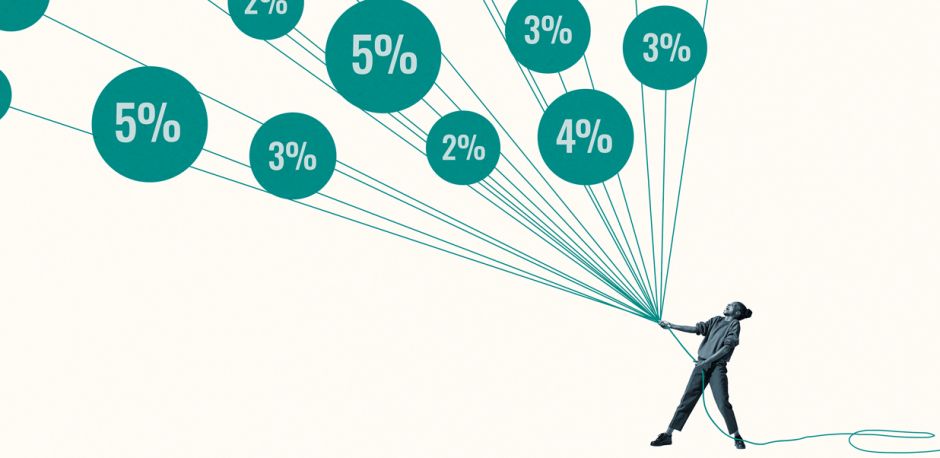 Important notes
This article isn't personal advice. If you're not sure whether an investment is right for you please seek advice. If you choose to invest the value of your investment will rise and fall, so you could get back less than you put in.
After years of relatively low inflation, the prospect of higher inflation is back. In September, the Bank of England warned inflation could peak above 4% by the end of 2021 – well above the Bank's inflation target of 2% – before falling back in the medium term.
Inflation, as measured by the Consumer Prices Index, was 3.1% in the year to September. This was in fact a small dip from the August figure of 3.2%. But inflation's expected to continue rising again at least in the short term, particularly as rising energy prices take effect.
Some of the price rises in the economy could be temporary, for instance due to interruptions to supply chains, causing shortages of supply to meet robust demand. The reopening of economies from their pandemic lockdowns has certainly contributed to rising prices. However, it remains to be seen if higher inflation will be a phase that passes relatively quickly, or if it's here to stay for longer.
This isn't personal advice. If you're not sure what's right for your circumstances, ask for financial advice. Remember all investments and any income they produce can fall as well as rise in value so you could get back less than you invest.
Why inflation matters for investors
Inflation is the measure of how much prices have gone up over time. It's how quickly cash becomes less valuable – £1 today will get you further than £1 in ten years' time. And it matters. One of the basic aims of investors is to at least protect the value of their money against inflation.
Holding cash generally won't help us outpace inflation, particularly when interest rates remain anchored at extremely low levels.
Generating a 'real return' means growing your money faster than inflation. Because higher returns don't come without risk, this means investing in assets that are riskier than cash.
Investing in shares and bonds
Over the long term, shares have comfortably outpaced inflation. This 'equity risk premium' is what compensates investors over the long term for the greater risk of investing in shares or share-based investments. This risk can come in the forms of bigger ups and downs, or volatility, as well as the potential for significant losses, at least in the short term.
This is easier to bear if you have a longer time horizon and a higher tolerance for risk, than if you're more risk-averse and have a shorter investment horizon. Remember, there are no guarantees that shares will keep up with inflation as past performance isn't a guide to the future.
Adding bonds to a portfolio of shares could help smooth out the ups and downs of only investing in shares, while beating inflation over the long term.
It's important to remember that beating inflation over the long term isn't the same thing as hedging – or sheltering – against inflation over different time periods. There will be periods where any investment can do worse than inflation.
Investments like gold, commodities and property are often thought of as better inflation hedges than shares. It could make sense to have some investments like this in a broader portfolio, but their relationship with inflation is complicated and can change over time. They can also alter how much risk is in a portfolio.
Inflation can move in the opposite direction too. That's why we think a well diversified portfolio – including a mix of different investments like shares and bonds, and a range of geographies and investment styles – is a sensible long-term strategy for lots of investors.
Funds
One way investors can access a range of investments is by investing in funds.
Lots of funds have performance objectives that are based on the returns of a specific type of investment – for example, a UK share fund might aim to do better than the FTSE All-Share index of UK companies. Other funds focus on areas like global shares, global bonds, or particular regions like emerging markets.
While a range of investments can outpace inflation over time, there are funds that have the specific objective of beating inflation over the medium term. For example, some total return funds.
Total return funds typically invest in a mix of investments including shares, bonds, commodities and currencies. The managers usually have lots of flexibility to change the mix of investments, in line with their views, to try to generate positive returns in a range of market environments.
Total return funds are more conservative than funds that invest fully in company shares. While this means they're unlikely to keep up with stock markets when they rise quickly, they're more likely to offer some shelter when share markets fall. They're not guaranteed to make money though. Like any investment, they will fall as well as rise in value.
For these types of funds, much of the outcome depends on the manager's skill, and each fund will have a different investment process. It's important to understand each fund's objectives and investment approach.
Our Wealth Shortlist features three total return funds that each follow a total return objective, but go about it in different ways.
Investing in funds isn't right for everyone. Investors should only invest if the fund's objectives are aligned with their own, and there's a specific need for the type of investment being made. Investors should understand the specific risks of a fund before they invest, and make sure any new investment forms part of a diversified portfolio.
---
Want our latest research sent direct to your inbox? Sign up for Wealth Shortlist fund updates.
---
What did you think of this article?
Important notes
This article isn't personal advice. If you're not sure whether an investment is right for you please seek advice. If you choose to invest the value of your investment will rise and fall, so you could get back less than you put in.
Editor's choice – our weekly email
Sign up to receive the week's top investment stories from Hargreaves Lansdown. Including:
Latest comment on economies and markets
Expert investment research
Financial planning tips
Sign up