Deliveroo IPO – what you need to know, and our take
Deliveroo recently announced plans to list on the London Stock Exchange. We explain what's been announced and what you need to know.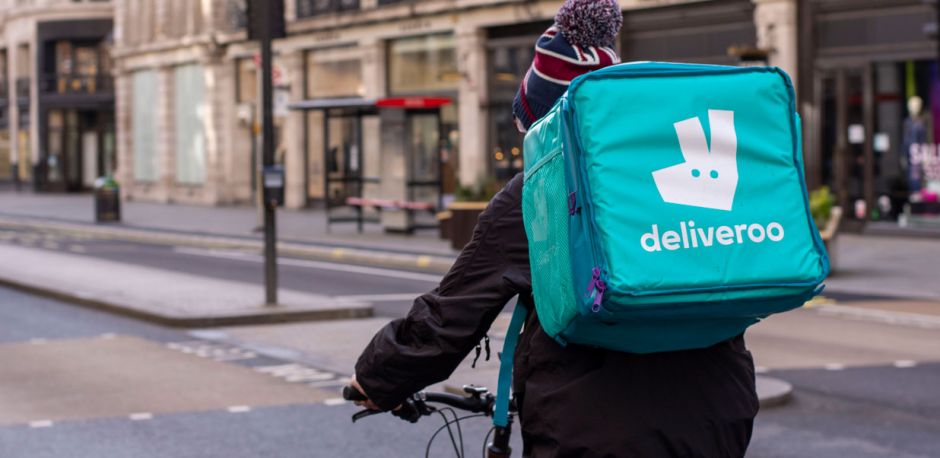 Important notes
This article isn't personal advice. If you're not sure whether an investment is right for you please seek advice. If you choose to invest the value of your investment will rise and fall, so you could get back less than you put in.
When's the IPO?
Deliveroo expects conditional trading in its shares to start at 8am on 31 March 2021.
Unconditional trading, when the shares can then be held in an ISA or SIPP, is expected to begin on 7 April 2021.
Deliveroo customers can now apply to participate in the IPO via a community offer through their app, but shares won't be offered to the general public.
Customers who participate in the community offer and transfer their shares to HL won't be able to sell them until unconditional trading starts, which is expected to be on 7 April. The 'Who can participate in the Deliveroo community offer' section below gives more detail on this process.
It's really important to do your research before deciding whether or not to invest. The best place to do this is in the company prospectus. This holds key financial information and management's commentary. Any decision to invest in an IPO should be made solely on the basis of the information contained in the Prospectus, and any supplement thereto.
Investing in an individual company is riskier and isn't right for everyone. Your investment is dependent on the fate of that company. If it fails, you risk losing your whole investment. Investors should hold shares as part of a well-balanced, diversified portfolio.
Our view
Deliveroo offers higher quality restaurant options than traditional takeaways. It also has a hyper-localised delivery approach, and uses technology to personalise offerings for consumers and restaurants. It operates in 12 markets, with the UK and Ireland making up about half of revenue.
Boosted by nationwide lockdowns, total transactions on the app rose 64.3%, to £4.1bn in 2020, and 121% in January/February 2021. We're encouraged by the group's exposure to convenience grocery delivery. This market is fragmented and tapping into it gives Deliveroo a competitive edge.
The pandemic means we could see a permanent shift in demand for at-home restaurant experiences. But demand could also unwind as things become a little more normal. That brings us to our biggest bugbear.
Deliveroo's yet to turn a profit, with underlying cash losses of £223.7m last year – and you could argue last year was the best conditions we'll ever see for a food delivery company. The group's logistics platform also has high variable costs, and there's stiff competition in the sector. It could take longer than planned for the group's gross margins to expand and deliver a consistent profit. Margins did improve last year – but they're still a bit thin for our liking.
Increased regulatory pressure on Deliveroo's relationship with its riders could also hamper progress. The current model gives Deliveroo and its riders a lot of flexibility, but comes at the cost of some traditional employment benefits. If the current practice is outlawed, it could seriously undermine Deliveroo's business model.
It's also worth considering why Deliveroo is choosing to IPO now. New shares will be issued, raising about £1bn, which added to an existing £379.1m cash pile will be used to fund expansion. Particularly in areas like its delivery-only 'dark' kitchens, which offer restaurants a way to expand without having to invest lots of cash. It could also be used to pay for acquisitions. The focus on growth means dividends aren't on the menu any time soon.
But some existing shareholders, including the CEO, will be using the IPO as a chance to sell some shares. A more cynical view might be that management knows business is at all-time high. A dual class share structure means new investors' voting rights will be less powerful than usual too (more on this below.)
It's always difficult to talk about valuation at an IPO, because the price isn't set in stone. However, an initial price range of £3.90 - £4.60 per share, would give the company a total market capitalisation of up to £8.8bn. The higher end of that range would imply a price to sales ratio of around 7.4 based on 2020 sales, compared to 5.0 at rival Just Eat.
As with any IPO, it's impossible to predict how the share price might move once it starts trading. Overall, the pandemic has offered a structural growth opportunity, and we can't knock the group's popularity. But we're unconvinced about the longer-term outlook at the moment. The path to profitability is still uncertain and we wonder if Deliveroo can deliver the growth the shares' valuation demands once lockdowns ease.
This article isn't personal advice. The value of investments can go down as well as up so you could get back less than you invest. If you're not sure if an investment is right for your circumstances, please seek advice.
What you need to know
What's the dual class share structure?
Founder and CEO Will Shu will get class B shares, and class A shares will go to everyone else. Class B shares will carry 20 votes for every share held and class A shares will carry just 1 vote. The B shares will convert to A shares after 3 years.
This means investors will have limited voting rights, unlike most other shares on the London Stock Exchange.
The company believes using this structure lets it take a longer-term view rather than be driven by short-term interests after listing.
What's the Deliveroo community offer?
Stockbrokers like HL aren't able to take part in the Deliveroo IPO.
But private investors are able to participate in a £50m offer for UK based Deliveroo customers. The company's running this with a third party called PrimaryBid and prospective investors are able to invest up to £1,000. Although this could be scaled back if there's lots of demand.
We're pleased to see this offer isn't being restricted to institutional investors, unlike lots of other highly sought-after IPOs of recent months.
Who can take part in the Deliveroo community offer?
UK-based consumers with a Deliveroo account who (a) have placed at least one order for delivery, and (b) are resident and located in the United Kingdom, can apply for shares. Deliveroo will prioritise existing loyal customers, with a mixture of new and existing customers benefiting. It's possible to apply for shares via the Deliveroo app until 30 March when applications close.
HL isn't linked to Deliveroo or PrimaryBid and this isn't a recommendation to use their services or invest.
Download our beginner's guide to investing
Can HL clients apply for the Deliveroo IPO?
You can't apply for the Deliveroo IPO directly with us. If you're eligible to apply via the community offer, you'll have to do this via PrimaryBid.
If you decide to take part in the offer, you can ask to transfer any shares you receive from PrimaryBid to your HL account. Otherwise the shares will be held by Equiniti.
Please note that eligibility for the customer offer and any allocation you might receive in the offer is outside of HL's control. Any questions on this should be directed to Deliveroo and/or PrimaryBid.
How to transfer your Deliveroo shares to HL
To transfer to HL, you'll need to have an HL Fund and Share Account held in your own name. The shares can't be transferred directly to an ISA or SIPP due to HMRC rules.
It's free to transfer shares and hold them in the Fund and Share Account. You'll pay our normal dealing charges if you wish to sell or buy more shares once listed. View our charges.
More about the Fund and Share Account
When you apply through PrimaryBid, you'll be asked for the name of your current stockbroker and your broker account number. This is your HL client number. You can find this when you log in online or via the HL app. Your client number is also on any previous investment reports.
Please check your details carefully. Any errors could prevent us adding shares to your account.
If you have any questions about the community offer or applying through PrimaryBid, please contact Deliveroo and/or PrimaryBid directly. We're unable to answer these questions.
How long will it take for the shares to appear in my HL account?
If you get shares as part of the community offer, and request for them to be transferred to your HL account, we'll add them as soon as possible after we receive them.
This is expected to be on 7 April, the day unconditional trading is expected to begin. But it's likely we'll receive them a few hours after the market opens.
This is outside of our control and we'll let you know as soon as they're in your account.
You won't be able to sell the shares until we've received them and they're showing on your account.
When can I buy Deliveroo shares through HL?
Once the shares are listed, we expect to be able to offer trading to clients. View our dealing charges.
Investors should be able to deal the shares through the HL Fund and Share Account once there's a live market price which is expected on 31 March.
Due to ISA and SIPP rules it won't be possible to buy the shares in these accounts at first. It will be possible once unconditional trading starts potentially at 8am on 7 April.
What is unconditional/conditional trading?
When a stock lists for the first time, there is a period when trades made are conditional. During this time until unconditional trading starts, the company can cancel the IPO and void any trades made. If this were to happen, any money would be returned to investors to the account where they purchased the shares. For purchases made via HL, this would be sent to the Fund and Share Account.
During conditional trading it's not possible to transfer shares for settlement reasons. It's also not possible to hold or purchase shares in an ISA or SIPP due to HMRC rules.
The information in this article and our view has been formed off and is based on the prospectus. Investments rise and fall in value so investors could make a loss.
This article is not advice or a recommendation to buy, sell or hold any investment. No view is given on the present or future value or price of any investment, and investors should form their own view on any proposed investment. This article has not been prepared in accordance with legal requirements designed to promote the independence of investment research and is considered a marketing communication. Non-independent research is not subject to FCA rules prohibiting dealing ahead of research, however HL has put controls in place (including dealing restrictions, physical and information barriers) to manage potential conflicts of interest presented by such dealing. Please see our full non-independent research disclosure for more information.
What did you think of this article?
Article image credit: SOPA Images.
Important notes
This article isn't personal advice. If you're not sure whether an investment is right for you please seek advice. If you choose to invest the value of your investment will rise and fall, so you could get back less than you put in.
Editor's choice – our weekly email
Sign up to receive the week's top investment stories from Hargreaves Lansdown. Including:
Latest comment on economies and markets
Expert investment research
Financial planning tips
Sign up