ISA charges
Account charges
| | |
| --- | --- |
| Set up cost | No charge |
| Cash payments in | No charge |
| Transfers in | No charge |
| Cash withdrawals | No charge |
| Dividend or interest collection | No charge |
| Income payments | No charge |
| Inactivity charge | No charge |
Annual management charges
Funds



This charge applies to each Vantage account separately. It is tiered within bands: 0.45% per annum on the first £250,000 of funds; 0.25% for funds between £250,000 and £1m; 0.1% for funds between £1m and £2m, and no charge on the value of funds over £2m.

Amount
Charge
£0 - £250,000
0.45%
£250,000 to £1m
0.25%
£1m to £2m
0.10%
Over £2m
0.00%
Cash
No charge
Shares, investment trusts, ETFs,
gilts & bonds
0.45% a year

(max £45)

Note: The investments you choose may have their own initial and annual charges and a bid offer spread. Hargreaves Lansdown receives commission from some fund groups for arranging and administering your investments. Details are available in our key features document, the trading pages of our website and on our contract notes.
Dealing charges (per deal)
Fund dealing

Online, phone and post dealing


(unit trusts and OEICs)

No charge
We also offer up to a 5.5% saving on the initial charges made by the fund manager
Share dealing

Online and mobile app
(shares, exchange traded funds
and investment trusts)
Deals previous month
Dealing charge
0 - 9 deals
£11.95
10 - 19 deals
£8.95
20 or more deals
£5.95
The online share dealing charge is determined by the number of deals you placed in the previous calendar month. The tariff you pay in August, for example, will depend on the number of share deals you place in July, and we count deals placed across all the Vantage accounts held under the same client number.
Phone and post dealing
1% (£20 minimum, £50 maximum)


Please note: residual stocks, bonds, gilts, VCTs and PIBS can only be dealt over the phone.

Equity regular savings
£1.50 per stock per month


Available on FTSE 350 shares and selected investment trusts subject to a minimum of £25 per stock per month.
Fund and share dealing

Reinvestment of income
1% (£1 minimum, £10 maximum)


In each account, if you choose automatic reinvestment, any dividends you receive will be reinvested once they reach £10 per holding.
Government taxes and levies (per deal)
UK Stamp duty
0.5%

on purchases of UK shares (rounded up to the nearest £5 for residual shares)

PTM

(Panel on Takeovers & Mergers)

£1

on UK share deals over £10,000

Irish Stamp duty
1%

on purchases of Irish shares

French Financial Transactions Tax
0.2%

on purchases of French shares

Italian Financial Transactions Tax
0.12%

on purchases of Italian shares
Overseas share dealing foreign exchange rates
Overseas shares covered by the Hargreaves Lansdown Overseas Share Dealing Service are traded at our standard rates (above) and can be traded online, by phone or post. They will be dealt at the overseas market price and converted into sterling by a UK based market maker. The foreign exchange rate used will be based on the prevailing interbank exchange rate to which the market maker will add an additional spread, dependent on the size of the deal.
| | |
| --- | --- |
| Value of trade | Additional spread |
| £0 - £9,999 | 1.70% |
| £10,000 - £24,999 | 1.50% |
| £25,000 - £49,999 | 1.25% |
| £50,000 - £99,999 | 1.00% |
| £100,000 - £199,999 | 0.75% |
| £200,000 - £349,999 | 0.50% |
| £350,000+ | 0.35% |
Sundry charges
Made in addition to the charges laid out above, where applicable.
Account closure fee


(Applied automatically when the balance of your account falls below £50 (where no stock is held) - the balance less the closure fee will be returned to you. The fee also applies when transferring your account to another provider, but not when transferring to another Hargreaves Lansdown account.)

£25 + VAT
Internal cash transfer between accounts
No charge
Cash withdrawals by BACS, Faster Payment
or cheque
No charge
Cash withdrawals by CHAPS and
international payments
£25
Transfer out to another provider (as cash)
£25
Transfer out to another provider (as stock)
£25 per holding
Stock transfer (between accounts)
£12.50 per stock
Limit orders (placed online)
No charge
Limit orders (placed by telephone)
£10 per deal
Automated sales to cover charges:


(Selling fund units or shares to meet fees)

£1.50 per deal
6 monthly statement and valuation (paperless):
No charge
6 monthly statement and valuation (paper):
£10 + VAT per statement & valuation
How we collect fees
We make it as easy as possible by collecting fees automatically from your account.
Charges will first be collected from cash on your account. To help you manage cash balances to meet the fees due we have introduced a "Suggested Minimum Cash Balance."
The Suggested Minimum Cash Balance is designed to give you an idea of the cash you should hold on account to meet future fees. It is just a suggestion, however. You can ignore this if you wish.
If you don't have any cash on your account, and you have fully subscribed so you can't top-up, you could consider adding money to a Vantage Fund & Share Account. If you have no cash in your ISA, we will try to collect fees from cash you hold in your Fund & Share Account before we sell any of your holdings.
If there is insufficient cash on an account to pay the fees due and insufficient cash in the Fund & Share Account too, we will sell sufficient holdings to cover the amount owed and restore the minimum cash balance. There will be a small charge of £1.50 per deal if an automatic sale is required.
Our system will look to collect fees in this order:
Cash in the account in which the fees were generated. If no cash on the account then
Loyalty bonuses received on units purchased before 1 April 2014. If no loyalty bonuses then
Cash in your Fund & Share Account. If no cash in your Fund & Share Account then
Sell holdings to cover fees from the account in which the fees were generated
We will normally sell units of the largest fund holding first. If, for whatever reason, we are unable to sell units of the largest fund holding, we will sell units in the next largest fund holding, and if you do not hold funds we may sell part of other holdings.
Other charges may apply in specific circumstances - see the Terms & Conditions for details.
Save tax, time and money...
Get market beating savings and investment flexibility. Open your Vantage Stocks & Shares ISA online today.
Important information
Please remember, the value of tax savings will depend on your circumstances and tax rules can change over time. Investments can go down in value as well as up, so you might get back less than you invest.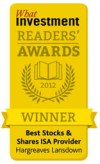 Voted Best Stocks and Shares ISA Provider 2012
Have a question?
If you're confused about ISAs, or have a question not covered in this section, call our friendly Helpdesk.

0117 900 9000
Mon - Thu:
8am - 7pm
Fri:
8am - 6pm
Sat:
9:30am - 12:30pm
Alternatively, view our ISA FAQs.
How safe is your investment?

Discover the importance we place on the security of your assets & the key protections in place.

How safe is your investment?
Get your free ISA guide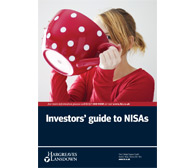 If you would like to find out more about ISAs and how to invest, claim your copy of our free guide to investing in ISAs.
Request your free guide