Investments can go down as well as up so there is always a danger that you could get back less than you invest. Nothing here is personalised advice, if unsure you should seek advice.
Manager cautious in his outlook for global stock markets but feels uncertainty can uncover pockets of opportunity
Performance over the manager's tenure has been good but inconsistent
We currently feel there are superior alternatives for investors seeking exposure to global equites
Our view
Almost half the fund is invested in higher-risk small and medium-sized companies. We believe these under-researched and overlooked businesses can be a great source of opportunity for talented stock pickers. However, the team's stock selection has been inconsistent over time, and has added little value over recent years. The team follow a strict quantitative investment strategy, and strict benchmark constraints are imposed to ensure the make-up of the fund does not deviate markedly from the index in terms of industry or individual stock exposure. We prefer managers to have more flexibility and feel the use of benchmark constraints can limit performance potential. The fund therefore does not feature on the Wealth 150 list of our favourite funds across the major sectors.
Fund review
Ian Heslop, the fund's lead manager, is cautious in his outlook for global stock markets. Many of the same stock market issues encountered last year remain. Elevated political uncertainty and continued central bank interference continue to impact share prices. However, stock market disruption can be positive for stock-picking investors, in the manager's view, and provide opportunities to invest at temporarily reduced prices.
Ian Heslop and his Quantitative Strategies Team have been responsible for the fund's management since December 2004. The team utilise a quantitative analysis tool to scan over 4,500 companies across the globe to identify those they believe will be worth more in the future than they are today. In making use of a quantitative analysis tool, the team seek to remove emotion and subjectivity from their process.
They analyse potential investments against a number of criteria and specifically seek to identify companies they feel have been undervalued by other investors, where they believe the company is capable of long term sustainable growth. The team analyse the wider economic environment to determine whether the company is likely to benefit from any long term trends and place significant emphasis on the strength of company management. Company management make decisions surrounding the spend of capital, dividend policy, and mergers or acquisitions, which all have a material impact on the share price - so the team only invest when they feel their investment is in good hands. Finally, they seek to take advantage of any short term opportunities that arise as a result of analyst forecasts. While analysts will not always correctly predict a share price's future movements, investors often react to their views. The team seek to take advantage of occasions where they feel the analyst is wrong and the share price has subsequently moved incorrectly.
Performance Review
Since Ian Heslop began leading the team, the fund has risen 276.1% compared with 251.3% for the FTSE World Index and 189.9%* for the IA Global sector and performed particularly well from 2013 to early 2016. Please remember past performance is not a guide to future returns. While the fund's total return has been strong, performance has been inconsistent relative to the benchmark. The fund underperformed the FTSE World Index for a prolonged period between mid-2007 and late 2010, for example.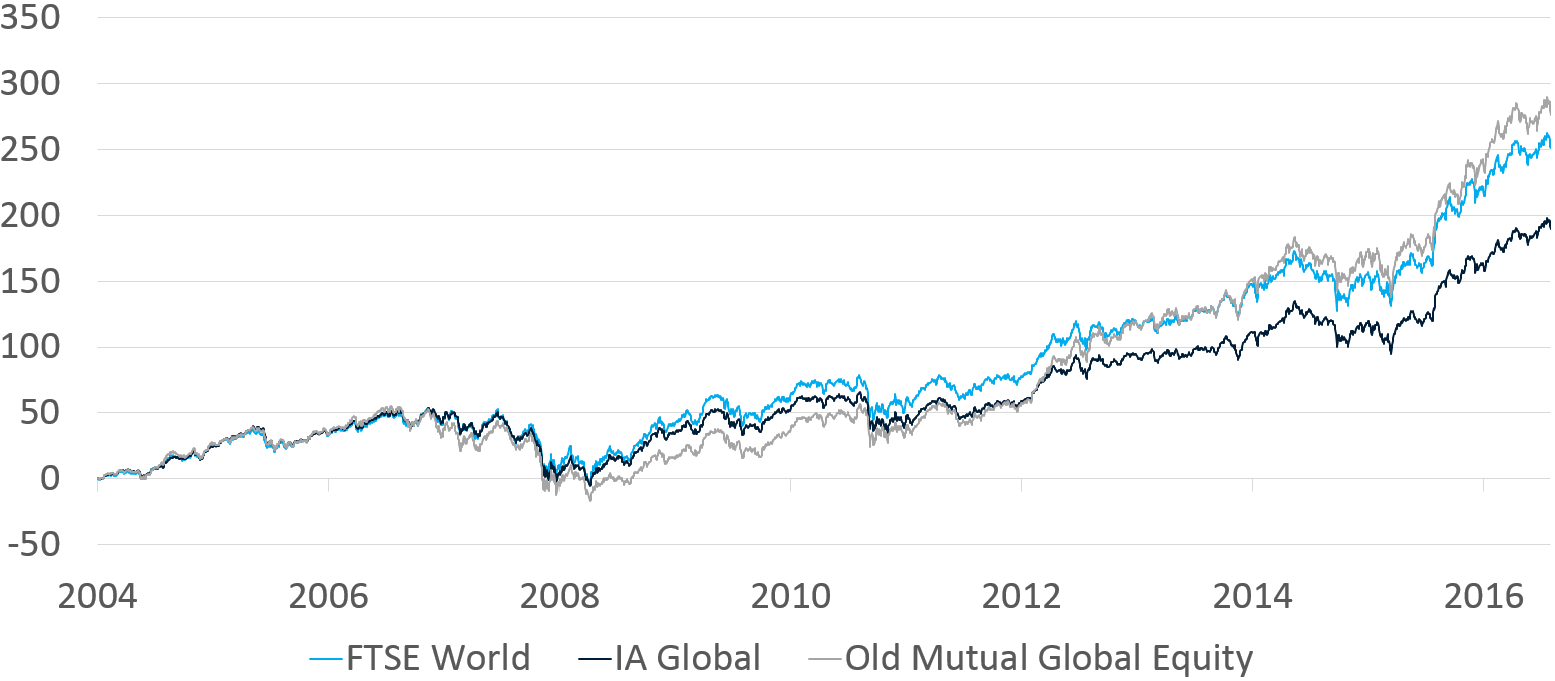 Past performance is not a guide to future returns. Source: *Lipper IM to 30/06/17
Annual Percentage Growth
Jun 12 -
Jun 13
Jun 13 -
Jun 14
Jun 14 -
Jun 15
Jun 15 -
Jun 16
Jun 16 -
Jun 17
FTSE World
22.13
10.01
9.86
14.62
22.88
IA Global
21.79
8.6
9.49
7.65
24.1
Old Mutual Global Equity
36.58
15.73
14.59
11.27
29.22
Past performance is not a guide to future returns Source: *Lipper IM to 30/06/17
View the Old Mutual Global Equity factsheet
Old Mutual Global Equity Key Investor Information Document
Important information
-
Please remember the value of investments, and any income from them, can fall as well as rise so you could get back less than you invest. This article is provided to help you make your own investment decisions, it is not advice. If you are unsure of the suitability of an investment for your circumstances please seek advice.
No news or research item is a personal recommendation to deal.
Want our latest research sent direct to your inbox?
Our expert research team provide regular updates on a wide range of funds.
---