Investments can go down as well as up so there is always a danger that you could get back less than you invest. Nothing here is personalised advice, if unsure you should seek advice.
Global growth has slowed dramatically and investor confidence has fallen to its lowest level in over three years. However, James Thomson, manager of the Rathbone Global Opportunities Fund, feels investors are overly cautious, which provides plentiful opportunities for those willing to ride out any short-term volatility.
Our view
We rate James Thomson highly. He has developed a different approach to many of his peers and pays little attention to benchmarks - he currently avoids investing in banking, oil & gas and mining companies despite the large weighting of these companies in the index. This will, at times, mean the fund performs differently to its peers. We believe he has the potential to deliver attractive long-term returns and the fund remains on our Wealth 150 list of favourite funds across the major sectors.
Performance
James Thomson has delivered impressive returns since assuming responsibility for the fund in November 2003, with our analysis suggesting he has added significant value through stock selection over his tenure. Over this time, the fund has risen 319.4% compared with 128%* for the average fund in the sector. Although please remember past performance is not a guide to future returns.
The manager avoids companies where the main driver of returns is difficult to forecast or out of the company's control. This means the fund has very little exposure to companies in the oil & gas and mining sectors as their profits are almost wholly dictated by commodity prices. The manager also avoids the banking and utility sectors, which are heavily regulated. This has contributed positively to recent performance as these areas have suffered.
Performance of Rathbone Global Opportunities over manager's tenure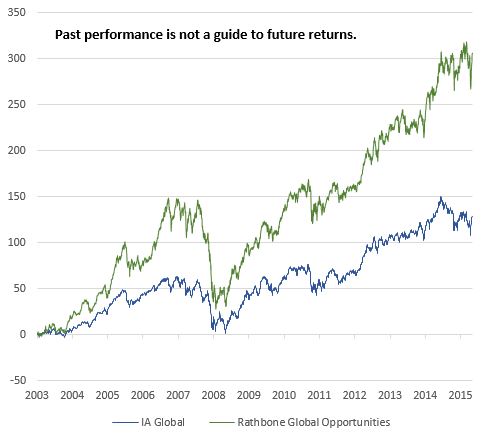 Source: Lipper IM* to 01/03/2016
Annual percentage growth
March 11 -
March 12
March 12 -
March 13
March 13 -
March 14
March 14 -
March 15
March 15 -
March 16
Rathbone Global Opportunities
2.0%
15.8%
14.2%
9.6%
9.4%
IA Global
-1.5%
13.8%
7.9%
13.2%
-2.8%
Source: Lipper IM to *01/03/2016. Past performance is not a guide to future returns.
Current positioning
As the manager expects increased volatility, he has reduced exposure to some of the fund's higher-risk holdings. This includes the sale of a biotech company, which is currently struggling with drug pricing issues; and Italian eyewear manufacturer Luxottica, which has undergone substantial management changes in recent months.
The level of cash in the fund has risen to around 12%, which provides the manager flexibility to time his purchases with periods of weaker share prices. He has identified a number of attractive opportunities so expects the cash level to fall within the next few months. Over the long term, he aims to have less than 5% of the fund in cash.
Elsewhere, James Thomson is positive on the US. The economy won't feel the effects of their interest rate rise until mid-2017 and lower inflation will have a positive impact throughout 2016, in his view. He therefore expects sustainable growth from the US economy in the near term. Exposure to the US has grown considerably over the past few years and currently accounts for around 50% of the fund.
Please note this is a relatively concentrated portfolio of stocks, meaning each holding can have a significant impact on performance but this is a higher-risk approach.
Find out more about this fund including how to invest
Please read the key features/key investor information document in addition to the information above.
Important information
-
Please remember the value of investments, and any income from them, can fall as well as rise so you could get back less than you invest. This article is provided to help you make your own investment decisions, it is not advice. If you are unsure of the suitability of an investment for your circumstances please seek advice.
No news or research item is a personal recommendation to deal.
Want our latest research sent direct to your inbox?
Our expert research team provide regular updates on a wide range of funds.
---