10 costly pension mistakes millions of Britons make
Avoiding these 10 common pension mistakes could help you increase your pension fund and give you a more comfortable retirement.
Important notes
This article isn't personal advice. If you're not sure whether an investment is right for you please seek advice. If you choose to invest the value of your investment will rise and fall, so you could get back less than you put in.
Everybody makes mistakes in life – and pensions are no exception. The only difference is pension mistakes can be much more costly than others.
Why? People are living longer, for children born within the next generation living beyond 100 will become common. People who are now 65 years old are expected to live off their pension for another 22-24 years. So what are the 10 most common and costly pension mistakes?
1. Assuming the state will provide for you
One in seven 2014 retirees had no personal pension and relied exclusively on the State Pension for their income.
Whilst the State Pension will go some way towards covering your essential outgoings, it's probably a good idea to have a separate fund to ensure the lifestyle you can afford in retirement matches the lifestyle you want. For 2015/16 the state guarantees a minimum income of £151 a week for those who have reached State Pension age – is this enough for you to enjoy your retirement?
Download our free guide: Top 10 tips to improving a pension
2. Delaying saving
Quite simply, the longer you delay, the more it costs to build a good-sized pension. This is because of 'compound interest', which Albert Einstein is reputed to have called "the most powerful force in the universe".
Let's assume you pay £125 a month (gross) into a pension until age 65 and the fund grows 4% a year after charges. What's the difference if the contribution was started at age 20, 30, 40 or 50? Roughly speaking, every ten-year delay wipes out approximately half of the fund's potential growth. The chart below shows the figures.
The longer you delay the harder it will be to build a significant fund for your retirement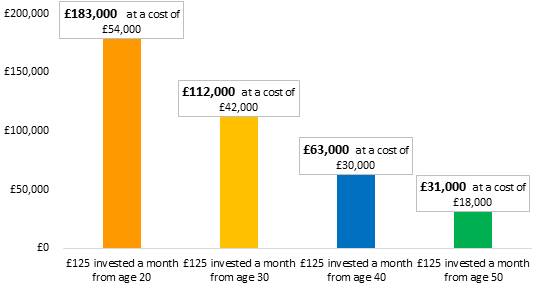 Of course, these are just projections; the actual return could be less or more than this. The figures do not take account of inflation, which will reduce the spending power of money over time. Moreover, investments are not guaranteed: they go down as well as up in value so an investor could end up with less than they invest.
Everything being equal, the earlier you start saving, the more potential your pension fund has to grow. If you want to take control of your pension and properly prepare for retirement a SIPP (Self Invested Personal Pension) could be the answer. Like all pensions a SIPP offers the benefit of up to 45% tax relief on contributions – but what sets SIPPs apart is the investment choice available. Instead of being stuck with a pension company's own funds a SIPP allows you to invest with the UK's top fund managers – giving savvy investors the freedom to select the investments they think will deliver the best returns.
Guide to SIPPs - Learn more about SIPPs (including the risks, benefits and how to get started)
3. Not saving enough
Millions of people face a "bleak old age" – said Lord McFall, former chair of the Workplace Retirement Commission. Over a third of working age people doubt they will be able to maintain a comfortable standard of living in retirement and 69% are worried about running out of money altogether.
In reality more than two-thirds of retirees who say they failed to prepare adequately for a comfortable retirement say they didn't realise this until they had fully retired. 41% of retirees have had to cut down on everyday spending since they stopped working.
In this short video our client, Mr Moorhouse, has a message for anyone who is still contributing to a pension or hasn't started one yet.
Watch Mr Moorhouse on HLTV
Investments can rise and fall in value, so you could get back less than you invest. Once held in a pension money is not usually accessible until age 55 (rising to 57 in 2028). Tax rules can change and benefits depend on individual circumstances. Please seek personal advice if unsure of the suitability of an investment.
4. Not checking if you're getting good value for money
Most people know how much they pay for their mobile phone, but not for their pension. Nor do they know what they are paying for.
Pension charges you pay typically buy the services of the pension provider and the expertise of a fund manager who looks after the investments. In addition, some people employ a financial adviser to make recommendations. The charge for this advice is usually paid separately.
The services you get from your pension provider vary in depth and quality. Things that might (or might not) be included:
Efficient administration
Good customer service
A UK-based helpline
Quick response times for instructions and enquiries
Online access
Online planning tools including calculators and portfolio analysis
Clear, concise information
Pension and investment research
Access to Pension Freedoms and all retirement options
A top-quality pension service could cost far less than you expect. The Vantage SIPP could help you make more of your pension, giving you more money for your retirement. Our SIPP is FREE to set up and low cost to run and you could also benefit from exclusive super-low fund charges. Find out how much an award-winning SIPP could cost you »
5. Not checking your pension pot
If you have a pension, have you ever reviewed it? Relatively few people do. Moreover, research reveals nearly three quarters of pension savers under 45 don't even know the value of their investments. Why is this alarming? Performance can vary quite dramatically across investments and even a seemingly small difference could have a significant impact on the size of the pot.
A 35 year old with a £20,000 pension pot could have a fund worth £26,871 at 65 if their investments grew by 2% a year. The fund might be worth £64,115 at 65 if their investments grew by 5% a year or £149,277 if they grew by 8% a year (assuming in all cases an annual fund management fee of 1%).
Again, these are just projections. Investments will not always go up in value, they can also go down, and so you could get back less than you invested: what is certain is that they won't perform as predicted. Also, these values are in today's terms, they do not account for inflation, which will reduce the spending power of money over time, i.e. by the time you retire your annual income is likely to be able to buy much less than you can buy today.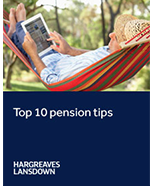 What do you need to watch out for? What simple steps could you take to improve your pension?
6. Relying on property
As the saying goes: an Englishman's home is his castle. But it may also be his largest investment. If you decide to just use property as a retirement fund, you are putting all your eggs in one basket.
Investment professionals agree diversification is key to managing risk, although it doesn't guarantee against loss. So, if you already have capital invested in property, couldn't it make sense to consider diversifying and investing in different asset classes?
What's more, the property market isn't exactly "safe as houses" – as people who had to sell their home in 2008 and 2009 will testify. If your circumstances change unexpectedly, you are taken ill or made redundant for example, you will need access to savings quickly to ensure you can meet day to day expenses. If you are over 55 (57 from 2028) funds in a pension are likely to be much easier to access than money tied up in property helping cover your immediate expenditure.

Self Invested Personal Pensions are transforming the way people are saving for retirement - putting them in control of their financial future.
Find out if a SIPP could help your plans for a wealthier retirement
7. Relying on inheritance
35% of Britons are relying on inheritance to fund their retirement but many could find their plans are resting on shaky foundations. Why is that? Common sense highlights the first problem with inheritances: you can never be sure when you'll receive a windfall. The way life expectancy is shaping up, older generations are likely to live well into their retirement years.
Moreover, the amount inherited may be far less than you expect. More than 400,000 people over 65 live in a care home according to the Office of National Statistics. A self-funded care home would cost an average of £28,500 a year. With many more people requiring in-home care and government funding being cut, they face paying for this themselves out of savings.
8. Not using pensions to save tax
Tax relief on pension contributions is one of those rare occasions when the taxman gives you something back. The government spends £34.3 billion in just one year (2013/14). This is because under current rules when you pay money into a pension, the government effectively pays 20% of the total contribution (subject to maximum limits). If you pay a higher rate of tax, the government could in effect contribute 40% or even 45% in total. This means £20,000 in a pension could effectively cost as little as £11,000. Although the value of any relief will depend on your individual circumstances and tax rules can change.

9. Not taking up employer contributions
Thanks to auto-enrolment, most UK companies with more than 30 employees now offer a workplace pension. By 2018 all companies, irrespective of their size, will have to offer a pension to their employees and contribute to it on their behalf.
However, some private sector workers have opted out of their company pension and many more are just contributing the minimum. This means they could be missing out on "free money" that they are entitled to, as many employers will match your contributions above the minimum levels. Give your pension pot a boost by taking up the offer of a workplace pension and upping your contribution level to make the most of employer contributions.
10. Choosing the right option (or options) at retirement
Even if you manage to avoid the mistakes above until the day you retire, there's one more trap to watch out for, and it could be the most costly. Pension investors now have a great deal of choice and flexibility over how they draw income from their pension – and sometimes the decision you make cannot be changed later.
From age 55 (57 from 2028), up to 25% of a pension can normally be taken as a tax-free lump sum. After that, there are two main ways to draw a taxable income.The first main option is buying an annuity from an insurance company, which provides a secure retirement income for life. Another popular option is drawdown where the pension remains invested and the investor draws an income from it. It is more flexible – but it is more complex and the income is not guaranteed, so it is riskier.
Alternatively, an investor can take lump sums directly from their pension, known as Uncrystallised Funds Pension Lump Sum (UFPLS). This option was introduced in April 2015 and 25% of each lump sum you take will be tax free with the rest taxed as income.
Guide: Your Options at Retirement – Discover your options, the pros and cons and how you could significantly enhance your pension fund income upon retirement.
What you do with your pension is an important decision: you could run out of money. Make sure you understand your options and check they are suitable for your circumstances: take appropriate advice or guidance if you're unsure. Our service is not personal advice but we can offer personal advice if you specifically request this. The government's free Pension Wise service can also help - more on Pension Wise »
Important notes
This article isn't personal advice. If you're not sure whether an investment is right for you please seek advice. If you choose to invest the value of your investment will rise and fall, so you could get back less than you put in.
Editor's choice – our weekly email
Sign up to receive the week's top investment stories from Hargreaves Lansdown. Including:
Latest comment on economies and markets
Expert investment research
Financial planning tips
Sign up