Share tips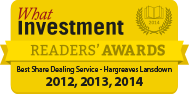 Buy and sell shares for just £11.95 per trade online with a multi award-winning broker, with frequent traders paying as little as £5.95 per trade
Sunday share tips: London Stock Exchange, International Personal Finance, Microsaic


Sun 29 March 2015 17:26


Buy shares of London Stock Exchange (LSE), Danny Fortson recommended in the Sunday Times. The Inside the City columnist said since chief executive Xavier Rolet took over in 2009 LSE it has outperformed the FTSE 100 threefold. Rolet has transformed LSE thr...
Friday tips round-up: LSE, Amec FosterWheeler


Fri 27 March 2015 17:06


The decision by Borse Dubai to get out of its stake in the London Stock Exchange can be put down to profit-taking. The LSE's shares rose 61% since 2007, easily outpacing the 15% rise seen in the FTSE All-Share over that same time frame. Nevertheless, it i...
Thursday tips round-up: Bellway, CardFactory


Thu 26 March 2015 17:45


There is no sign that housing is cooling off, homebuilder Bellway told investors. Since January its reservations were up by 10%, despite the uncertainty surrounding the upcoming elections. In the latest half-year, ended in January, the company increased i...
Monday broker round-up


Mon 30 March 2015 18:40


Carnival: Numis upgrades to add with target price of 3,600p, Credit Suisse keeps at outperform, while Jefferies stays at underperform with 2,300p target.
Broker tips: M&S, Carnival, UK grocers


Mon 30 March 2015 11:39


Societe Generale has lifted its target price for Marks & Spencer from 492p to 524p but maintained a 'hold' rating on the high street retailer, saying it sees little upside from current levels.
Numis upgrades Carnival on improving outlook for cruise operators


Mon 30 March 2015 11:14


Numis Securities has raised its stance on Carnival Corporation from 'hold' to 'add' and its target price from 2,950p to 3,600p, saying the outlook is improving for the cruise industry.
No news or research item is a personal recommendation to deal. Hargreaves Lansdown may not share ShareCast's (powered by Digital Look) views.
| | |
| --- | --- |
| Lloyds Banking Group plc | 99,083,677 |
| Vodafone Group plc | 41,128,512 |
| Barclays plc | 34,716,404 |
| BP Plc | 28,497,760 |
| Glencore plc | 27,350,849 |
FTSE 100 | FTSE 250 | All Share
Hang Seng disclaimer l Prices delayed by at least 15 minutes