Share tips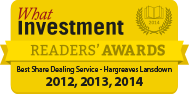 Buy and sell shares for just £11.95 per trade online with a multi award-winning broker, with frequent traders paying as little as £5.95 per trade
Thursday tips round-up: TSB, Aldermore, Henderson Group


Thu 26 February 2015 21:26


Sometimes, having too much money is a bad thing - particularly if you are bank. That is the case at TSB, it has far more capital and a higher cost base than it needs. This shows up in its loan-to-deposit ratio, which now stands at 76%. The lender has gath...
Wednesday tips round-up: BHP BIlliton, GKN


Wed 25 February 2015 12:36


Under pressure perhaps to keep investors happy with its yield, mining group BHP Billiton on Tuesday announced it would be increasing its interim pay-out by 3%. Analysts expect a full-year dividend yield of 5%, which makes for a favourable comparison with...
Tuesday tips round-up: Bunzl, Dechra Pharmaceuticals


Tue 24 February 2015 16:45


Despite foreign exchange headwinds and the economic slowdown on the continent, Bunzl continues to sport a multiple of over 21 times earnings. The company, which distributes a range of workaday cleaning goods to firms around the world, is now the 63rd larg...
Broker tips: Lloyds, RBS, Rightmove


Fri 27 February 2015 11:37


Shares in banking group Lloyds edged higher on Friday after shareholders celebrated their first dividend payment in six years, though weaker-than-expected results prompted Shore Capital to retain a 'hold' rating on the stock.
JPMorgan cuts RBS target, stays 'neutral'


Fri 27 February 2015 10:30


RBS' share price was spending another day in the red on Friday as analysts reacted to the bank's worse-than-expected 2014 results, with JPMorgan Cazenove cutting its price target on the stock from 400p to 385p.
Canaccord upgrades Rightmove after resilience to OnTheMarket launch


Fri 27 February 2015 10:24


Canaccord Genuity has upgraded its rating on real estate portal Rightmove from 'hold' to 'buy' after a better-than-expected set of annual results on Friday.
No news or research item is a personal recommendation to deal. Hargreaves Lansdown may not share ShareCast's (powered by Digital Look) views.
| | |
| --- | --- |
| Lloyds Banking Group plc | 255,467,942 |
| Vodafone Group plc | 52,760,856 |
| HSBC Holdings plc | 44,219,267 |
| Barclays plc | 40,267,629 |
| Royal Bank of Scotland Group plc | 31,434,676 |
FTSE 100 | FTSE 250 | All Share
Hang Seng disclaimer l Prices delayed by at least 15 minutes