What is a SIPP?
Take control of your retirement savings
A pension is one of the most tax-efficient ways of saving for retirement. In our opinion, a Self Invested Personal Pension (SIPP) offers by far the most exciting opportunities.
Like all pensions, a SIPP offers up to 45% tax relief on contributions and there is no capital gains tax or further income tax to pay. The tax benefits will depend on your circumstances and tax rules are subject to change by the government.
However, whereas traditional pensions typically limit investment choice to a shorter list of funds, normally run by the pension company's own fund managers, a SIPP lets you invest almost anywhere you like and choose your own investments.
What's more, you can manage your SIPP completely online, enabling you to buy and sell investments at the click of a mouse.

From the pros and cons, to how the tax rules work and getting started, find out all you need to know about SIPPs with our FREE easy-to-read guide.
More of your money working for you
The Hargreaves Lansdown Vantage SIPP has no set-up fees. Low costs mean more of your money working for you, whether you're transferring an existing pension or investing new money.
You can deal shares online from just £5.95 to £11.95 a deal plus benefit from fund discounts of up to 5.5% and no charge to buy or sell funds. Over the last decade we've saved our clients over £1 billion in charges.
View the Vantage SIPP charges and interest rates
Let the government boost your pension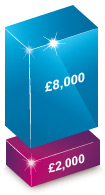 When you make a pension contribution, 20% basic rate tax relief is automatically added by the government.
For instance, if you invest £8,000, the government adds £2,000 (20%) tax relief, increasing your total contribution to £10,000.
If you pay tax at 40% or 45%, you can claim back even more through your tax return.
Remember tax rules can change over time and the benefits will depend upon your circumstances.
Find out how you could turn £5,500 into £10,000
Calculate the tax relief you could receive on your pension contribution
Open up your pension to some of the best-performing investments
Our award-winning Vantage SIPP lets you choose from thousands of funds run by some of the finest fund managers, including Invesco Perpetual, Artemis and Fidelity. You can also take your pick from individual shares, corporate bonds, gilts, investment trusts, ETFs and cash.
We offer a range of tools to help you find the best investments including:
SIPP investment ideas from our research team
The Wealth 150 - a list of our favourite funds from each sector
Research updates on many of the funds you hold
FREE subscription to our Investment Times newsletter
HL Multi-Manager Funds
The greater interest you take in your SIPP, the larger your retirement pot is likely to be.
Find out where you can invest your SIPP
What happens to my SIPP when I retire?
From age 55, you can usually take up to 25% tax-free cash from your SIPP and a taxable income from the rest. The government has proposed from April 2015 you should be able to take as much of your pension as you wish as income or even as a lump sum, from age 55. This is subject to consultation and the first 25% would be tax free with the remainder subject to income tax.
Explore your options, the pros and cons of each, and discover how you could maximise your pension fund when you retire, with our guide to Your Options at Retirement.
96%

of clients would recommend the Vantage SIPP to friends and family*

*HL survey: 252 respondents, November 2014
Important information
A SIPP is a type of pension for people happy to make their own investment decisions. Investments go down in value as well as up so you could get back less than you invest. The rules mentioned are those currently applying and could change in the future. You can normally only access the money from age 55. Tax reliefs depend on your circumstances. This website is not personal advice, if you are unsure an investment is right for you, please seek advice.
Voted 'Best SIPP Provider' eight years running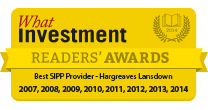 What our clients say

Service is excellent. I particularly value your regular communication and the fact the correspondence and telephone calls are dealt with by real, intelligent, business-like people so much more respectful of your customers and so much more efficient than most other financial service providers.
Mr Popple, Hampshire

Very happy with the service - totally flawless! I also like your friendly, knowledgeable and helpful staff who are a cut above some of your competitors. Not forgetting, it's a pretty good deal too!
Mr Pritchard, Hertfordshire

The range of investment funds to choose from is outstanding and I'm pleased to have more direct control over my investments.
Mr Bradley, London

I have transferred various pensions to my SIPP at Hargreaves Lansdown. I must say I have received an excellent service by phone and by email. All the hassle was taken from me by HL and made my life a lot easier. Also dealing in funds online and switching is straight forward.
Mr Bhudia, Middlesex

Since dealing with HL for the last seven years, I have always been very happy with the prompt, efficient service I have received.
Mrs Strange, Nottinghamshire

Hargreaves Lansdown have provided a first class, excellent service. It could not have been more simple.
Mr Wilson-Tate, London