Pensions for the
Self-employed
If you work for yourself, it's even more important to pay into a pension than if you were employed. There's no-one to choose a pension scheme for you, and no employer to make payments on your behalf. Meaning saving for retirement falls entirely on your shoulders.
Important information - SIPPs and LISAs are for people happy to make their own investment decisions. Investments go down in value as well as up so you could get back less than you invest. You normally can't access money in a pension until age 55 (57 from 2028). If you want to take money out of a LISA before you're 60 and aren't buying your first home, there's usually a 25% government charge. This means you could get back less than you put in. Pension, LISA and tax rules can change and tax reliefs and benefits depend on your individual circumstances. This isn't personal advice. If you're not sure if a SIPP or LISA is right for you, we can put you in touch with one of our advisers.
Only
24%
of self-employed people are saving into a pension
Do you need a pension if you're self-employed?
You've made a choice in life to be more independent. Adding money to a pension can help make sure that continues, whenever you decide to stop working.
Many self-employed people use a personal pension for their savings. You'll typically have a few options to choose from. These include a Self-Invested Personal Pension (SIPP), a personal pension and a Stakeholder pension. The tax benefits are the same but in a SIPP you typically have greater choice and control over where you're invested.
To complement your pension savings you could consider paying into other cash and investment accounts too. For example, a Lifetime ISA (LISA) can offer a more flexible way to save for retirement. Unlike a pension, you can take money out whenever you need it but there is usually an early exit penalty if you take money out before you're 60 and aren't buying your first home.
Only
24%
of self-employed people are saving into a pension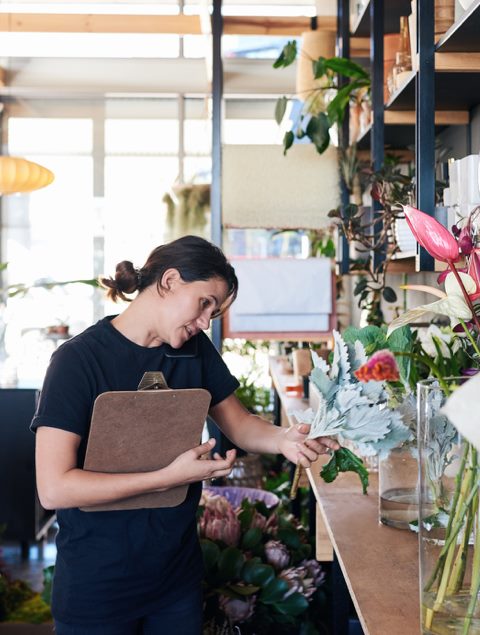 Tax benefits of paying into a pension
Business owners and their employees
If you're a limited company owner, you could choose to set up a salary sacrifice arrangement whereby you and your employees can save tax and National Insurance by sacrificing part of any salary for a pension contribution.
Business owners and company directors
Unlike a salary, pension contributions are exempt from employer's National Insurance of 13.8% and contributions to employees' pensions can be offset against corporation tax.
Sole traders and partnerships
Contributions to employees' pensions can be offset against the income tax liability.
Tax is a complex subject so if you're at all unsure you should seek professional advice. Tax benefits depend on individual circumstances and tax rules can change.
How much can I pay into my pension?
UK residents under 75 can usually pay in as much as they earn and get 20% from the government in tax relief. If you pay tax at a higher rate you can claim back up to a further 25% via your tax return. If you're a Scottish tax payer different rates apply.
The amount that can be paid into pensions without incurring a tax charge is limited by the annual allowance - which for most people is £40,000, but may be as low as £4,000.
If you're a limited company owner, you might choose to make employer contributions to your pension from your company account. These contributions can normally be treated as an allowable business expense. You won't pay employer or employee National Insurance on the contribution. Employer contributions aren't limited by earnings, but are still subject to the annual allowance.
Remember once money is paid into a pension, it can't usually be taken out again until at least 55 (57 from 2028).
What counts as earnings?
When determining how much you earn and so how much you can pay into your pension, if you're a sole trader, this will be the profit before tax which you declare to HMRC in the current tax year. If you work for your own limited company, this will be any salary you are paid, plus any taxable benefits, before tax. Dividends, investment income, and any income from property you own don't generally count as earnings for this purpose.
Join thousands of self-employed people already saving and investing with HL
Invest where and how you want to
Choose from our SIPP investment ideas, or use our investment research and tools to help you with your decisions.
24/7 access through your online account
Our easy-to-use online platform and app means you can keep track of your investments and income anytime, anywhere.
Trusted by over one million clients
We're a FTSE 100 company that's won over 190 awards, including Best Buy for Pensions and Best for Digital ISA at the Boring Money Best Buy Awards.
Support on hand when you need it
Get ongoing support from the experts on our Bristol-based helpdesk.
SIPP charges
The HL SIPP is free to set up and low cost to run. Our yearly charge for holding investments is never more than 0.45%. Some investments will have their own annual charges, so please check these first before you invest.
It's free to buy and sell funds. Other dealing charges depend on the type of investment and how often you trade.
Open a SIPP today, thank yourself later
Start with a bank payment
Once you've read the important information, it takes minutes to get started. Set up monthly payments from as little as £25, or make one-off payments of £100 or more.
When your account is up and running, you can stop, start or pause your pension contributions whenever you like.
Remember, money in a pension isn't usually accessible until age 55 (57 in 2028).
Transfer your old workplace pensions
Unless you've always worked for yourself, you might have old pensions dotted around from previous employers.
Juggling pensions can be time consuming and can get in the way of managing your business. To make life easier, you could think about combining them into one online account like the HL SIPP. Before you transfer, just make sure you won't lose any valuable benefits or guarantees.
Tax benefits of a LISA
A LISA is another tax-efficient way to save for later life. You can open an account between the ages of 18 and 39, although once open you can pay in until you're 50.
Remember tax rules can change and benefits depend on individual circumstances. Savings outside a pension, like those in a LISA could impact your entitlement to means tested benefits.
Grow your money free from UK tax - Your money can grow free from income and capital gains tax. And unlike a pension, you can usually withdraw money from age 60 completely tax free.
A bonus from the government - You can pay in up to £4,000 each year and the government will add a bonus of up to £1,000 each time. If you withdraw money before age 60 or not for purchasing a first home, you will usually have to pay a 25% penalty meaning you could get back less than you put in.
If you're a higher rate taxpayer a LISA can help complement your retirement savings. But if you earn more than £50,270 it's likely to be more tax efficient to pay into a pension. That's because you can claim up to 45% in pension tax relief.
If you're a lower rate taxpayer you might consider saving into a LISA because the government bonus is equal to any basic-rate tax relief you'd get in a pension. The key difference is any income you take will be completely tax free if you withdraw it after age 60, unlike any money from a pension where 75% is taxable.
Need help getting started?
Download our essential guide on self-employed pensions and 6 smart ways to save for your future.