Investments can go down as well as up so there is always a danger that you could get back less than you invest. Nothing here is personalised advice, if unsure you should seek advice.
Manager expects geopolitical uncertainty to support the gold price, to the benefit of gold mining companies
Manager continues to seek mature, high-quality businesses, which has tended to provide an element of shelter when the index falls in value
Performance is likely to be volatile, and specialist funds of this nature should only account for a small proportion of a portfolio
Our View
The Blackrock Gold & General Fund is managed by an experienced and well-resourced team, led by Evy Hambro whose career spans more than 15 years. Due to the fund's focus on a single, specialist sector, performance has been, and is likely to remain, volatile.
The fund invests almost solely in companies with exposure to precious metals (primarily gold) so performance is highly dependent upon commodity price movements. However, the manager has added value through his stock selection, which is something we have found few specialist managers are able to achieve. We believe this fund can add diversification to a portfolio, although due to its specialist nature, it should only account for a relatively small proportion of an investors' wealth.
Manager's outlook
Evy Hambro is optimistic on the prospects for global economic growth, and strong economies typically act as a headwind for gold as the yellow metal is usually favoured during times of economic turmoil. That said, heightened geopolitical uncertainty remains, which has the power to cause share prices to fall sharply, causing investors to turn to gold for refuge. Over the long term, the manager expects rising incomes in emerging markets to fuel demand for gold products, and the absence of large gold discoveries to constrain supply and push up the gold price.
Performance
Aside from a brief spell of strong performance over the first half of 2016, the gold price has steadily fallen since early 2012. The share prices of many gold mining companies have fallen to an even greater extent over this period. Considering the constraints of the sector, the fund has performed well. The manager's preference for mature, high-quality businesses means the fund has tended to shelter investors from the worst of share price falls. It has generally outperformed the FTSE Gold Mines Index in months when it has fallen in value. However, these types of businesses tend to lag a rising market.
Evy Hambro began managing the fund in April 2009 and over his tenure the fund has fallen 7.9% compared with a fall of 33.3% for the FTSE Gold Mines Index. The fund's performance over the past year has lagged the index modestly. Please remember past performance is not a guide to future returns.
Canadian gold producer Detour detracted from performance as it released weaker-than-expected results, and a lack of exposure to major gold miner Barrick Gold weighed on relative returns as the company performed strongly. These factors offset the strong performance from investments including gold royalty company Franco Nevada, which continued to deliver good results.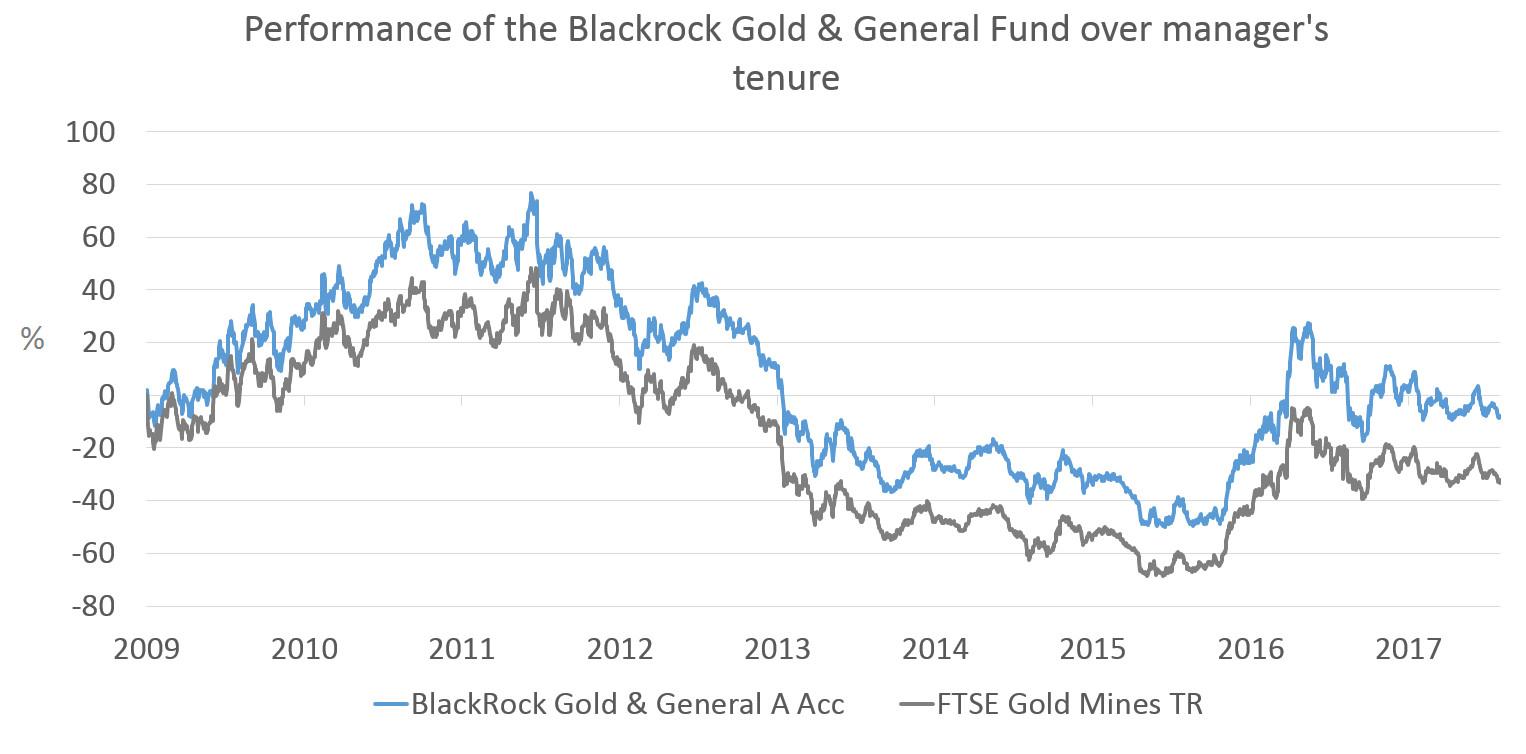 Past performance is not a guide to future returns. Source: Lipper IM *to 30/10/17
Annual percentage growth
Oct 12 -
Oct 13
Oct 13 -
Oct 14
Oct 14 -
Oct 15
Oct 15 -
Oct 16
Oct 16 -
Oct 17
Blackrock Gold & General
-41.91
-20.67
-10.64
92.65
-14.56
FTSE Gold Mines TR
-50.41
-30.57
-7.00
118.38
-16.25
Find out more about this fund including how to invest
Please read the key features/key investor information document in addition to the information above.
Important information
-
Please remember the value of investments, and any income from them, can fall as well as rise so you could get back less than you invest. This article is provided to help you make your own investment decisions, it is not advice. If you are unsure of the suitability of an investment for your circumstances please seek advice.
No news or research item is a personal recommendation to deal.
Want our latest research sent direct to your inbox?
Our expert research team provide regular updates on a wide range of funds.
---