Investments can go down as well as up so there is always a danger that you could get back less than you invest. Nothing here is personalised advice, if unsure you should seek advice.
Key Points
Crispin Odey is cautious in his outlook for the global stock market
He has avoided companies reliant on China's economic growth; he has also avoided banks
He is positive on European telecoms
Crispin Odey's outlook
The manager is uneasy in his outlook for the global stock market and believes a recession is imminent. He does not expect the 9% average annual growth of the FTSE World Index (over the past 5 years) to continue, and he feels there are few attractive investment opportunities.
Concern over China's economic growth, rising interest rates in the US and recessionary pressures in developed markets could all contribute to weaker stock prices in the coming year, in the manager's view. As such, he has avoided companies reliant on China's economic growth. He is also particularly cautious on banks. Lower interest rates have encouraged dangerous levels of borrowing and a recessionary environment would lead to an increase in loan defaults. Against this backdrop, he is focused on good-value companies able to grow profits in more difficult conditions.
A few areas, such as European telecom companies, provide pockets of opportunity. UK and US telecoms companies have successfully been raising prices over the past few years, but their European counterparts have lagged behind. His outlook for European telecoms is strong as they have now begun to push through overdue price increases, which could lead to profit growth.
Performance
Over the long term, the fund has produced spectacular returns, rising 296%* since launch compared with 88.8% for the IA Global sector. Past performance should not be seen as a guide to future returns.
However, recent performance has been fairly volatile, which has led to pedestrian returns over the past 18 months. While the fund initially embarked on 6 months of strong performance, the past year has seen the fund fall in value. The manager attributes this period of poor performance to his cautious outlook and a relatively high level of cash, which meant the fund lagged during periods of stock market gains.
The manager sold a number of companies last year due to his cautious outlook and is yet to reinvest much of the proceeds. The fund therefore currently has a relatively high level of cash at 33%. This high level of cash means the fund no longer meets the IA Global sector requirement to have 80% invested in equities. As such, it moved from the IA Global sector to the IA Flexible sector on 31st March 2016.
Performance of the Odey Opus Fund since launch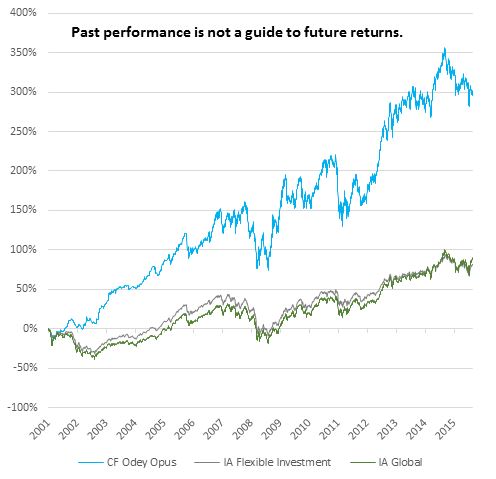 Source: Lipper IM, correct at 01/04/2016
Annual percentage growth
April 11 -
April 12
April 12 -
April 13
April 13 -
April 14
April 14 -
April 15
April 15 -
April 16
CF Odey Opus
-7.6%
23.77%
12.68%
11.41%
-10.82%
FTSE World
0.57%
15.76%
9.33%
17.97%
0.64%
IA Flexible Investment
-2.08%
12.72%
5.62%
10.71%
-4.23%
IA Global
-2.64%
15.22%
7.79%
15.48%
-2.79%
Source: Lipper IM to *01/04/2016. Past performance is not a guide to future returns.
Our view on this fund
Crispin Odey is not afraid to take bold positions to reflect his views on the world. What's more his views are often contrarian in nature. While this could lead to periods of weak or lacklustre performance, the results have been exceptional over the long-term, although past performance is not a guide to future returns. Please note the fund has the flexibility to use derivatives and invest in smaller companies, which increases risk. The fund is also concentrated at 52 stocks which enables each holding to make significant impact on returns but is a higher-risk approach.
The fund's move to the IA Flexible sector widens the manager's investment remit, although we do not anticipate any major changes to the manager's approach. Crispin Odey has often held relatively high levels of cash and has historically invested small amounts in bonds. This means, at times, the fund is likely to perform quite differently to its peers. The fund remains on the Wealth 150 list of our favourite funds across the major sectors.
Find out more about this fund including how to invest
Please read the key features/key investor information document in addition to the information above.
Important information
-
Please remember the value of investments, and any income from them, can fall as well as rise so you could get back less than you invest. This article is provided to help you make your own investment decisions, it is not advice. If you are unsure of the suitability of an investment for your circumstances please seek advice.
No news or research item is a personal recommendation to deal.
Want our latest research sent direct to your inbox?
Our expert research team provide regular updates on a wide range of funds.
---