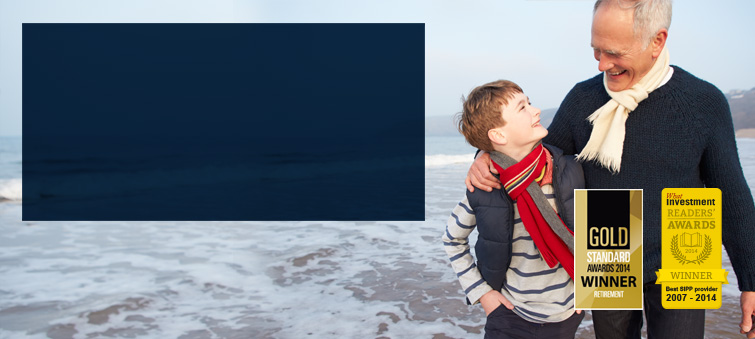 NEW Drawdown for
pension freedom
Make flexible withdrawals from your pension,
whilst keeping it invested
Updated 6 April - New pension changes
Other terms for New Drawdown:
Flexible drawdown
Flexi access drawdown
Income drawdown
Important: Drawdown is a more complex option than an annuity. What you do with your pension is an important decision: you could run out of money. Make sure you understand your options and check they are suitable for your circumstances: take appropriate advice or guidance if you're unsure. Our service is not personal advice but we can offer advice if you specifically request this. The Government's free Pension Wise service can also help - more on Pension Wise.
New Drawdown - low-cost, flexible, accessible
If you're retiring soon and don't need secure income, drawdown can provide flexibility. It allows you to take tax-free cash and then draw variable income directly from your pension, which stays invested. You choose where to invest and what income to take.
Drawdown offers more flexibility than a lifetime annuity, which provides a guaranteed income for life, but also carries considerable risks. You could run out of money if you take too much out, you live longer than expected or your investments perform poorly. If you invest without advice, the responsibility for these decisions rests with you. Find out more about drawdown and how it works »
To find out how much income you could take in drawdown, request your free personal drawdown illustration which will show you how withdrawals will affect your income and how investment performance can change your fund value over time, all with no obligation to proceed.
---
Benefits and risks of drawdown
Choose your preferred level of income withdrawals
The new pension rules allow investors to take as much, or as little, of their pension as they want, when they want, with new drawdown. You could even take your whole pension in one go. A pension is designed to provide an income throughout retirement. Excessive withdrawals will deplete the fund, leaving you short of income later in retirement.
Choose when to take income withdrawals


You choose to stop, start or vary the withdrawals you want at the times that suit you. Have income paid regularly each month, per quarter, per year, or as one-off payments. This increased flexibility comes with increased risk, as your income is not secure.
Invest how you want
You continue to manage your pension fund and can invest it where you want, as long as your provider allows it (you can invest in over 2,500 investment funds with us, as well as UK and overseas shares, cash, bonds, gilts and exchange traded funds). The value of investments can rise and fall. Poor investment choices or performance will deplete the fund leaving you short of income.
Death benefits
The remaining fund can be passed on to your nominated beneficiaries in the event of early death, without having to pay more for this advantage. Find out more.
---
Why choose drawdown with us?
Low charges
There is no drawdown set up fee, no transfer in fee and no charges for one-off or regular withdrawals, or for changing your income instructions. In fact, the only addition to our normal pension charges is an early closure fee for people who open and then close their account within a year. View our low charges, including annual management and dealing charges »

One of the UK's most trusted drawdown providers
More investors choose Hargreaves Lansdown to manage their drawdown plan themselves (without advice) than any other provider, making us one of the UK's most trusted drawdown providers.*

Award-winning service
Awarded Best for Pensions and Pension Freedoms by industry body The Lang Cat in 2015. We won Gold Standard for Retirement in 2014 and were voted Best SIPP Provider by readers of What Investment for the past eight years running. In 2014 alone we won eight industry awards for our pension service.

Support if and when you need it
Our drawdown specialists are on hand to answer any questions. No automated service, just friendly, professional support. We also offer a national team of 94 Independent Financial Advisers if you ever need advice.

*Hargreaves Lansdown is the largest non-advised drawdown provider by number of clients (47 drawdown providers surveyed). Money Management survey September 2014.