Give your pension the potential to grow while still
drawing an income
Important information
- Income drawdown is a complex product, if you are at all uncertain about its suitability for your circumstances we strongly suggest you seek
advice
. Your income is not secure. You control and must review where your pension is invested, and how much income you draw within limits. Poor investment performance and excessive income withdrawals can deplete the fund leaving you short of income.
Why consider income drawdown?
A flexible alternative if you don't need a secure income
Income drawdown is the main alternative to a secure annuity income. It is more flexible than an annuity but is also more complex and higher risk.
Instead of exchanging your pension pot for the secure lifetime income of an annuity, income drawdown allows you to draw a variable income directly from your pension pot. You choose where to invest and your income will rise and fall depending on your investment performance. There are also greater options for passing funds on when
you die.
You have the option of going into income drawdown now, and from next April take advantage of new flexible access drawdown rules (also known as flexi access drawdown) allowing you to take whatever income you wish from your pension.
The sheer amount of control you retain in income drawdown may be an attraction for some investors, but it can also be a drawback. If you take too much income, if stock markets don't go the way you want, or if you live longer than you were expecting, your retirement income could dwindle or even run out. For this reason we believe having at least some secure annuity income will be the best option for most people.
---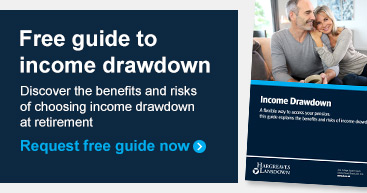 Tom McPhail, Head of Pensions Research at Hargreaves Lansdown, explains the main differences between an annuity and income drawdown.
---

So far the customer service has been 100%. Even though they must have thousands of clients, the attention I have received makes it feel like a very select club where no one gets left out.
Mr Lloyd, Lanarkshire

Thank you. Once again you have done what I asked when you said you would. I cannot fault the service. Regarding Vantage, it is greatly advantageous that I can see all my ISAs and SIPP in one place and click back and forth between investment charts, etc.
Mr Gray, Derbyshire

Thank you for the speedy and exemplary manner in which Hargreaves Lansdown organised my transfer to a Vantage SIPP. Of all the parties involved, only Hargreaves Lansdown demonstrably understood the age 75 issues and flexible drawdown. Thank you again.
Mr Roberts, London

Always most helpful providing information and making deals over the phone, appreciated as I am a dinosaur. Though most important information I can find on the internet is useful, human contact is better for placing deals until I can remove my L plates!
Mr Malin, West Sussex

Your service is always first class but dealing with you on setting up my flexible drawdown SIPP has been excellent. The info provided and prompt and efficient setting up of the drawdown has been impressive. Why can't all companies be like this!?
Mr Smith, Surrey

Excellent documentation. Once I instructed the drawdown and
re-investments, all was executed speedily, clearly and with good communication. Your helplines are excellent too.
Dr Helevuo, Oxfordshire

HL made a relatively complicated procedure very easy to follow and completed all the necessary transactions quickly and efficiently. Expert information was on hand throughout. I would recommend the service to anyone.
Mr Mathews, Liverpool
---
Why income drawdown in the Vantage SIPP?
Take control of your pension
The Vantage SIPP is designed for investors who are happy making their own investment decisions. You choose exactly where and when your money is invested in more than 2,500 funds (unit trusts and OEICs) run by the finest fund managers, shares, investment trusts, gilts, corporate bonds, ETFs and cash.
Get a better return with our low costs
No fees from us to transfer-in, no fee for drawing a regular income, no fund dealing fees and online share dealing from £5.95 to £11.95 a deal. Plus, exclusive super-low annual charges on top-performing funds and competitive annual management charges. Find out more about income drawdown charges and interest rates.
Benefit from our award-winning helpdesk
We've been voted Best SIPP Provider for the past eight years running. Our income drawdown specialists are always on hand to answer any questions you may have. There is no automated service, just friendly professional support.
Financial advice


Income drawdown in the Vantage SIPP is offered without advice as standard. Income drawdown is a complex product, and if you are at all uncertain about its suitability, we strongly recommend you seek financial advice.

Our advisory team would be happy to help you, for more information about their services please contact them on 0117 317 1690 or visit the advisory services section of our website.