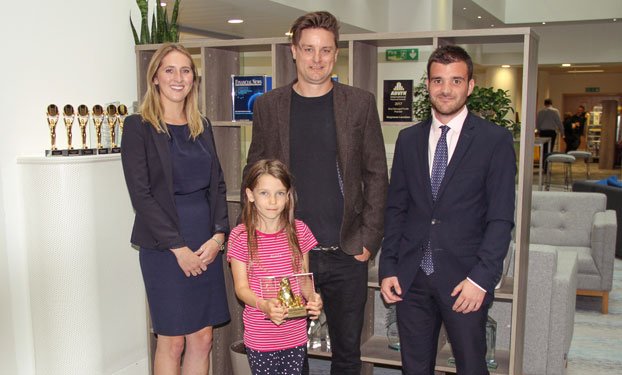 Henry Irving 13 September 2017
No news or research item is a personal recommendation to deal. All investments can fall as well as rise in value so you could get back less than you invest.
It's tough for young people these days.
A deposit on a first home averages £33,000, while a degree will set you back £50,000. This means many start their working life saddled with debt.
The good news is there's an easy way for parents and grandparents to ease this financial burden. And it can be surprisingly affordable.
Junior ISAs were introduced in November 2011 with an allowance of £3,600. This limit has risen with inflation, so friends and family can put in up to £4,128 this tax year. The funds or shares you hold in a Junior ISA are free from UK tax and the money is locked away until the child's 18th birthday.
Understandably they have proved incredibly popular.
Charlotte Pitt from Bristol recently became our 100,000th Junior ISA client following the transfer of her Child Trust Fund (CTF). To mark this special occasion, we gave Charlotte a golden Pedro the Penguin money box, designed by Aardman – creators of Wallace & Gromit and Shaun the Sheep.
Below her father Ed explains why he decided to open a Junior ISA with HL and how he's looking to save for Charlotte's financial future.
Please remember that unlike cash, the value of all investments can rise as well as fall so you could get back less than you invest. Tax rules change and benefits depend on individual circumstances. If you are unsure of the suitability of a product or investment for your circumstances, please seek advice.
Find out more about Junior ISAs
Case study - 'Junior ISAs were the obvious way to go'
Why did you open a Junior ISA?
I have three children. Two had been given Child Trust Funds (CTFs) and we put money in initially but then they lay dormant. We didn't put any more money in because we didn't know how to access them.
It just didn't feel easy, and then my youngest child - who wasn't eligible for the CTF - had nothing. At the same time, we had some spare money and my mum and dad wanted to give the kids some money too so I thought 'let's sort this out'. The obvious way to go was Junior ISAs and when we found out that we could transfer CTFs to Junior ISAs, it just seemed like the logical way forward.
Do you have any ideas what you'd like the money to be used for?
In my mind, it's most likely their biggest need will be a deposit on a first home when they are in their 20s, but it's really up to them when they reach 18. We'll probably carry on putting in a reasonable amount of money over the next few years. We'll just do it as and when we've got some spare money as I'm self-employed.
I hope that it will help with a deposit. I think housing will be my children's greatest problem.
Find out more about Junior ISAs
Why are you investing Charlotte's Junior ISA?
I didn't want to save for the children in cash. I was keen to have the money invested in the UK stock market because when you invest for kids, you're looking at growing that money for at least 10 years. With interest rates on cash as low as they are, it doesn't make sense to me to keep your money there.
I'm investing in index trackers because they are low cost and low effort. My wife and I have other investments with Hargreaves Lansdown which are wrapped up in ISAs and those are invested in UK tracker funds too. I've just got faith over the long term in the UK economy - I believe the UK stock market will perform really well.
Do you hope the Junior ISA will get your children interested in finance?
Absolutely. I learned about the magic of compound interest way too late. My father in law had a book which I read about this which explained the concept really simply. It opened my eyes to the fact that when you start saving is actually much more important than how much you save. I should have really started putting money away when I was 15 but I'm glad that my children will see the benefits of investing for the long term.
Find out more about Junior ISAs