Important notes
This article isn't personal advice. If you're not sure whether an investment is right for you please seek advice. If you choose to invest the value of your investment will rise and fall, so you could get back less than you put in.
The US stock market, driven in no small part by the technology sector, has grown at breakneck speed in recent years. Is the hype justified, or should investors look for value elsewhere?
The achievements of a few US companies have been nothing short of astounding over the past decade or so. Facebook has revolutionised the way we share experiences and memories with our close (and not so close) friends and family. Through the company's Messenger app my children can talk to their grandparents overseas, and they can be more involved as they grow up.
I can do most of my Christmas shopping on Amazon, and have it delivered the next day, even though I never knew I needed this service until a few years ago. Amazon might deliver my groceries as well before long. I also subscribe to the company's video streaming service, along with Netflix, rather than pay huge subscriptions to Sky and Virgin.
For most other things I need I'm likely to turn to Google to help find it, and pretty much all of this I do from my Apple iPhone.
Is the US market overvalued?
Love them or loathe them, the impact these companies have had on most of us has been phenomenal.
This hasn't gone unnoticed by investors. The strong performance of the US stock market more broadly is due in no small part to the growth of these companies. Expectation that Donald Trump will cut taxes, and data that suggests the economy is in rude health, have also boosted investors' confidence in the US.
Today, the S&P 500 Index hovers around its all-time high. More importantly, the valuation placed on the US stock market is at elevated levels. The chart below shows our favourite measure of value - the cyclically-adjusted P/E ratio (CAPE) for the US market, along with the average over time. Remember past performance is not a guide to future returns.
US stock market valuation above long-term average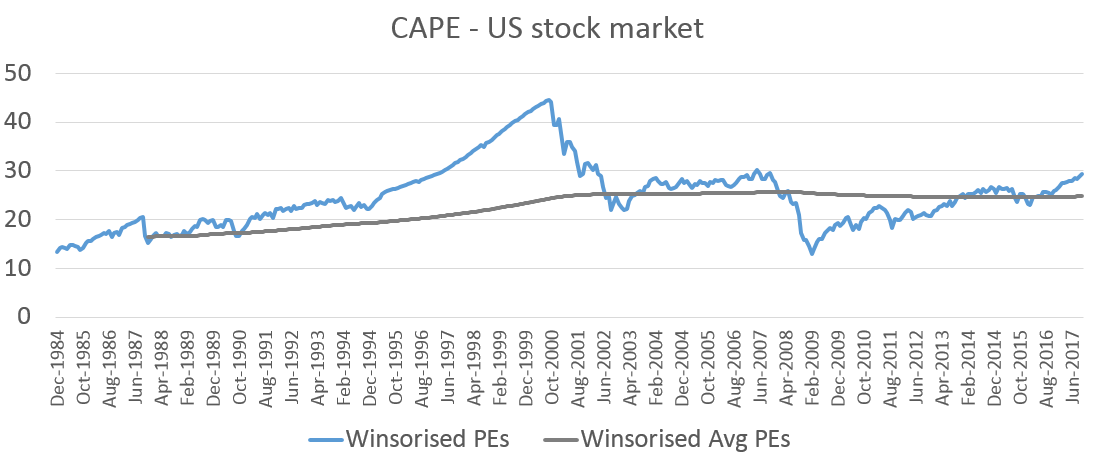 Source: HL/Datastream, December 1985 - October 2017
Contrast this with Japan. It's difficult to think of any companies currently having the same impact as the FAANGs (Facebook, Amazon, Apple, Netflix, and Google) in the US.
I did buy a Sony TV a couple of years ago, but mostly because it was on sale. Similarly, unless you're a professional photographer you probably use your phone to take photos instead of the latest DSLR camera from Canon. Tesla's electric vehicles grab more headlines than cars manufactured by Toyota and Honda these days.
On the face of it Japan presents a less exciting investment opportunity.
But it's still home to world-leading companies, famed for quality and reliability. Its auto and consumer electronics manufacturers are still among the biggest in the world. They don't inspire the same media attention and their brands don't often invoke the same passion among consumers and investors.
But they do produce products people want to buy.
Shinzo Abe, who's just about to begin the sixth year of his current stint as Japan's PM, has introduced a raft of pro-business measures. If these have the desired effect – to boost lending and investment – economic growth could pick up. Time will tell, but companies reliant on the domestic economy, including those in construction, retail, and financial services, could benefit.
Despite Japan being home to plenty of world-leading companies, and the political and economic environment looking relatively stable, it remains off the radar of most investors.
As a result its stock market looks cheap – in fact it's the most attractively valued of the world's major markets, according to our analysis. The chart below shows the CAPE ratio for the Japanese market is currently well below its long-term average.
Japanese stock market looks good value relative to history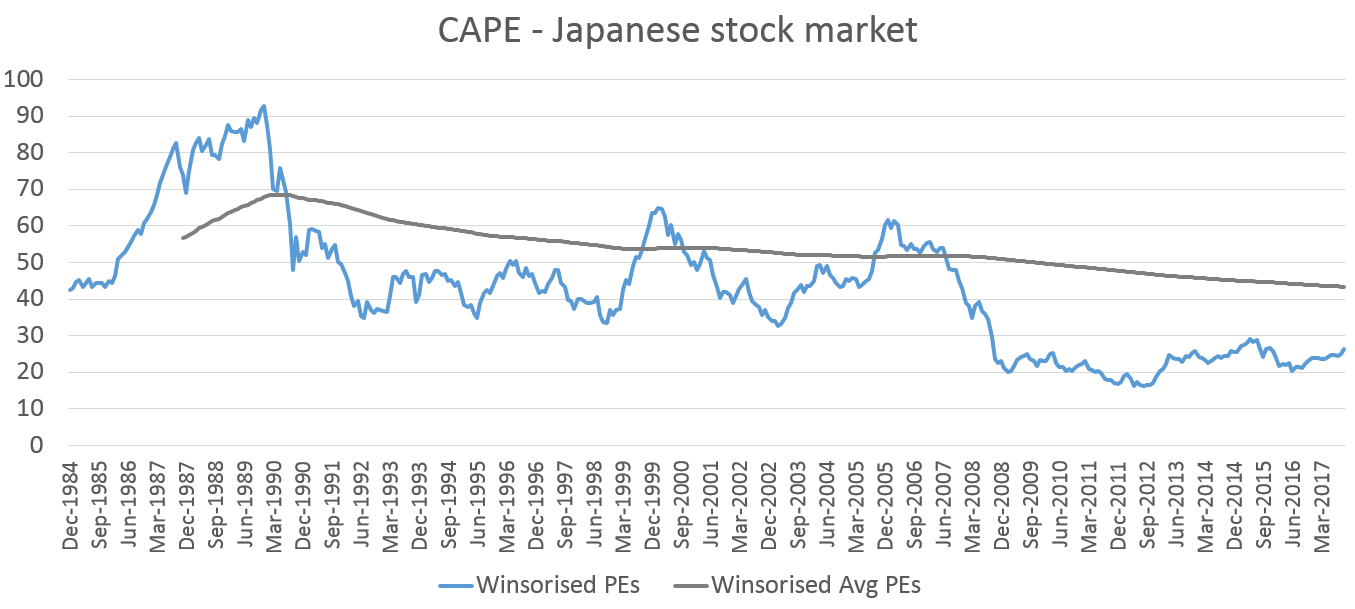 Source: HL/Datastream, December 1985 - October 2017
What could investors consider?
We often advocate choosing investment areas based on valuation.
History has shown that investing when valuations are low gives you a better chance of long-term success.
On this basis Japan currently looks like a good opportunity to us. One of our favourite ways to invest is the Man GLG Japan CoreAlpha fund, managed by Stephen Harker and his team.
The managers look for undervalued and unloved companies which remain fundamentally sound, and then wait patiently for their fortunes to turn around. The concentrated fund invests in undervalued companies in an undervalued market. The team has a long track record of successfully buying inexpensive shares, waiting for performance to improve, and then seeking the next opportunity.
Like all investments it can fall as well as rise in value, so there's the risk you could lose money.
Stephen Harker's career track record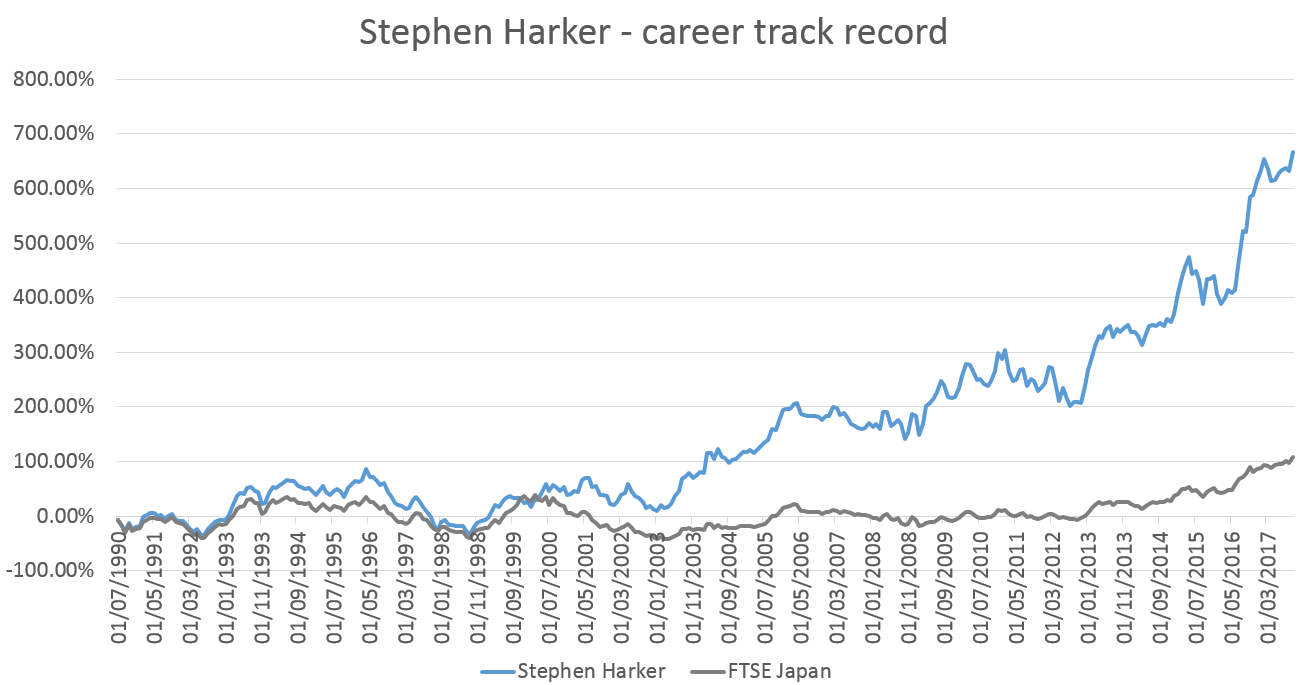 Past performance is not a guide to future returns. Source: HL, July 1990 - October 2017
More information and how to invest
Turning to the US, we think investors should tread carefully.
On valuation grounds it doesn't look especially attractive, but this is not to say the market should be avoided entirely, or that returns will be poor.
An expensive market can continue to perform well, just as a cheap market can fall further.
The US is the world's largest economy as well as its largest stock market. It's home to many global businesses which dominate their field and overall the US accounts for almost half the global stock market.
It is simply too big a call to omit such a dynamic and innovative economy from consideration. We think most diversified portfolios should contain at least some exposure to the US market.
For broad exposure to the market we favour the Legal & General US Index fund It aims to track the FTSE USA Index and invests in over 600 stocks. We think it's a good option for low-cost investing in the US. Many large, familiar firms are included in the fund's top 10 investments including Apple, Microsoft, Facebook and Exxon Mobil. Again, like all stock market investments it can fall in value so you could make a loss.
More information and how to invest
This article is not personal advice or a recommendation to buy, sell or hold any investment. If you are unsure of the suitability of an investment for your circumstances, please seek advice.
Annual percentage growth
| | Oct 2012 – Oct 2013 | Oct 2013 – Oct 2014 | Oct 2014 – Oct 2015 | Oct 2015 – Oct 2016 | Oct 2016 – Oct 2017 |
| --- | --- | --- | --- | --- | --- |
| Man GLG Japan CoreAlpha | 41.6 | 2.3 | 18.8 | 28.4 | 11.9 |
| FTSE Japan | 34.6 | 0.2 | 14.7 | 31.4 | 9.2 |
| Legal & General US Index | 26.7 | 15.8 | 8.1 | 30.2 | 12.2 |
| FTSE USA | 28.0 | 17.5 | 8.6 | 32.0 | 13.8 |
Past performance is not a guide to the future. Source: Lipper IM, to 31/10/17
More information on the Man GLG Japan CoreAlpha Fund
More information on the Legal & General US Index Fund
The CAPE ratio explained
A PE, or price-to-earnings ratio measures how much investors are willing to pay for a company's earnings (or those of an entire sector or stock market). It's calculated by dividing the value of a company's shares by its earnings. But rather than focus on a single year's earnings, the CAPE ratio takes an average over the past ten years in order to smooth out fluctuations in the economic or profit cycle.
How we use CAPE
We then compare the CAPE ratio with its long-term average to assess whether an area is cheap or expensive relative to its history. It doesn't tell you exactly when to buy or sell – a market that looks expensive can get more expensive still and vice versa – but to invest at a lower valuation should improve the potential for attractive long-term returns.
Editor's choice: our weekly email
Sign up to receive the week's top investment stories from Hargreaves Lansdown
Please correct the following errors before you continue:
Hargreaves Lansdown PLC group companies will usually send you further information by post and/or email about our products and services. If you would prefer not to receive this, please do let us know. We will not sell or trade your personal data.
Important notes
This article isn't personal advice. If you're not sure whether an investment is right for you please seek advice. If you choose to invest the value of your investment will rise and fall, so you could get back less than you put in.
Daily market update emails
FTSE 100 riser and faller updates
Breaking market news, plus the latest share research, tips and broker comments
Register